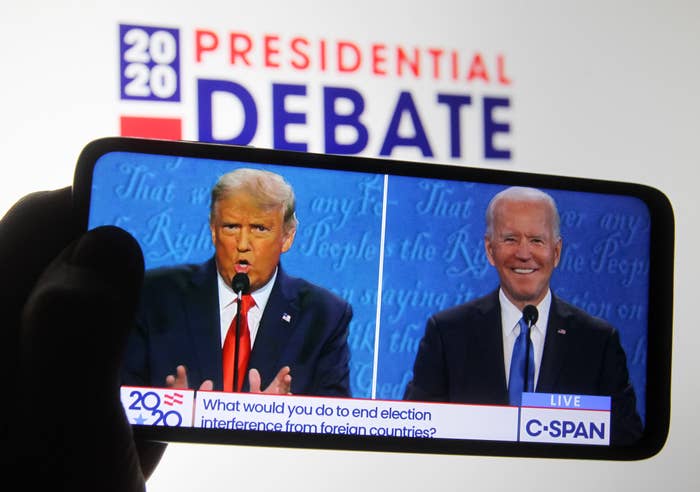 New Rules and character took center stage at the second and final presidential debate held last nite. Also, the Eagles beat the Giants. 
The second and final debate between President Donald Trump and Democratic nominee Joe Biden took place at Belmont University last night. Though it is hard to believe that many folks still remain undecided, especially when over 50 million Americans have already cast their ballots, the 90-minute debate gave Americans the last opportunity to hear the candidates' go at each other with 12 days left before the election. 
The lead-up to this debate has had more subplots than the entire Fast and Furious franchise, with highlights including Trump catching COVID at the superspreader event in the Rose Garden (which led to the second debate being cancelled because Trump declined to participate virtually), Obama's clapback at the Biden rally in Philadelphia earlier this week, and new claims of election interference. Heading into the final presidential debate, I had the Biden-Harris campaign up on my debate scorecard (at best 2-0, at worst 1-0-1). And while the presidential candidates provided equally memorable sound bites and quick substantive jabs at each other ("We gotta be able to walk and chew gum at the same time," "But what about the cages, Joe?"), I think I'd have to give this one to Biden—for the simple fact that he followed the rules better than his opponent, e.g. he answered the moderator's questions. 
For Trump, his "win" is more of a personal victory only in that he met the low bar of actually participating in a debate—unlike the first presidential debate, in which he claims to have "won…over moderator Chris Wallace"— by actually following the new rules that the Commission on Presidential Debates developed. 
As arguably the best moderator of the 2020 Debates, NBC News correspondent Kristen Welker wanted all the smoke and posed some of the most poignant questions that the candidates have fielded during this election cycle, on subjects ranging from immigration ("How will the 545 children be reunited with the parents who they were separated from at the border?") to race relations and The Talk ("Do you understand why [..] parents [of Black children] feel for their children?").
For those who missed it, here are the TL;DR highlights by round: 
On coronavirus:


Trump told the American people that COVID-19 is both "going away," but also that we're "learning to live with it." He also claimed to have generals lined up to distribute an expected 100 million vials of vaccine in a program he calls "Operation Warp Speed," but later backed off his previous remarks that a vaccine will be ready before election. In addressing his recent diagnosis, Trump claimed that he's now "immune." He also attacked Biden, saying that  Biden's response to H1N1 was a  "total disaster." 


Biden: reminded the American people that Trump's "ineptitude" is what got us here: "Anyone who is responsible for over 210,000 deaths should not be president." He also referenced the open letter from the New England Journal of Medicine that calls out  "our current political leaders [for] demonstrat[ing] that they are dangerously incompetent" in their response to the pandemic. 


On national security: 


Trump claimed that "No one tougher on Russia than me. Nobody tougher on Russia than Donald Trump." He also made a new claim that he "pre-paid" his taxes, and said that Kim Jong-un "is just a different type of guy."


Biden addressed Trump's accusations about Hunter Biden's business with Ukraine and the Biden family's alleged shady foreign business practices..   


On health care:


Trump criticized Obamacare, saying that the "worst part of Obamacare is individual mandate" and suggesting that "pre-existing conditions will remain" covered under his updated plan. He also continued to tout his intended healthcare plan, as well as his claims that Biden wants to socialize healthcare. 


Biden said health care is not a privilege, but a right. Biden also presented a new "Bidencare" plan, which he described as "Obamacare with public option."


On immigration:


Trump peppered Biden with questions about the origin of the much talked about "cages" that children are living in while insisting that the children currently in ICE detention centers are "well taken care of."


On race in America:  


Biden talked through several examples that contrast the experiences of white parents and Black parents in America ("I never had to tell my daughter to put her hands on the wheel...I never had to tell my son don't wear a hoodie.") He called out Trump's previous position on the Central Park Five, and called Trump "a dog whistle as big as a foghorn."


Trump claimed that "nobody has done more for the African-American people than Donald J. Trump, with the exception of possibly Abraham Lincoln," and that he is "the least racist person in this room; I don't care who's in this room."


On climate change


Trump claimed that America has "the cleanest air and cleanest water." 


Biden said climate change is an "existential threat to humanity" and laid out his climate change plan. 


On leadership: the moderator asked what each candidate would say on inauguration day to the people that didn't vote for him.


Trump said,"Success will bring us together." 


Biden said, "I represent all of you whether you voted for or against me…what is on the ballot is the character of this country."


Overall, Biden did his prep work and it shows. He did a much better job avoiding Trump's bait and did not allow himself to be triggered into one of his notable gaffes—especially when Trump brought up the Hunter and Ukraine. Style-wise, Biden stuck with his direct-to-camera strategy, speaking directly to the American people.  In doing so, he made the best attempt out of the two candidates to connect with voters. 
Quotes of the night: Biden gave us so many great meme-able quips throughout the debate, from "We gotta be able to walk and chew gum at the same time" to " [Trump] is a dog whistle as big as a foghorn." The most presidential-sounding quip of the night? "You know our reputation for honor and the ability to tell the truth. The character of the country is on the ballot." It's hard to pick a favorite here. 
Best Jab:  On the conversation of race in America, Trump asked, "Why didn't you do it when you were in office?" In five words, Biden laid down the exact reason why shit can't get done in Washington. "We had a Republican congress." Mic drop. Too many politics, not enough problem solving. 
Best round: All of them. The mere fact that Biden even took the stage with Trump—who was recently diagnosed with COVID and who did not wear a mask onstage—is the real victory. No plastic dividers, only social distancing. 
Worst round: Race in America. Biden said all the right things about race in America, yet the most glaring hurdle on the road to the Biden-Harris administration is their relationship with Black constituents, namely in the shadow of Biden's record on the 1994 crime bills and Harris' record as a former prosecutor. The negative effects on the Black communities cannot be ignored. Both Biden and Harris have spoken to their records and will need to continue to be open about addressing their mistakes and correcting the impact of their previous decisions.
On the other side of the stage, Trump continued to be his own worst enemy. Though he did manage to keep his interruptions to a minimum, his deflections from the topics at hand and carrot-sticks of promises worked against him. His overall presidential strategy has been to criticize, deflect, and punt his action plans down the field—he will release his taxes, he will put the Platinum Plan in place for Black America, he will have a health care plan. But in doing so, the result is a four-year record that doesn't yield much substance on what he actually has accomplished. The same held true for debate night. 
Quote of the night: "I am the least racist person in this room; I don't care who's in this room." There it is, folks. That shake you just felt was the ancestors rolling over their graves. 
Best Jab: "He's been there for 47 years." Using Biden's experience as a career politician against him was probably Trump's best angle. With most Americans tuning out the Hunter/Ukraine narrative and the name dropping of the entire Democratic mixtape (Saunders, Clinton, AOC, the Cuomos, "Mueller and 18 angry Democrats")  being moot for the most part, the best jab was probably the most successful for his base. 
Best round: Leadership. This is where you can see the emperor. Trump touts his business acumen as the basis for his leadership skills, but his leadership style sounds more like the boss who makes you work on weekends and holidays for no overtime or a bonus. He values money and business over people, but how you treat your people matters. In displaying his leadership (or lack thereof), Trump exposes his own character flaws. 
Worst round: Trump's record. His record on coronavirus is hard to defend. His responses on immigration and why children are in cages are unconscionable, and are singularly focused on one group of immigrants. On race relations, he seems to be under the impression that throwing money at some HBCUs fixes the systemic problems. On climate change, he seems unaware that Flint still doesn't have clean water and California doesn't have clean air. He's more concerned with resonating with his base than finding solutions. His character is an issue: He can't admit to any missteps or mistakes. 
But here we are with only one thing left for us to do: vote. The power is yours (or whatever Captain Planet says). 
Don't forget that you can do your part by visiting Complex's Pull Up & Vote site—where you can double-check your registration, register to vote if you haven't, and request a mail-in ballot.