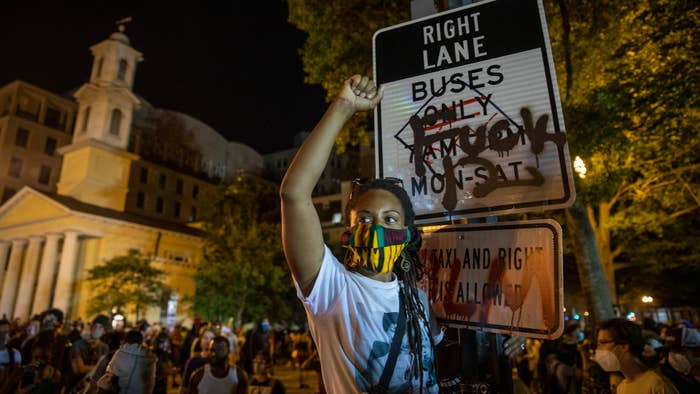 The nation is banding together and flooding the streets to protest the unjust police killing of George Floyd. From Minneapolis to Texas, these mass demonstrations have descended upon multiple cities as citizens take to the streets to call justice for Floyd, Breonna Taylor, Ahmaud Arbery, and countless other Black lives who have been stolen through a racist and oppressive system. 
However, there are still some people who have been unable to participate in on-the-ground efforts. At Complex, we've compiled a list of other ways those who can't make it to the front lines can still support the cause, be it through donations or online awareness campaigns.
Browse that below. And right here, you can visit a straightforward and growing list of dozens of additional support options for bail and much more, ranging from local organizations to the ACLU to an initiative launched by Colin Kaepernick.
Black Lives Matter: 
The organization advocates for non-violent protest in the face of police brutality and racism against African-American citizens. You can get involved here. 
Color Of Change: 
According to its website, Color Of Change "designs campaigns powerful enough to end practices that unfairly hold Black people back, and champion solutions that move us all forward."
ACLU:
To help with the American Civil Liberties Union (ACLU)'s ensuing legal battles and advocacy efforts, consider donating here, either through a one-time or monthly payment. 
NAACP:
The NAACP Legal Defense and Education Fund, a civil rights organization and law firm based in NYC, is a nonprofit focused on protecting voting rights and pushing for equality for all.
Equal Justice Initiative:
The Equal Justice Initiative, headquartered in Alabama, will put your contribution toward its ongoing efforts to end mass incarceration and challenge both racial and economic injustices.
Know Your Rights Camp:
Through self-empowerment, mass mobilization, education, and the development of new systems elevating a new generation of leaders, Colin Kaepernick's Know Your Rights Camp focuses on advancing the liberation and well-being of Black and Brown communities across the country.
Black and Pink:
With a goal of abolition, Black and Pink is dedicated to dismantling the criminal punishment system as we know it. For info on their National Bail Support Program, click here.
Campaign Zero:
This organization was started by Black Lives Matter activists in 2015, and it calls on lawmakers all over the country to end police violence by implementing policy solutions that are both comprehensive and research-based.
ActBlue:
Described by the New York Times as a "central online hub that processes money for Democratic candidates and causes," ActBlue will also let you split your donation between over 70 community bail funds, mutual aid funds, and racial justice organizers. Speaking of donating to community bail funds, Creature Friend Finder, offers a "main line of communication for those arrested due to participation in protests throughout the nation." Hit creaturefriend.org for more.
Minneapolis:
Minnesota Freedom Fund (MFF) is a non-profit focused on mass incarceration while investing restorative justice. As of June 5, following a temporary pause in donations, MFF announced that the financial needs for protester bails had "almost certainly been met." For now, donations may be put toward the expansion of legal support for those arrested. (The MFF has since come under scrutiny after revealing that just $200,000 of the tens of millions in donations were used for bailing out protesters. "Appreciate all those calling for transparency," the fund wrote in a statement. "We see y'all. Our values and mission have not changed since 2016. Be on the lookout for things coming on our end. Be well.)
Black Visions Collective is an organization dedicated to Black liberation and black power in Minneapolis and St. Paul.
George Floyd's siblings, Philonise and Bridgett, have put together GoFundMe pages to support George's daughter, Gianna, and cover funeral expenses.
Los Angeles:
The Peoples City Council Freedom Fund is raising money to support people protesting George Floyd's murder. 
The Los Angeles Black Lives Matter chapter is supporting an organization called the "People's Budget" the distributed donated money and police funds to at-risk communities.
New York:
The Brooklyn Community Bail Fund is bailing out protesters.
Free Them All For Public Health is raising money for protesters arrested in New York. People can donate by sending money to @BailOutNYCMay on Venmo. 
Atlanta:
The Atlanta Solidarity Fund is raising bail money for citizens jailed during the protests.
Atlanta's Action Network is also collecting money to contribute to bailing out protesters. 
Columbus:
The Columbus Freedom Fund is gathering money to bail demonstrators out of jail. 
Philadelphia:
The Philadelphia Bail Fund is collecting money to free protesters apprehended by police.
Denver:
The Colorado Freedom Fund is helping demonstrators bail out of jail and is collecting donations. 
Additionally, there are various petitions calling for swift justice against the systems and individuals who have claimed Black lives: 
Justice for George Floyd:
Justice for George Floyd calls upon Mayor Jacob Frey and DA Mike Freeman to have all officers involved in Floyd's death terminated and charged, in addition to Derek Chauvin. 
Justice for Breonna Taylor:
Justice for Breonna Taylor demands that the officers involved in her death be charged, her family be paid in damagers for wrongful death and negligence from police, Kentucky Governor Andy Beshear speak on behalf of Taylor, Governor Beshear or Attorney General Daniel Cameron appoint a special prosecutor to immediately investigate the Louisville Police Department and the legislation to federally ban unconstitutional no-knock warrants be passed by Congress and signed by the president. 
Justice for Ahmaud Arbery:
This petition orders that Travis and Greg McMichael face criminal charges for the killing of 25-year-old Ahmaud Arbery. 
Call Governor Walz of Minnesota:
To voice the demand for justice for George Floyd and replacement of District Attorney Mike Freeman with the state attorney general: