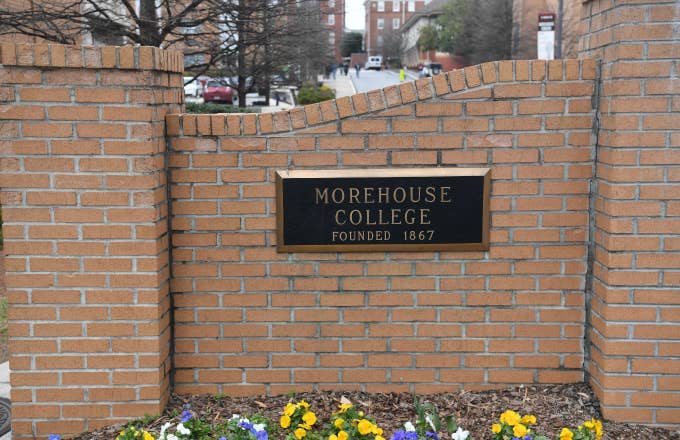 It's only March, but it looks like we already know who 2019's Teacher of The Year is. A Morehouse professor got major love online after he looked after his student's daughter while simultaneously teaching a class. 
On Friday, Mar. 1, a tweet went viral, detailing how 34-year-old math professor Dr. Nathan Alexander took the responsibility of holding a very young baby so that her father could take adequate notes.
"Student came to class today with his child due to no babysitter or anybody to watch her while he was in class," the tweet reads. "My professor NATHAN ALEXANDER said 'I'll hold her so you can take good notes!'"
During an interview with Buzzfeed, Alexander explained that despite not having any kids of his own, the whole episode with baby Assata (who is named after the activist and godmother of Tupac Assata Shakur) went smoothly.
"I'm not a father, I don't have children of my own," he said. "I was worried that she would start crying. But it actually went perfectly. She was extremely well-behaved."
The story prompted people on social media to express their pride as Historically black colleges and universities  alumni, and/or praise the professor as well as Assata's parents.
As a result, Assata's mother, Firda Hayer, took to Facebook to express gratitude for the support on behalf of her husband Wayne Hayer and herself.
"Seeing the outpouring of support from friends, family, and strangers for Assata and Wayne is a sight to behold. I can feel the genuine love and enthusiasm," Hayer posted before explaining their situation as a young ambitious family.
"We are new parents. Wayne works two jobs and is a full-time student. He's rarely at home because he's out there providing for us," Hayer wrote. "Thank you to black educators like Dr. Nathan Alexander for your compassion and understanding. This came at the right time. We plan and Allah plans; verily, Allah is the best of Planners."