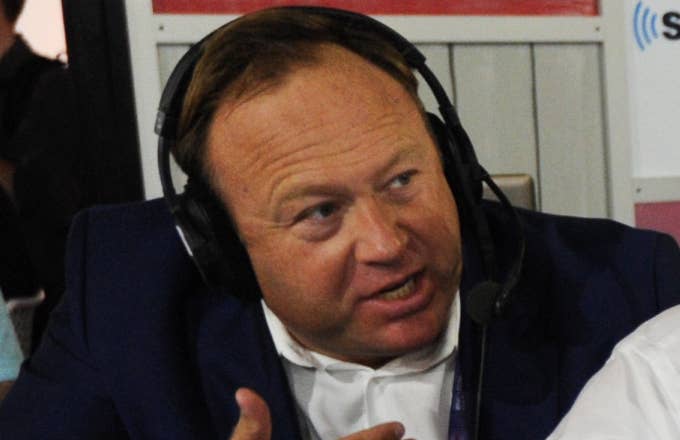 Major brands didn't know they had ads running on InfoWars' biggest YouTube account—The Alex Jones Channel—until very recently.
Last week, CNN discovered ads from Nike, Acer, 20th Century Fox, Paramount Network, the Mormon Church, Moen, Expedia, Alibaba, HomeAway, Mozilla, the NRA, Honey, Wix, and ClassPass were being run on an InfoWars channel. As a result, Nike, Expedia, Moen, ClassPass, Honey, Alibaba, Acer, and OneFamily have suspended their ads this weekend after being contacted by CNN.
The brands initially purchased their ad campaigns either through the Google-owned YouTube or a third-party marketing company who studies online consumer behavior.
Alex Jones, who founded the far right-wing media organization InfoWars, is notorious for fueling toxic conspiracies such as calling the Sandy Hook shooting a hoax. Following February's school shooting at Marjory Stoneman Douglas High School, which left 17 dead, InfoWars posted a video claiming the shooting survivors were "crisis actors."
Jones claimed that YouTube is planning to freeze and delete Jones' channel, but the video platform has denied this, according to TechCrunch. Regardless, the ultra-conservative commentator has launched a new account in response to what he considers censorship by YouTube.
The Alex Jones channel with billions of views is frozen. We have been told it will be deleted tomorrow and all 33 thousands videos will be erased. We just set up this new page subscribe if you want to see what the SPLC wants censored..

https://t.co/0sGkMNUCPt
YouTube's community guidelines explicitly lay out a multiple-strike policy for violating content. If your account receives three strikes within a three-month period, your account can be removed and deleted. The platform considers any content that contains "nudity or sexual content, violent or graphic content, harmful or dangerous content, hateful content, threats, spam, misleading metadata, or scams" in violation of their standards.