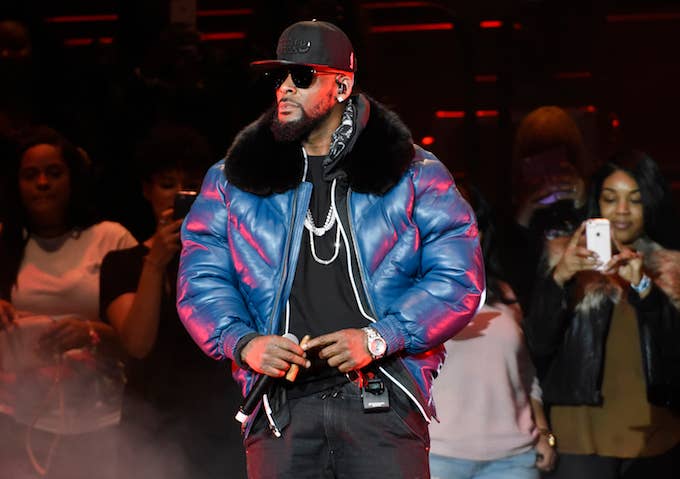 Illinois' Spring Break Jam concert, which was slated for April at the Illinois State Fairgrounds with R. Kelly as its "host," had its application denied due to security concerns, the Chicago Tribune reports.
The application to lease a portion of the fairgrounds for the concert was still under review, Illinois Department of Agriculture spokeswoman Denise Albert told the Tribune. Organizers were informed that their application was turned down on Thursday after they announced the event.
"They had just submitted an application, and unfortunately we can't control when an organizer begins promoting an event," Albert said.
She added that the cancellation was not directly tied to the Lifetime docuseries Surviving R. Kelly, but was denied because of security concerns prompted by protests, namely the one that occurred on Wednesday night outside Kelly's Chicago studio. The rally was arranged by #MuteRKelly, a local organization that aims to boycott Kelly's music on the radio and in stadiums, as well as the sales of his music—and seeks to hold him responsible for his abuse allegations.
Furthermore, IDOA's Administrative Code has 13 criteria that applicants must fulfill to lease the space, and Alberty said that the Kelly-hosted even didn't meet three benchmark rules. The first rule: "The security of both the physical premises and persons upon the premises of the State Fairgrounds"; second, "Reasonably foreseeable problems with security caused by either the nature of the usage or the identity of the proposed lessee or his/her patrons"; and third, "The welfare of the general community."
Albert added that the event could be reassessed and approved in the future, but not with Kelly as host. According to the Tribune, the Spring Break Jam's page on Eventbrite has since been taken down.