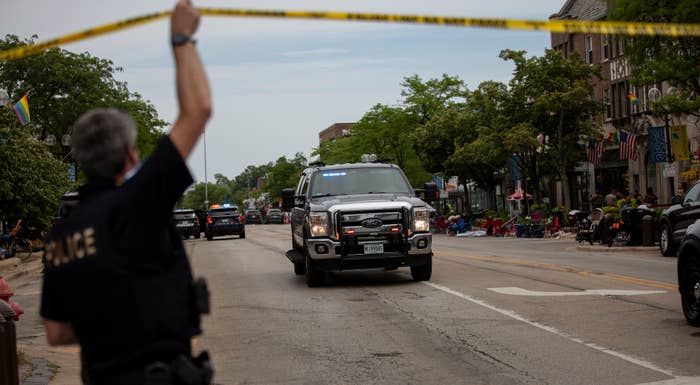 UPDATED 7/5, 4 p.m. ET: The death toll from the Fourth of July parade shooting in Highland Park, Illinois has risen to seven people, NBC Chicago reports. With a seventh victim, the wounded count now stands at 46.
In a news conference on Tuesday, Lake County Deputy Chief Christopher Covelli said that 21-year-old suspect Robert E. Crimo III—who was previously said by police to be 22—acted alone, firing more than 70 shots into the crowd.
"We do believe Crimo preplanned the attack for several weeks," Covelli said. 
UPDATED 7/4, 6 p.m. ET: Law enforcement has identified the suspect accused of carrying out the mass shooting on Monday morning at a Fourth of July parade in Highland Park, Illinois. 
CNN's Kaitlan Collins reports a "person of interest" has been identified as Robert E. Crimo, a 21-year-old who is "believed to be driving a 2010 silver Hyundai."
"He is considered armed and dangerous. "We are considering him very dangerous," Collins added.
See original story below.
Six people were killed and a reported 31 others were injured on Monday morning during a mass shooting at a Fourth of July parade in Highland Park, Illinois, a suburb located about 25 miles north of downtown Chicago. 
State police are still searching for the suspect, advising those in the community to shelter in place. Law enforcement said the apparent rooftop gunman opened fire along the parade route in the wealthy Chicago suburb, which is home to a substantial Jewish, non-orthodox community, per the Washington Post.
At a press conference, Lake County Sheriff's Office Deputy Chief Chris Covelli said the gunman used "a high-powered rifle," which has since been recovered. "He was very discreet and very difficult to see," Covelli added.
Covelli told reporters the suspect is a white male "approximately 18 to 20 years old," with "longer black hair, a small build, and wearing a white or blue t-shirt."
Citing NorthShore University Health System, the Chicago Sun-Timeswrote that 26 individuals were brought to Highland Park Hospital and another five were taken to Evanston Hospital. The "vast majority" required treatment for gunshot injuries, while others were injured in the chaos that followed the shooting.
"No indication he's barricaded anywhere or has any hostages," Covelli told reporters. "Investigators are very, very quickly working to identify who this person is and figure out where he's at." He added, "This person is not identified. By all means, at this point, this appears to be completely random."
Illinois Governor JB Pritzker issued a statement Monday afternoon, saying that "grief will not bring the victims back, and prayers alone will not put a stop to the terror of rampant gun violence in our country. I will stand firm will Illinoisans and Americans: we must – and we will – end this plague of gun violence."
Sun-Times journalist Lynn Sweet was present and reporting as the tragic events unfolded, with local man Miles Zaremski saying, "I heard 20 to 25 shots, which were in rapid succession. So it couldn't have been just a handgun or a shotgun."
A resident of the nearby suburb of Deerfield, who was in attendance while workers set up before the parade, expressed his security concerns to the Chicago Tribune.
"I was here this morning watching them set up. Definitely a serious issue if someone's shooting into a crowd," Michael Solan said. "There's a lot of people here but it doesn't look like the roofs are covered. It doesn't look like the buildings are clear and all these things need to be done and expedited to make sure the shooter can't shoot at us right now. This whole area needs to not only be quarantined off, but all the high points need to be taken out. And we should have snipers, SWAT teams on the high points and they should be looking down."
NBC Chicago reports gunfire erupted just after 10 a.m. CT, with the Lake County Sheriff's Office noting the shooting took place "in the area of the Independence Day parade route." Highland Park officials confirmed that police recovered "evidence of a firearm" on the scene, noting that "numerous law enforcement officers" are currently searching for the suspect.
Illinois State Police announced on Twitter just before 11:30 a.m. CT that the situation was still active, writing, "The Illinois State Police is currently assisting Highland Park PD with an active shoot situation that occurred at the Highland Park Parade. The public is advised to avoid the area of Central Ave and 2nd St. in Highland Park."
Shortly after that, the city's Facebook page shared, "Shelter in place. Highland Park Police are responding to an incident in downtown Highland Park. All 4th of July events have been canceled. Please avoid downtown Highland Park. Take shelter if in downtown HP."
Congressman Brad Schneider, who's been the U.S. Representative for Illinois's 10th congressional district since 2017, took to Twitter Monday afternoon to send his condolences to the family's who've lost loved ones in the tragic shooting.
"Hearing of loss of life and others injured," Schneider wrote. "My condolences to the family and loved ones; my prayers for the injured and for my community; and my commitment to do everything I can to make our children, our towns, our nation safer. Enough is enough!"
Highland Park has canceled its additional Fourth of July events, as have the nearby suburbs of Evanston and Deerfield. More information will be shared as it becomes available.