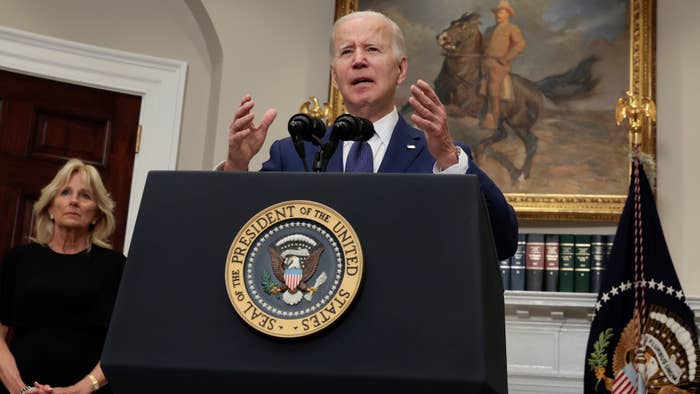 At least 18 children and 3 adults were killed in a mass shooting on Tuesday at Robb Elementary School in Uvalde, Texas. The suspected shooter, later identified as Salvador Ramos, 18, was fatally wounded by police.
As has become the norm in the wake of these all too frequent tragedies, countless athletes, entertainers, and politicians took to Twitter this afternoon to express some form of sympathy or outrage, with numerous others calling for gun control.
President Joe Biden addressed the shooting from the White House and on social media, writing, "Where in God's name is our backbone to have the courage to deal with it?"
Connecticut U.S. Sen. Chris Murphy took the Senate floor following today's tragedy to deliver a passionate plea, urging Congress to address gun violence.
"What are we doing? What are we doing?" Murphy said. "Days after a shooter walked into a grocery to gun down African American patrons, we have another Sandy Hook on our hands. What are we doing?"
Murphy continued, "Our kids are living in fear every single time they step foot in a classroom because they think they are going to be next. Why do you spend all this time running for the United States Senate? Why do you go through all the hassle of getting this job if your answer is that as this slaughter increases, as our kids run for their lives, we do nothing. What are we doing?"
Meanwhile, Golden State Warriors head coach Steve Kerr, while speaking to the media before Game 4 of the Western Conference Finals, urged lawmakers to do something about the country's gun violence.
"I'm so tired of getting up here and offering condolences to the devastated families," Kerr told reporters. "Excuse me. I'm sorry. I'm tired of the moments of silence. Enough!"
LeBron James sent his thoughts and prayers to the families affected by the senseless shooting, writing, "My thoughts and prayers goes out to the families of love ones loss & injured at Robb Elementary School in Uvalde, TX! Like when is enough enough man!. These are kids and we keep putting them in harms way at school."
Meanwhile, Chris Evans put his anguish in far more simpler terms, writing, "Fucking Enough!"
A message from Yeezy Gap mourned the tragedy while announcing its next drop would be postponed. "In light of the tragedy in Uvalde, Texas, we are postponing the Yeezy Gap Engineered by Balenciaga launch until Friday, May 27. As we pause, our hearts go out to the families and communities impacted."
Scroll down to see some of the reactions to the mass shooting at Robb Elementary School.