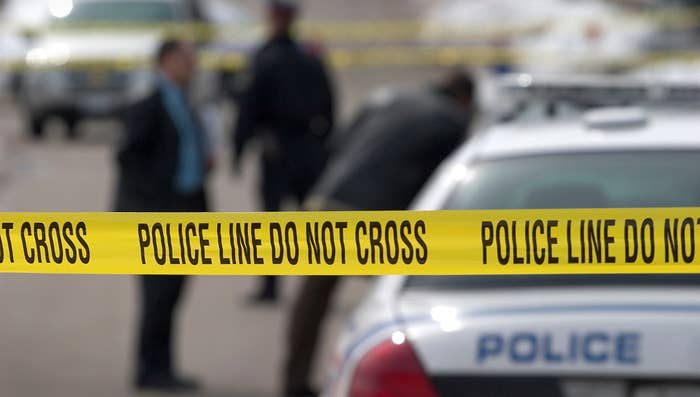 UPDATED 5/24, 10:57 p.m.: The death toll from the Texas elementary school shooting has risen to at least 19 children and two adults, the New York Times and Associated Press report state officials as saying. It's unclear if that count includes the gunman, who is said to have died at the scene. The AP previously reported that 18 children and three adults were killed in the shooting.
President Joe Biden addressed the nation from the White House and called for restrictions on guns during a speech about the shooting. "It's just sick," Biden said, per NYT. "Where in God's name is our backbone, the courage to do more and then stand up to the lobbies? It's time to turn this pain into action."
The tragedy in Uvalde, Texas is now the second deadliest school shooting recorded to have occurred at an elementary, middle, or high school in the U.S., according to NYT. The deadliest was the December 2012 shooting at Sandy Hook Elementary in Newtown, Connecticut in which 20 children and six adults were killed.
UPDATED 5/24, 4:55 p.m.: The devastating death toll coming out of Texas includes 14 children, one teacher, the teenage shooter, and—reportedly—his grandmother.
Gov. Greg Abbott said 18-year-old Salvador Ramos of Uvalde, with a handgun and possibly a rifle, "shot and killed—horrifically, incomprehensibly—14 students and killed a teacher."
"The suspect also allegedly shot his grandmother before entering the school and again opening fire," ABC News writes. Ramos was reportedly fleeing police when he got to Robb Elemenatary, per the Daily Beast. The suspect is believed to have been killed by police, Abbott said.
13 patients were brought to Uvalde Memorial Hospital; CEO Tom Nordwick initially told CNN that two were dead upon arrival. Two patients were brought to University Health in San Antonio and a third is pending transfer, one being a child, another being a 66-year-old woman in critical condition.
"When parents drop their kids off at school, they have every expectation to know that they're going to be able to pick their child up when that school day ends. And there are families who are in mourning right now," Abbott said. "The state of Texas is in mourning with them for the reality that these parents are not going to be able to pick up their children."
See original story below.
A teacher was reportedly shot in the Uvalde County area of Texas on Tuesday, spurring a lockdown of an entire school district.
Per an initial report from CBS News, the Uvalde County Sheriff's Office said a teacher had been shot, prompting the lockdown. In a tweet shared Tuesday, a rep for the Uvalde Consolidated Independent School District had said an "active shooter" was at Robb Elementary. A suspect was later said by local authorities to have been taken into custody.
In a subsequent update, it was clarified that—at the time of the report—only the Uvalde County Sheriff's Office had mentioned a teacher having allegedly been shot. The district and the city's police department, meanwhile, had not offered confirmation of that report.
In a statement shared to social media, the Uvalde Police Department did confirm a suspect was in their custody as of 1:06 p.m. local time. In a prior update, the department had alerted residents to a "large police presence" at Robb Elementary. "We ask the public to avoid the area," police said.
Complex has reached out to the Uvalde County Sheriff's Office, the Uvalde Police Department, and the Uvalde Consolidated Independent School District for additional comment. At the time of this writing, the official site for the school district had been updated to include a message for parents of Robb Elementary students, as well as information on a designated reunification site.
The Uvalde Memorial Hospital also issued a statement on Tuesday's active shooter incident, saying staff was "currently caring for several students in the ER." Additional information was not shared.