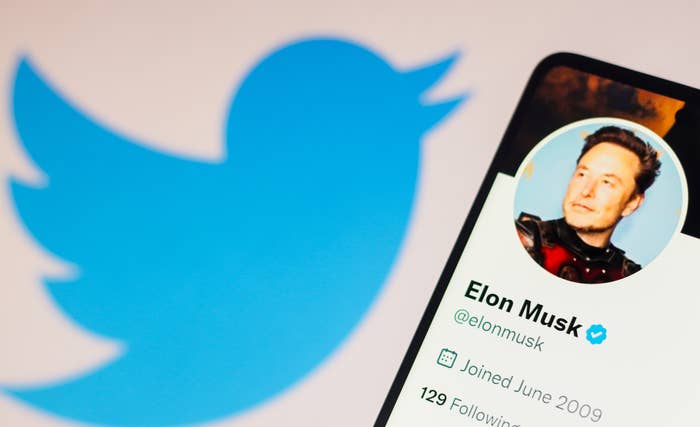 UPDATED 11/30, 9:25 p.m. ET: It seems Elon Musk has squashed his beef with Tim Cook. 
Days after Musk accused Apple of threatening to block Twitter from its App Store, the billionaire tech mogul apparently met with the Apple CEO to clear up the "misunderstanding."
Musk confirmed Cook took him on a tour of Apple HQ in Cupertino, California, and shared a video of his campus visit. The Tesla head claimed he and Cook discussed Twitter's potential ban from the App Store, and said Cook reassured him that wasn't under consideration.
"Good conversation. Among other things, we resolved the misunderstanding about Twitter potentially being removed from the App Store," Musk wrote. "Tim was clear that Apple never considered doing so."
Musk did not expand on what "other things" he and Cook discussed.
See original story below.
Elon Musk's rocky takeover of Twitter continued on Monday, with the new CEO accusing Apple of threatening to pull Twitter from its iOS App Store.
In a series of tweets, Musk claimed Apple has threatened to "withhold" Twitter from its app store, but "won't tell us why." The Tesla founder also questioned Apple's alleged censorship actions, while tagging the company's CEO Tim Cook in the thread and asking "what's going on here."
"Apple has also threatened to withhold Twitter from its App Store, but won't tell us why," Musk wrote. In another tweet, he asked: "Who else has Apple censored?"
In subsequent posts, Musk called out Apple over 30 percent App Store fees, while saying the company had "mostly stopped advertising" on his platform.
Musk's comments arrive on the heels of Twitter's former head of trust and safety, Yoel Roth, blasting Apple in a Nov. 18 op-ed published by the New York Times. 
"In my time at Twitter, representatives of the app stores regularly raised concerns about content available on our platform," Roth wrote. "Even as they appear to be driven largely by manual checks and anecdotes, these review procedures have the power to derail company plans and trigger all-hands-on-deck crises for weeks or months at a time."