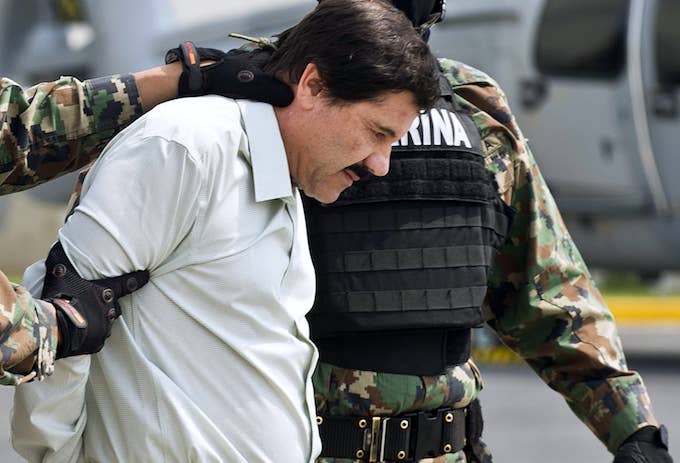 The long-winded Jaoquin "El Chapo" Guzman trial, which began on Nov. 13, 2018, has finally reached a verdict. Guzman has been convicted and will likely face life behind bars in a high-security prison known as "Supermax."
When sentenced Guzman faces, per the Department of Justice, "a mandatory life sentence without the possibility of parole for leading a continuing criminal enterprise, and a sentence of up to life imprisonment on the seven remaining drug counts."
The three-month-long trial took place in New York, detailing the specifics of his cartel over the years. His cartel was responsible for shipping massive quantities of drugs into the United States as well as committing a large number of violent crimes in Mexico. Guzman notably broke out of prison three times already. Investigative work by the DEA, the United States Coast Guard, Homeland Security Investigations, and the FBI helped the court reach its verdict. Local prosecutors in El Paso, San Diego, Chicago, Miami, Washington, and New York all contributed, too.
The notorious 61-year-old druglord was extradited to the United States in Jan. 2017 following his third arrest, where he pled not guilty to 17 counts. The charges he faced included the operation of a criminal enterprise, money laundering, and murder conspiracy. Evidence against him in the trial included countless surveillance photos, drug ledgers, and numerous phone calls and text messages that were intercepted throughout the years.
As the trial has continued, more horrifying and ridiculous stories about what El Chapo got up to surfaced thanks to a litany of witnesses called to the stand. Just last month it was revealed that he allegedly had his own cousin killed for skipping work, and that he even wanted to direct a movie about his own life somewhere down the line. More disturbingly, an associate of his alleged that Guzman had girls as young as 13 years old brought to him so that he could drug and rape them.