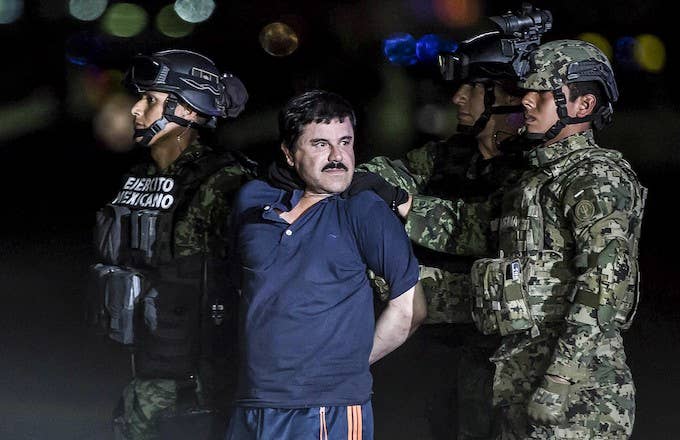 El Chapo's life is a movie—so much so he wanted to make it into an actual movie. The alleged drug lord is currently undergoing a federal trial in Brooklyn, New York, where the court learned about El Chapo's silver screen goals. Alex Cifuentes, his former secretary, dropped the tidbit as he testified about his time hiding out with his boss in the mountains of Mexico. "He loved the idea," Cifuentes said.
But this isn't because the man born Joaquin Guzman is a cinema buff. Cifuentes said that Chapo's wife pointed out around 2007 that the media was already making money off his name, according to Reuters and the New York Post. So, it'd make sense the man at the center of the conversation make some bank, too.
Cifuentes' testimony isn't the first time the idea of El Chapo the Movie was brought up publicly. Sean Penn's infamous 2016 Rolling Stone feature recounted El Chapo approaching Mexican actress Kate del Castillo (who played a drug lordess on a soap opera) with a movie idea. The move to entertainment was looking like quite the jump: In the profile, El Chapo says, "I supply more heroin, methamphetamine, cocaine and marijuana than anybody else in the world. I have a fleet of submarines, airplanes, trucks and boats." 
Regardless, most first-time directors and authors aren't facing legal cases in Mexico, New York, Arizona, New Hampshire, Florida, California, Texas, and Illinois. In Brooklyn, El Chapo is fighting a 17-count indictment that includes kidnapping, murder conspiracy, and drug trafficking.