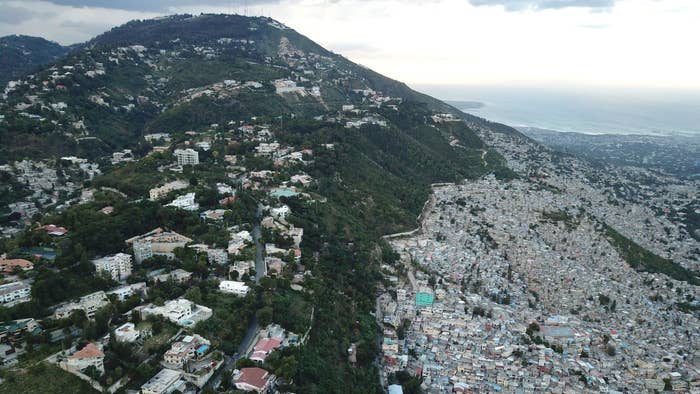 UPDATED 8/14, 5:28 p.m. ET: Saturday's devastating earthquake in Haiti has left more than 200 people dead, and hundreds of others missing, the country's civil protection service confirmed Saturday.
"The most important thing is to recover as many survivors as possible under the rubble," Haiti's Prime Minister Ariel Henry said, as reported by NBC News. "We have learned that the local hospitals, in particular that of Les Cayes, are overwhelmed with wounded, fractured people."
Henry has declared a one-month state of emergency for the entire country, which tallied 227 quake-related deaths as of Saturday afternoon. President Joe Biden said he was "saddened" by the news and has authorized an immediate U.S. response led by USAID Administrator Samantha Power.
"In what is already a challenging time for the people of Haiti, I am saddened by the devastating earthquake that occurred in Saint-Louis du Sud, Haiti this morning," POTUS said in a statement. "We send our deepest condolences to all those who lost a loved one or saw their homes and businesses destroyed."
See the original story below.
A 7.2 magnitude earthquake that struck near Haiti on Saturday has the U.S. Geological Survey claiming that casualties could be "high."
"High casualties are probable and the disaster is likely widespread," the USGS shared. "Past events with this alert level have required a national or international level response."
There have been fatalities and damage in relation to the earthquake, Haiti's Civil Protection told CNN, as the U.S. Tsunami Warning System confirmed that a tsunami threat has since passed in the area. 
Between 220,000 and 300,000 people died in a 7.0-magnitude earthquake that hit Haiti in 2010, injuring hundreds of thousands. Today's earthquake was 12 kilometers, or 7.5 miles, northeast of Saint-Louis-du-Sud and was 13 kilometers, or over 8-miles, deep. 
Tropical Storm Grace could also impact Haiti on Monday and Tuesday, according to CNN Meteorologist Haley Brink.