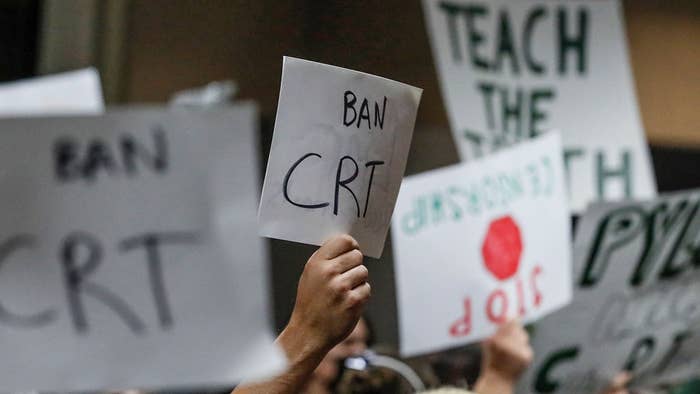 A school district in Florida put an end to a civil rights history seminar citing "critical race theory" concerns. The trouble is that the seminar actually had nothing to do with critical race theory, per NBC News.
The lecture called "The Long Civil Rights Movement," was hosted by the National Council for History Education and manned by Flagler College history professor J. Michael Butler for teachers in the Osceola County School District. Its intention was to educate them on the history of civil rights before and after Martin Luther King Jr.'s life. The seminar was ultimately was canceled via email, and Butler says he isn't surprised. 
"There's a climate of fear, an atmosphere created by Gov. Ron DeSantis, that has blurred the lines between scared and opportunistic," Butler said after a state Senate committee pushed legislation to prevent public schools from making people feel "discomfort" during race teachings. "The victims of this censorship are history and the truth. The end game is they're going to make teaching civil rights into 'critical race theory,' and it's not."
Christina Pushaw, a spokesperson for DeSantis, claimed that the governor had nothing to do with what happened in Osceola County. 
"Critical Race Theory and factual history are two different things. The endless attempts to gaslight Americans by conflating the two are as ineffective as they are tiresome," she wrote to NBC. "So just to be clear, mixing up 'teaching history' with 'teaching CRT' is dishonest."
School board member Terry Castillo shared that "school boards have been punished for going against the governor's orders regarding mask mandates," and said "school districts in Florida are in a precarious position as we navigate the anti-CRT administrative order which has little guidance yet promises to have strong consequences if not implemented." The board member claimed that superintendent Debra Pace initially had concerns about the spread of COVID in relation to the seminar. 
An email sent by the administrator, however, claims that the district only had a summary of the seminar and "needed an opportunity to review [the seminar] prior to the training in light of the current conversations across our state and in our community about critical race theory."
"I am mindful of the potential of negative distractions if we are not proactive in reviewing content and planning its presentation carefully," she wrote. 
Butler argued that the legislation currently being argued "makes it so that any topic that falls under the rubric can be labeled as potentially critical race theory," as Grace Leatherman, the executive director of the National Council for History Education, said that the event isn't taking place because it couldn't be moved. Per Salon, Leatherman said the district was concerned with primary source materials regarding Great Migration and Plessy v. Ferguson and images of Colin Kaepernick kneeling, leading to a committee putting an end to the lecture by claiming that it didn't have enough time to review such materials
As she puts it, "simply, obviously, we don't want our presenters to need to feel they need to edit or self-edit their work," which she says was requested of the seminar.