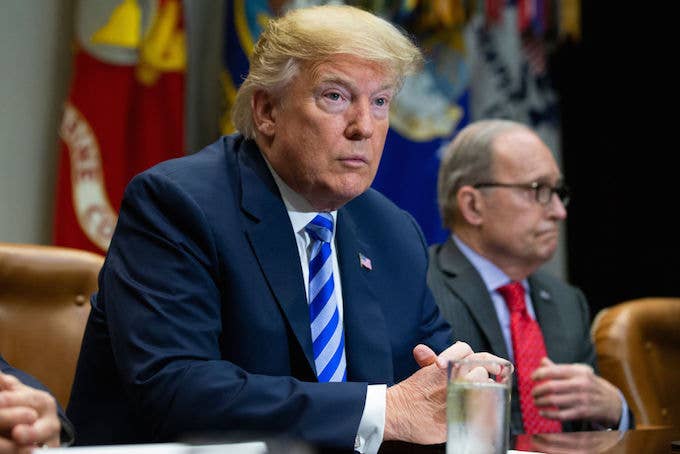 The Trump administration decided to withdraw protections for transgender inmates that allowed them to use facilities corresponding with their gender identity, according to a report from BuzzFeed News. A notice posted Friday evening revealed modifications to previous Obama-era policies that attempted to protect transgender inmates from sexual abuse and assault.  
According to the revised notice, the Bureau of Prisons will be using "biological sex" instead of gender identity to assign the housing, bathrooms, and other facilities of transgender prisoners. "The designation to a facility of the inmate's identified gender would be appropriate only in rare cases," the new Transgender Offender Manual reads.
The policy effectively places transgender protections on a back burner under the premise that officials must "consider whether placement would threaten the management and security of the institution and/or pose a risk to other inmates in the institution."
These changes in policy were spurred by four evangelical Christian women in a Texas prison who sued in US District Court claiming the presence of transgender inmates, who their complaint misgenders as "men," "creates a situation that incessantly violates the privacy of female inmates; endangers the physical and mental health of the female Plaintiffs and others, including prison staff; [and] increases the potential for rape."
According to BuzzFeed, the rules of the Obama-era 2012 Prison Rape Elimination Act said "officials must give 'serious consideration' to the wishes of transgender and intersex inmates when assigning facilities," and that gender identity should also be taken into account when "conducting searches, using pronouns, offering healthcare services, and supplying undergarments."
Under the new rules, officials will not only "use biological sex as the initial determination for designation" of facilities and treatment, but the word "necessary" was added into rules about hormonal medical treatment, leaving us to wonder what the agency will deem "necessary" for inmates trying to undergo hormone therapy and other transition services.
The adjustment of regulations established in 2012 not only actively deny and misgender trans people, but opens a floodgate for violence. Placing transgender women in male facilities makes them incredibly vulnerable to abuse, rape, and death. This article from Jezebeloutlines just a few of the countless times placing these women in male prisons has been detrimental. One Texan woman, Passion Star, previously shared her story of enduring 12 years of rape and beatings in a male prisons, after the state decided not to comply with the Prison Rape Elimination Act.
The National Center for Transgender Equality, an advocacy group, condemned the updated policy.
"The extreme rates of physical and sexual violence faced by transgender people in our nation's prisons is a stain on the entire criminal justice system," Mara Keisling, executive director of the NCTE, told BuzzFeed. "Instead of leaving the existing policy alone, the administration is clearly prepared to encourage federal prisons to violate federal law and advance its own inhumane agenda."
It looks like the burden will fall on state and local governments to protect their transgender prison population, which only a few cities today are taking steps to do.