Trump Reportedly Told Michael Cohen to Lie About Moscow Tower Project to Congress (UPDATE)
'BuzzFeed News' published the report on Thursday night.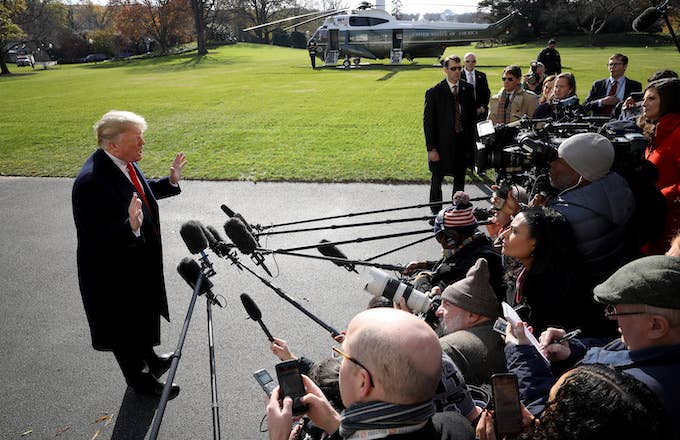 Getty
WASHINGTON, DC - NOVEMBER 29: U.S. President Donald Trump answers questions from the press while departing the White House November 29, 2018 in Washington, DC. Trump answered numerous questions regarding his former attorney Michael Cohen's recent court appearance and testimony before departing. (Photo by Win McNamee/Getty Images)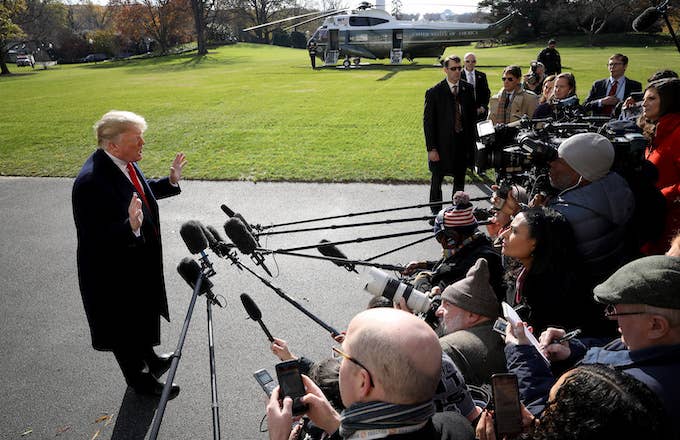 UPDATED: The office of Special Counsel Robert Mueller took issue with BuzzFeed News' report on Trump, saying that it was "not accurate," CNNreports.
"BuzzFeed's description of specific statements to the Special Counsel's Office, and characterization of documents and testimony obtained by this office, regarding Michael Cohen's Congressional testimony are not accurate," spokesperson Peter Carr said via a statement.
In an unprecedented move, special counsel's office disputes a news report claiming Trump directed Cohen to lie

https://t.co/IIQQCKngcr
See original story below.
Donald Trump told his former personal attorney Michael Cohen, a convicted felon, to lie to Congress about negotiations surrounding his Trump Tower Moscow project, according to a new report from BuzzFeed News that was published on Thursday night. Trump reportedly instructed Cohen to say that negotiations for the Moscow Trump Tower wrapped up earlier than they actually did.
The publication spoke to two federal law enforcement officials that are tapped into the Mueller investigation. The report further alleges that a minimum of 10 meetings regarding the Moscow project took place during the 2016 presidential campaign. Trump reportedly "hoped" the project "could bring his company profits in excess of $300 million." 
PerBuzzFeed News:
Trump also supported a plan, set up by Cohen, to visit Russia during the presidential campaign, in order to personally meet President Vladimir Putin and jump-start the tower negotiations. "Make it happen," the sources said Trump told Cohen.
A spokesperson for Ivanka Trump's lawyer told BuzzFeed News that the president's daughter was "only minimally involved" in the Moscow building project. "Ms. Trump did not know about this proposal until after a non-binding letter of intent had been signed, never talked to anyone outside the Organization about the proposal, never visited the prospective project site and, even internally, was only minimally involved," Peter Mirijanian wrote.
Head here to read BuzzFeed News's report in full.