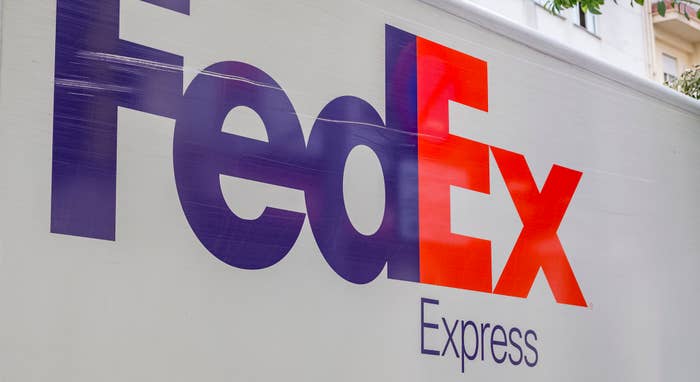 UPDATED 4/16, 7:40 a.m. ET: A gunman who attacked the FedEx facility near Indianapolis International Airport killed eight people and then himself, Associated Press reports.
Five people have been hospitalized following the shooting, with one in critical condition. Two more were treated and released at the scene.
FedEx has confirmed its employees were among the dead.
One witness told WTHR-TV the shooter came through firing his rifle and yelling "stuff that I could not understand." The shooter has yet to be publicly identified, and the investigation into the shooting is ongoing. It is unclear whether the gunman worked for FedEx.
"We are deeply shocked and saddened by the loss of our team members following the tragic shooting at our FedEx Ground facility in Indianapolis," FedEx stated on Twitter. "Our most heartfelt sympathies are with all those affected by this senseless act of violence. The safety of our team members is our top priority, and we are fully cooperating with investigating authorities."
FedEx CEO Frederick W. Smith wrote a letter to team members following the shooting. "This is a devastating day, and words are hard to describe the emotions we all feel," he wrote. "Please keep the Indianapolis team and surrounding community in your thoughts and prayers as we continue to support and care for each other in the difficult days ahead."
Police were called to the scene on Thursday shortly after 11 p.m. following reports of gunfire. Officers "came in contact with [an] active shooter incident," said police spokesperson Genae Cook. "The officers responded, they came in and did their job. A lot of them are trying to face this, because this is a sight that no one should have to see."
Addressing the shooting, Indianapolis Mayor Joe Hogsett added the city was "confronted with the horrific news of yet another mass shooting, an act of violence that senselessly claimed the lives of eight of our neighbors."
See original story below.
Several people have been injured following a shooting at a FedEx facility near Indianapolis International Airport at 8951 Mirabel Rd., WRTV reports.
It's currently unclear if suspects have been apprehended or how many people were injured in the shooting. Police were called to the scene at around 11 p.m. Thursday night, Indianapolis Metropolitan Police Department Spokesperson Genae Cook said, per WRTV. CNN reports that Cook described the incident as a "mass casualty situation." Further details regarding the shooting have yet to be made available. 
"My wife works in there and she texted me to tell me there's an active shooter and we communicated back and forth for a while, she's since notified me she's okay," Ian Johnson told Fox affiliate WXIN. "After I communicated with her for a while, then it went silent for a while, so I came here just to see what was going on and she texted me I'm okay."
Reporter Courtney Crown shared an interview with Parminder Singh, who said his niece was injured in the shooting.