The 'Cash Me Ousside' Girl's Social Media Accounts Were Apparently "Hacked" (UPDATE)
Someone appears to have hacked Danielle Bregoli's social media pages and posted a scary video.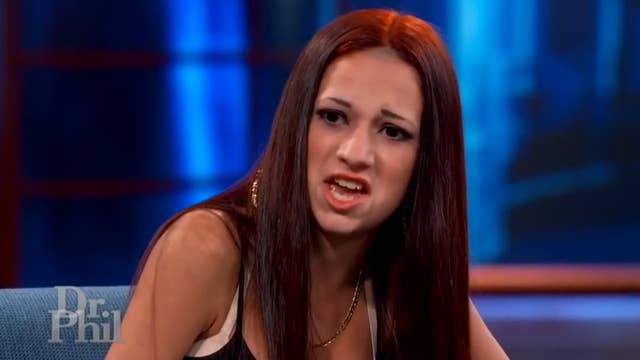 YouTube
UPDATED 3/08/2017 12:37PM ET: "Mystery" solved. While Glassface hasn't hit us back, we did hit up Danielle Bregoli's business email, and got the following response.
This project is a commentary on the state of celebrity, current events and speaks on hysteria, fake news & conspiracy theories. Danielle and her team collaborated with Glassface to take over her account for this top secret art experiment. The result was millions of media impressions, hundreds of fake accounts, speculation and news stories.
It also looks like this coincided with the release of the video for Florida rapper Mook Boy's "Juvy" video, which was directed and edited by Glassface and starring, you guessed it, Danielle Bregoli. Apparently, he recorded the vocals for this track while doing an 18-month bid in prison.
Glassface (who's not a hacker, but a visual artist and video director behind the videos for OG Maco's "U Guessed It" and Lil Yachty's "1 Night," among others) hit us up with the following statement.
The intent of the project was to experiment with a lot of the forces we're seeing in current events today - news cycles dominated by speculation, hacking, politics, culture, and to make it feel like all those things were imploding on each other. The project is an amalgam of memes, cultural and news talking points, culminating in a release on WorldStarHipHop. It's meant to be an all-encompassing experience for the viewer. A lot of people have opinions about Danielle, and this played with that idea - voicing what the general consensus of some people may be. It was interesting to see how polarized peoples' opinions were - some people stood up for her, while others wanted to see something negative happen. Ultimately - this whole project was accomplished with 4 pieces of visual media so I think it was a success. Also we lost a little bit of final quality when it was uploaded to WSHH - wish everyone could see the hi-res.
There was also the release of this video that states plain as day that Glassface was behind "the hack," which included a side-by-side comparison of the kind of 13-year-old we don't acknowledge and the ones that we do.
Anyways, that's that. Kind of surprised that this stunt would've been pulled this early in her "career" as a "cultural phenomenon," but at least this wasn't some very real, very illegal hacking.
UPDATED 3/07/2017 6:59 p.m. ET: 
It appears as if director and digital media artist Glassface, may be behind the Bregoli hack. Not only does Bregoli's Twitter account now bear a logo of "Face Security Group," seeming to reference Glassface's persona, but the artist appeared to be bragging about the hack on his Twitter account. Tuesday afternoon, he tweeted, "just trying to say what everyone else is thinking."
Not long after, he retweeted someone claiming that "everyone's saying" that Glassface is behind the hack.
Complex has reached out to Glassface for comment, and we will update if he responds.
Original story below:
Danielle Bregoli, aka the teenager who turned into a meme after saying "cash me ousside, how bow dah" during an appearance on The Dr. Phil Show, appears to have had her Facebook, Twitter, and Instagram accounts hacked by someone (something?) called the Face Security Group, and the sh*t is kind of scary.
"This is the modern day celebrity?" it starts. "This country glorifies and makes famous a young girl for being disrespectful to her mother. She is no role model. She is no idol." It sounds very eerie, and ends with "pay attention to what happens next."
Here's the second video that's been posted:
"Citizens of the world," this one begins. "Too long we have stood by idly and observed. It is time we take matters into our own hands. The time for change is now." It ends with "the leaks begin Wednesday."
There's no other information regarding the alleged hack, aside from the phrase "Демократия умирает во мраке" (which translates to "Democracy dies in darkness") being thrown into her bio(s).
This is pretty damn f*cked up, and outright scary. Assuming this is a legit hack, this is still a teenager. Sure, homegirl was a literal bug out on Dr. Phil, twice, but this feels wrong.
We can all agree that making ratchet teenagers a thing (with merch!) isn't the answer, but is putting them on display with creepy videos (that seem to hint at more to come) really the move? With supposed leaks (whatever those may entail) set to drop later this week? And what the f*ck could they be leaking? Let's not forget, this is a MINOR.
I don't care how much you don't f*ck with Cash Me Ousside; this is so f*cked up.