A chart showing how much everyone loves weed? We'll take it. Unless one is fortunate enough to reside in Washington (represent!), Colorado, or a similarly weed-friendly state, the level to which your fellow citizens enjoy the ingestion of God's fav herbal refreshment likely remains somewhat of a mystery. With Estately's recent chart-inspiring breakdown of each state's weedthusiasm level, that mystery is finally (sorta) solved.
Giving each state a score from 1 to 100 based on five criteria, Estately found that Colorado currently stands as the most weed-loving state in America. Predictably, Washington state follows close behind with Oregon, New Mexico, and Maine rounding out the top five. Researchers arrived at their conclusions by measuring each state's reported weed usage, general affordability, weed-related Googlings, the green stuff's legal status, and "publicly expressed interest" from everyday citizens via Facebook user data.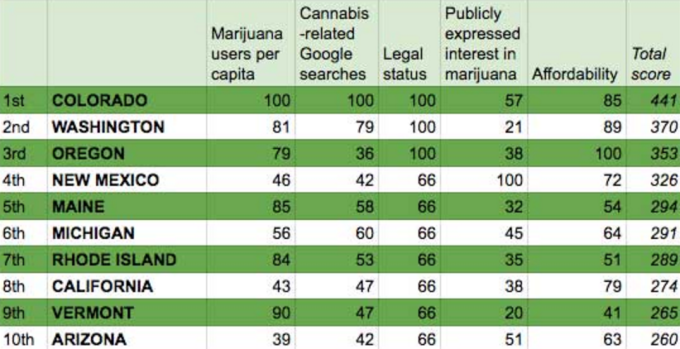 As tragically expected, Southern states are generally the least likely to get down with weed. Alabama, for example, placed 44th in Estately's ranking with a total score of 95 out of a possible 500. That fail, though very clearly a fail, should come as little surprise to anyone even vaguely familiar with the state's history on such issues. For example, Alabama was dubbed the "least marijuana-friendly state" in the nation in 2015 in a 24/7 Wall Street analysis.
Of course, as weed is still somehow classified as a Schedule I substance, the difficulty of publicly declaring one's love for weed remains pretty dire in states like Alabama. "You know, we treat marijuana in the same way that we treat heroin now, and that is clearly not appropriate," former Attorney General Eric Holder told PBS last month, as quoted by the Huffington Post. "So at a minimum, I think Congress needs to do that. Then I think we need to look at what happens in Colorado and what happens in Washington."
What happens in Colorado and Washington? Love happens.