What Paris Fashion Week Felt Like Without Virgil Abloh
Corey Populus, the designer behind streetwear brand Circulate, describes his time at Paris Fashion Week and how Virgil Abloh's presence was still felt.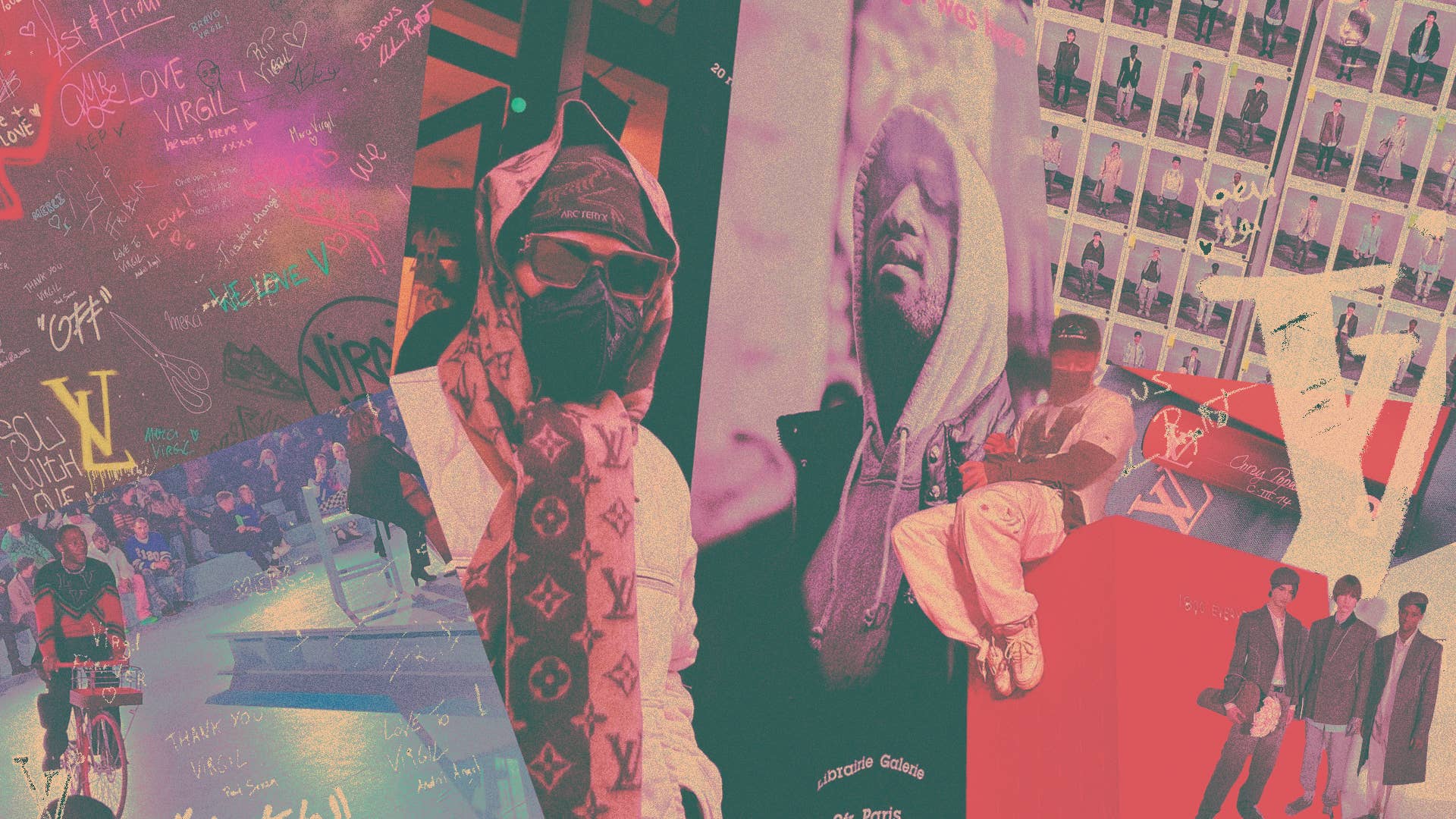 Complex Original
Image via Complex Original
Note: Corey Populus designs streetwear brand Circulate Worldwide. Here, he describes his experience at Paris Men's Fashion Week. 
The first time I went to Paris for Fashion Week was in 2018. I always just felt left out because I'm a streetwear nerd. When it comes to sneakers and T-shirts, and skateboarding, that's my lane. But when it comes to high-end fashion, I'm not well versed in that area yet. My really good friend Shane [Gonzales] who designs the brand Midnight Studios is fully immersed in that world. So for years he was going to Fashion Week and he would come back and tell me about it. And I always just kind of felt left out because that's not my world. When Virgil started doing his thing, I was like, "Yo. Now I kind of have a way to access it." I didn't get to go to all the other shows, but I had more of a reason to pop up. This season was the first time I was able to check out other shows and I realized how strict they are and how lucky I've been to be able to participate and go to shows.
I met Virgil around 2010 or 2009. I used to work at Diamond Supply Co. on Fairfax. At one point Ibn Jasper started working a lot with Diamond and he would come by the shop all of the time with Virgil. And for some reason Virgil just gravitated towards me. He'd be like, "Yo, so what's the wave? What's everyone doing around here? What's hot?" We would just chop it up and that's how we formed our friendship and kept in contact through the years. He was really huge into skateboarding, and I always felt like he's the older version of me because we had the same interests.
When I found out he landed at Louis Vuitton I thought it was such a huge deal. I always saw Virgil as someone like me who is really into streetwear. And he was Black. So, I was definitely shocked and I was super proud of him. I remember that day when all of the press photos were going around and that was insane. 
The first time I went to Paris, I was actually really excited because I finally got to check out a fashion show. I didn't know what to expect. I was pretty nervous because I don't dress really crazy. I'm a graphic T-shirt, jeans, and sneakers guy. And I was afraid of looking super basic compared to, like, Shane. But when I got there, it was a really cool experience and I love the fact that all the homies from LA go there and you feel a sense of home, but you're just in a different place. It was a chance to reunite with everyone that you don't see at home. It's a week of hanging out with the homies and just having a bunch of fun. And for me personally, Fashion Week became a time that I got to see Virgil and chop it up for a second.
Everyone kind of guards him after those shows and stuff and he has a hectic schedule, but I always knew I was going to be able to see him and talk. And the last time I saw him was in 2020 during Paris Fashion Week. So I was packing for the Miami show and getting excited because I finally get to see Virgil and catch up because Circulate is really kicking off now, and then the news broke and I was just like, man.
When the new year came I was really excited for Virgil's last Louis Vuitton show. I usually go to Fashion Week with Shane and he was going to go to relaunch his brand and do showroom appointments, but two weeks leading up to Fashion Week, he was like, "Yo, we're not doing our showroom anymore and it's going to start getting ugly with the variant." I had already bought my ticket and had my Airbnb and all that stuff booked. I was scared they were going to cancel. And it was funny because Joe Freshgoods tweeted something like "Omicron flopped we at Fashion week in two weeks." And I was like, "We Out." I knew it was the last show and I was just like, dude, I cannot miss this for the world. I was super happy I made it because every time I leave those shows, even though I don't make crazy fashion clothes, I always feel inspired about everything. Like just the way everything is conducted down to the invitation and the music at the show. Virgil puts so much thought into it and I always felt like that's the way I should be moving forward with my brand. And making sure it's not just a surface-level T-shirt. 
I went to the second Louis Vuitton show of the day. I tried to stay off Instagram throughout the day just so I didn't ruin it for myself. The second show was at night, which was really cool. I'm not sure if it was Virgil's idea, but all of these kids were outside of this photo op area with a gradient backdrop, and so when you are walking to get your picture taken all of these kids are screaming behind the barricades. It was actually really cool and felt really good. And then getting into the show they had these really cool pillows and a kaleidoscope. I'm really cool with Tyler so I heard he did all of the music and I was excited to see that and the set design was insane. It had this huge bed and a house and I don't know, all kinds of crazy, crazy stuff going on. It seemed like everyone was pretty happy. Just in high spirits because they were there. There was so much going on and it felt like this is probably how Virgil's mind works. There's like, a dude jumping on a trampoline and there's people contorting their bodies on the ground. There's the model walking in zigzags and then he starts contorting his body, people coming out of chimneys, and there are people doing handstands. It was so chaotic, but I loved it. And it was cool because it's not the traditional fashion show. And that speaks to Virgil, because he's always like, just going against the grain. That's what streetwear is. Doing the opposite of what everyone else is doing. And that's what I felt that show was. 



Virgil's the guy who went through the door first and kept it open for everyone.
When Tyler came out on the bike I went crazy. I started to tear up because you know, at the end of a fashion show, the designer usually runs out. That's when Virgil would've ran out, but it just felt really right. And in my opinion, I think Tyler would be really cool as a creative director for Louis Vuitton and I think Virgil would agree. I just feel like he is one of the guys that has the same type of demeanor and free spirit. And you know the type of people he's connected to, I think that's like the closest person to Virgil. It was just really cool to see him at the show because normally I don't even see him at Fashion Week, so it was really dope to see him come out. After the show it seemed like people were just hanging around break dancing, and catching up. People were tagging the chimney. There was a bunch of stuff going on, and that whole saying, "Virgil Was Here" made the most sense, because all of this was him. That was a pretty crazy feeling, too. 
Backstage at Dior was chaotic, but I really liked the clothes. They were pretty simple but good and that's more of my speed. Loewe was really cool because it was so different from all of the other shows. I just learned what couture means, I hope no one hates me for that, but it felt like a couture show in a way. The clothes were like art. There was an outfit with rings in it and an outfit that looked like it was blowing in the wind or something. I felt like they were taking a risk. 
Things did feel different with the mix of Covid and Virgil not being there. It definitely felt weird because he was like that guiding light of what to do after the shows and stuff like that. It was definitely weird because no one knew what to do when the show was over. But we kind of ended up figuring it out. Soho House ended up becoming a good place to go, and the homie Jermaine [Kemp] put together a couple of things too where everyone kind of reconvened. But it was definitely weird. 
Nigo at Kenzo felt like a Virgil play. Virgil's the guy who went through the door first and kept it open for everyone. That show was really cool. It felt like the Grammys or something. When I pulled up I was super nervous because there was so much paparazzi. The most I had seen the entire week. I walked up and I saw Tyler and right away I just hung out with him because I went by myself and I felt comfortable with my friend. And we were just hanging out. And then freaking Pharrell walked in and I was like, oh, this is crazy. I live in LA and I see celebrities, but I always get excited when I see Pharrell because growing up he was like a god. Then out of nowhere, like Kanye walked in with this new girlfriend [Julia Fox] and things got really crazy. And it was cool to see. And I've never seen Nigo in real life and obviously I grew up on him and Bape, so it was just cool. I thought all the clothes were really sick. Because like usually when I see Kenzo in a store I'm like I would never wear this. But it was really cool to see Nigo put his flavor on it and he did an amazing job.
Then Dave Chapelle and Mos Def were at the Louis Vuitton show. A couple of days later Chapelle did a comedy show with a surprise BlackStar performance. That was really cool. I had never seen Dave Chappelle perform live and I had never been to a comedy show in general. So seeing Dave Chappelle for the first time was really dope. Then he was he was like, "Yo, can I bring out my friends?" And it was freaking Mos Def and Talib Kweli and they were doing old BlackStar stuff and they did a new song too, which was really sick. And yeah, that was just the cherry on top of the the trip. 



I always just kind of felt left out [of Paris Fashion Week] because that's not my world. When Virgil started doing his thing, I was like, 'Yo. Now I kind of have a way to access it.'
I was also able to connect with my friends who also have brands. Joe, Kacey [Lynch], and I have formed this brotherhood and it's so important to me. It's great that we are all trying to help each other out and we aren't hating. Back in the day, when you would ask someone how many Black-owned brands there were, they would name like Sean John and maybe a couple more. But now there's so many and it's cool that a lot of us are in the space and we're all friends. Everyone just builds each other up and supports each other's projects. And I think that's super important for Black-owned brands to stick together because that's how we stay around. That's how we grow and get to the next level. I got a bunch of DMs from kids on IG like, "Thanks for showing us this side of Fashion Week," and "We don't get to see what happens behind the scenes." And I like to share everything and give back as much knowledge to kids who don't have access, because I didn't have that growing up. And I probably got that from Virgil. You never get to see someone that's like uber famous start from the ground up firsthand. And I feel that way about Virgil. It's so crazy to see him become the biggest thing on Earth. And the fact that I could hit him up and ask him something, it's crazy to me. And Virgil never got bigheaded. He always hit me back. And I really appreciate it. It's just crazy that I was able to be friends with someone like Virgil.