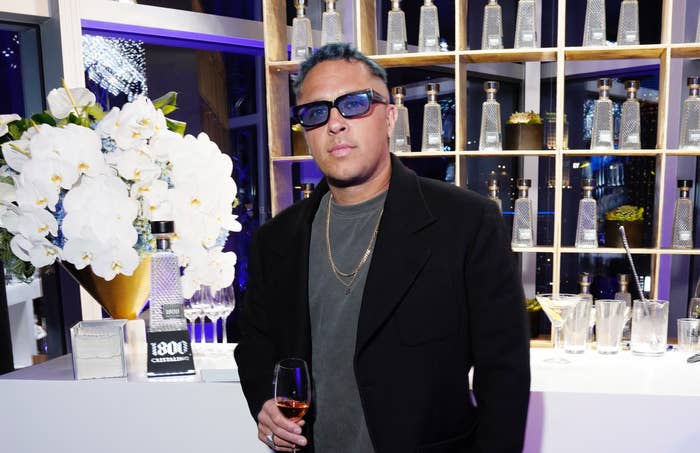 UPDATED 6/28, 4:30 p.m. ET: Born x Raised's brand account posted a message confirming that 42-year-old Spanto has passed away.
"Spanto was in a car accident on June 25," the statement, which is from 2Tone, reads. "He leaves behind his wife Anna and three children, Marilyn, Carter and David, a sister, three brothers, his mother, step mother, and step father, his beloved grandparents, his family at Born X Raised, his extended native family, the city of Los Angeles that he loved and championed, and an extensive network of true friends."
See original story below.
Born x Raised co-founder Spanto, a.k.a. Chris Printup, has reportedly died.
An inside source shared the news with Complex this evening. Further details have not yet been made public. More information will be added as it becomes available. A number of prominent figures in fashion and hip-hop—including Bun B—have started to pay homage to the designer, parent, and prolific collaborator.
Spanto, 42, created the influential Born x Raised brand with Alex "2Tone" Erdmann a decade ago, celebrating and defending their Venice, California home. One of their earliest designs, seen in the clip below, famously read "Gentrification Is Genocide." High-profile collabs have included New Era, Converse, Babylon, and numerous L.A. franchises like the Lakers, Dodgers, Kings, Rams, and LAFC.
Spanto got a terminal cancer diagnosis in 2013—the month after starting Born x Raised—and celebrated his cancer-free status in 2018. Just six months ago, he looked back at his life and health journey in a reflective Instagram post full of gratitude.
"I just want to take a moment to take a long, hard look back and what has happened over the last ten years," he wrote in December 2022. "I think if you would take a peek at my instagram and see the highlight reel and think it might've been easy - but.. from where ive started (like in the early years of my life).. growing up my dad was homeless and my mom was mentally ill - I spent a lot of time in and out of the system from an early age from central juvenile hall to many years spent in the county - I decided to create a clothing brand while the last time I was incarcerated - I cooked up bxr while I was in the hole at supermax." He went on to say that "from 2013 until now I've been battling cancer, did 4 years of chemo lost 100 lbs and my hair numerous times - what I'm getting at is life is hard for everyone and I want anyone to know, that if you're feeling discouraged or like life has given you too many handicaps - ITS OKAY. you're going to be fine things will get better."
Spanto continued, "I'm cancer free, I'm not incarcerated and my family has a house to live in and I want to look back at all that has happened and say THANK YOU - because just 5 years ago I was in the worst place in life I've ever been and just this last week I've been in Vogue, NY Times and a bunch of other places that I am extremely grateful for. If you would have told me 10 years ago I would be hosting a dinner with Nike on the roof of Soho house for 100 of my friends I would've never believed you. So I again want to look at all the beautiful gifts life has given me and enjoy all of it."
A December 2017 profile touched on the early days of his cancer battle. "2Tone would bring his laptop to the hospital and the two would discuss designs from Spanto's hospital room, even going as far as shooting an early lookbook in the hospital. Working on Born x Raised with 2Tone helped Spanto keep his sanity, even as chemo's 'injections of hot lava' ravaged his body and mind," wrote HighSnobiety's Kevin Cordon.
2Tone would later recall this as the hardest part of getting Born x Raised going. "It was just running [as] fast as possible doing whatever it took to make shit pop," the co-founder shared in 2016. "Fast, dangerous, and dirty. It's still the same now."
This month, Born x Raised teamed with Levi's for a project paying homage to Spanto's late father Butch, who died this year. "I found this Levi's denim jacket that he used to wear a lot when I was a kid and immediately knew I wanted to dedicate a project to my father's memory," Spanto—whose heritage was Apache and Seneca—told Vogue. The final trucker jacket arrived with the words "In Loving Memory" across the back.
The Levi's collab images were shot in Los Angeles as well as his grandfather's childhood home of White River, Arizona, calling on people like Spanto's children, mother, and siblings—plus actors Richard Cabral and Amber Midthunder—to model. He noted on Instagram that he "tried to keep the cast behind the camera Native as well."
Of the lifelong-awaited trip to White River, Spanto movingly wrote on the Born x Raised IG account, "I've never been so sad and so happy at the same time - so much emotion but I didn't even know what I was feeling - I kept crying and my little brother and Jared kept asking me if I was ok - 'I'm fine, I don't even know where these tears are coming from' was my response. I guess sometimes we carry weight we don't know we're carrying. Generational weight - the real heavy stuff."
Below, we've collected a series of tributes and remembrances that have begun to pour out.