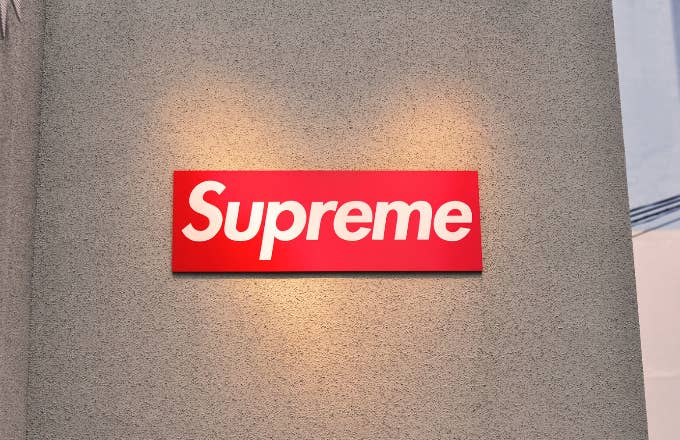 For those in tune with the real, the idea that fakes proliferate may be troubling. For Supreme, whose close watch on their stock availability is obviously integral to the brand's worldwide success, the battle against fakes is rife with complications almost too overwhelming to read about.
In a new and notably rare interview with Business of Fashion, Supreme founder James Jebbia provides his take on the issue. By his estimation, few—if any—other companies have been tasked with a counterfeit industry of this size.
"This is a whole new level with this criminal enterprise—these complete imposters and impersonators," Jebbia said. "This is a company that was able to convince one of the biggest companies in the world [Samsung] that they are the real thing." Jebbia also took issue with an argument you may have seen floating around amongst the fakes debate, i.e. the theory of so-called "legal fakes."
The Supreme boss is worried such a mindset could be damaging to future generations. "People should know that the idea of legal fakes is a complete farce," he said. "It would be sad if a new generation thinks that's actually legit." Supreme's tendency toward rarity in the press, Jebbia added, is something of which counterfeit providers like Italy's International Brand Firm (IBF) have taken advantage.
As you'll recall, Supreme dropped hints about a Milan flagship back in February, a locale of particular importance given the rise of IBF-affiliated companies like Supreme Italia. Last year, thousands of counterfeit items were seized in San Marino.
Among the most recent updates on Supreme's ongoing legal battles are that IBF is alleged to have offered them the chance to buy back certain trademarks. The brand is not interested in this approach. Additionally, both the real and the fakes have multiple pending applications in China. IBF and Supreme Italia's pending applications stem from March 2018, while Supreme's are still pending five years after its initial trademark filing.