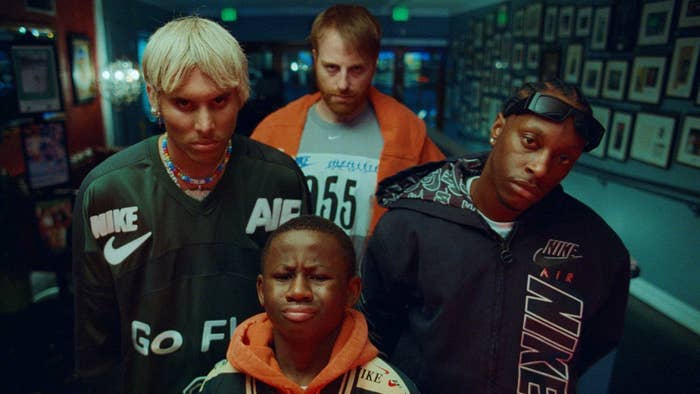 For their latest collaborative collection, Nike and Cactus Plant Flea Market aimed for a blend of multilayering and deconstruction.
The Go Flea collection sees timeless elements from the longstanding Nike legacy distorted within the Cactus Plant Flea Market aesthetic for a wholly unique wearer experience. As Nike explained in a recent press release, the goal is to ensure each piece from the collection is capable of telling "its own story."
The collection was first unveiled in a short film directed by whitetrashtyler in March. Pieces from the Go Flea run were modeled in the short by Bloody Osiris, Cian Moore, RAYSCORRUPTEDMIND, and more. Items initially dropped via the Cactus Plant Flea Market site. Now, collectors will have another chance at scoring pieces from the collection via SNKRS.
Pieces included in the collection include a short-sleeved jersey top for $150, a long-sleeved jersey top for $100, a long-sleeved polo for $135, a shoebox hoodie for $250, a workwear jacket for $400, and a rave pant for $165.
The items will be available once again starting April 8. For more info, including an option to receive a notification for each one upon availability launch, click here.
Recently, the Cactus Plant Flea Market team linked up with Playboi Carti for a round of merch boasting a continuation of the Whole Lotta Red aesthetic. The trio of pieces included in the Cacti collection were centered around interpretations of the WLR tracks "King Vamp" and "M3tamorphosis," the latter of which features Kid Cudi, who also recently collaborated with Cactus Plant Flea Market.
Below, get a closer look at the Go Flea collection.