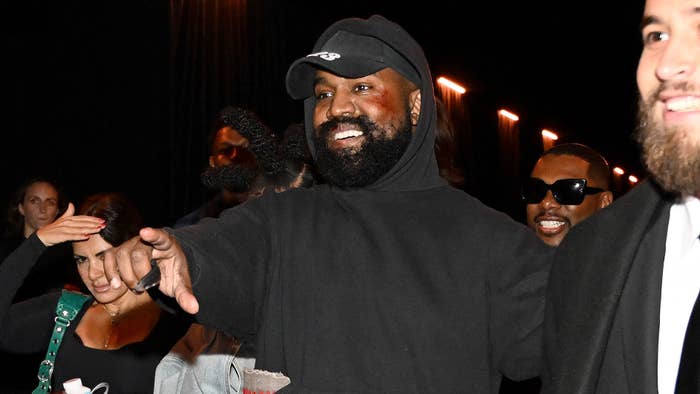 It's YZY season once again.
On Monday, the artist formerly known as Kanye West—fresh off his show-opening walk in Balenciaga's Summer 23 show—presented the YZY Season 9 experience in Paris.
The livestream of the presentation, which, according to New York Times fashion director Vanessa Friedman, featured soap in attendees' seats, can be found up top. The stream began with a behind-the-scenes glimpse at attendees waiting for the presentation's kickoff, John Galliano and Demna among them.
Deeper into the livestream (the video link for which was later made private), attendees and those watching at home were immersed in a projected compilation of footage including remarks from John Lennon on the dissolution of The Beatles, an excerpt of an interview with Kim Kardashian, a clip of Steve Jobs, and a closing bit from Ye (taken from a 2019 David Letterman interview) about his late mother, Donda West.
Several minutes later, Ye addressed attendees from the floor, first pushing back against how the press has treated the delayed start times of prior events before diving into a number of additional topics, with influence being chief among them. Ye also spoke on Kim's Paris robbery and how he asked for a break in his tour schedule but his then-manager Scooter Braun, per Ye, told him to stay on the road instead. Elsewhere, Ye reflected on the iconic Tommy Ton photo from 2009, as well as his 2016 hospitalization.
"We have me, we have Shayne Oliver, we have the kids who didn't make it into the house. … We're starting our own house," Ye, wearing a t-shirt featuring a "White Lives Matter" design, said at Monday's event.
Speaking further on this inarguable level of impact, Ye continued, saying: "We did change the look of fashion over the past 10 years. We are the streets. We are the culture. And we will not be bullied or treated differently than you treat any other fashion show that might start a little bit later just to present the best idea to you."
The presentation followed, featuring a choir performance interspersed with looks from the latest YZY pieces.
Variations on the aforementioned "White Lives Matter" design, which also features an image of Pope John Paul II on the front, were also seen on models in Ye's show.
Ahead of the highly anticipated unveiling (which also featured further teasing of new music with James Blake) , Ye spoke with Luke Leitch for a Vogue-published chat in which he reflected on the importance of the role Paris plays in his work, particularly when creating in the fashion space.
"Paris is the high cathedral of fashion," he told the publication. "If I'm doing music, rap music, I'm going to put my hoodie on, and get an Uber, and go over to Future's house. Day after day. And if we're working on clothes? Paris."
The YZY Season 9 presentation will also be live screened in Times Square in NYC on Monday, October 3 at 6 p.m. ET, according to a press release.
Over the weekend, already-in-progress speculation was fittingly sent into overdrive with the sharing of a pair of Instagram updates from Ye, including an apparent mood board featuring Rihanna and Kim Kardashian, among others. He also shared an image of a covered human shape without context, as seen below.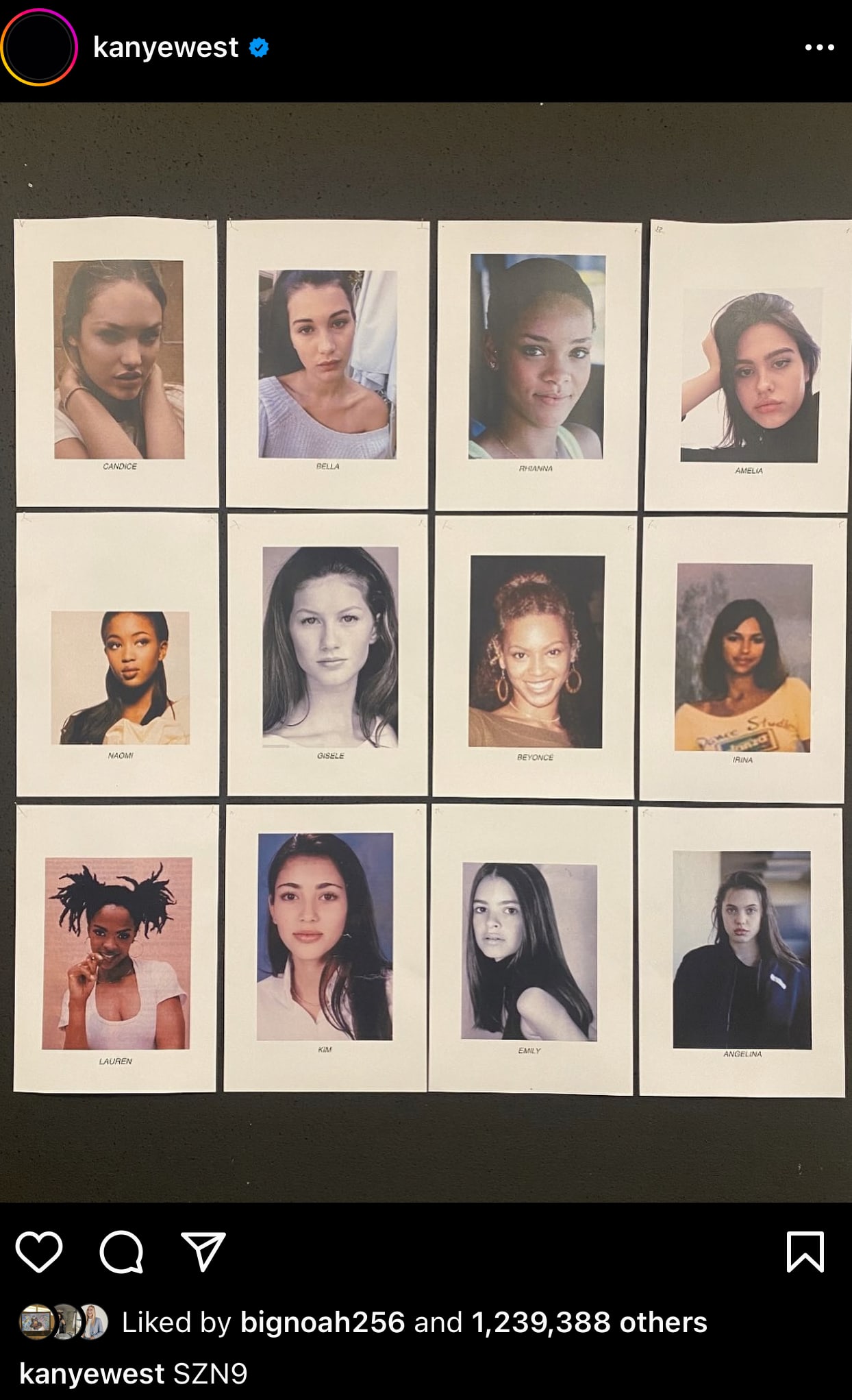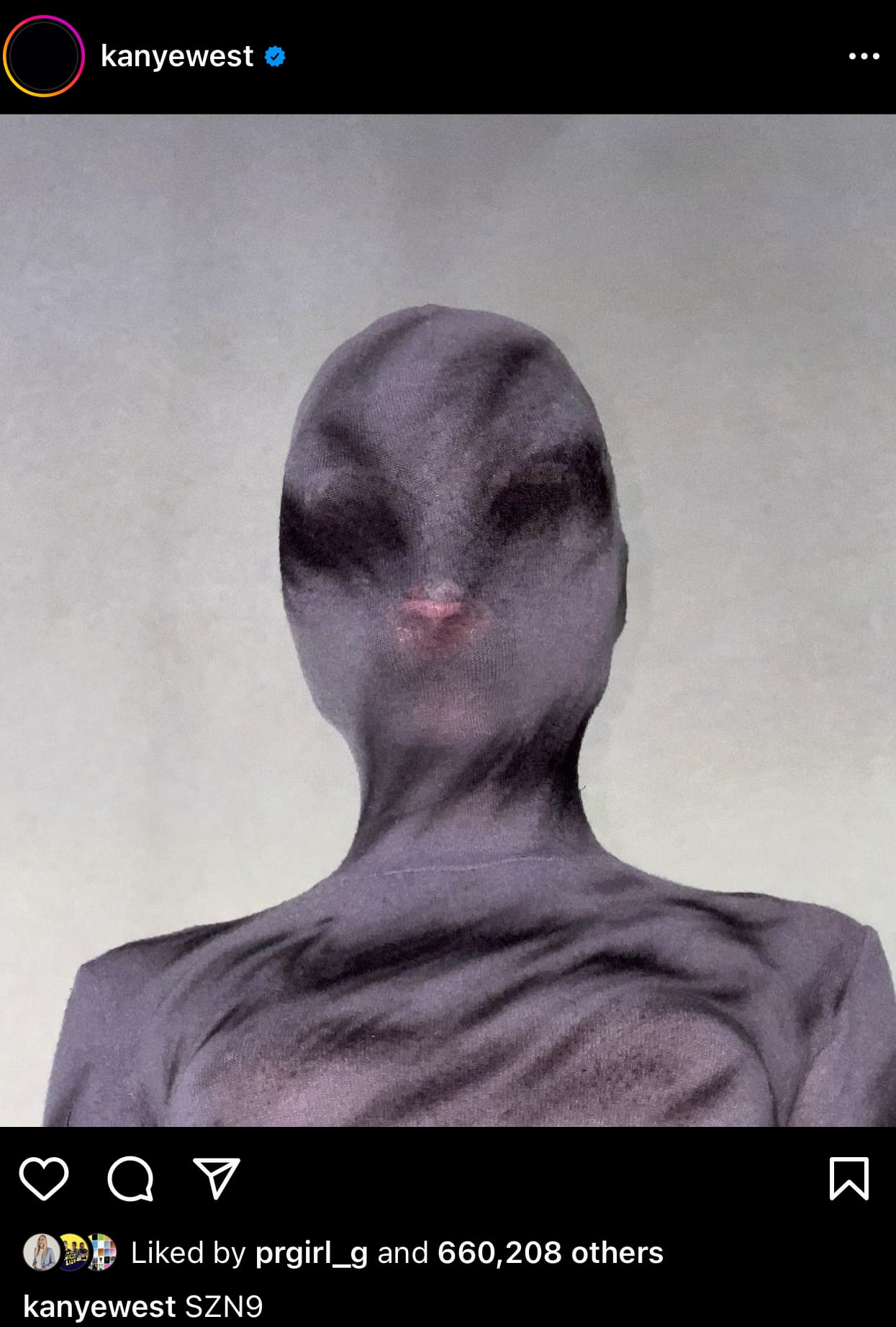 The last time we were given a YZY presentation, the year was 2020 and Ye was soon set to announce a partnership with Gap. That partnership (like Ye's relationship with Adidas) has since fallen apart, all while the hype surrounding the impending rollout of YZY SHDZ has continued to build.