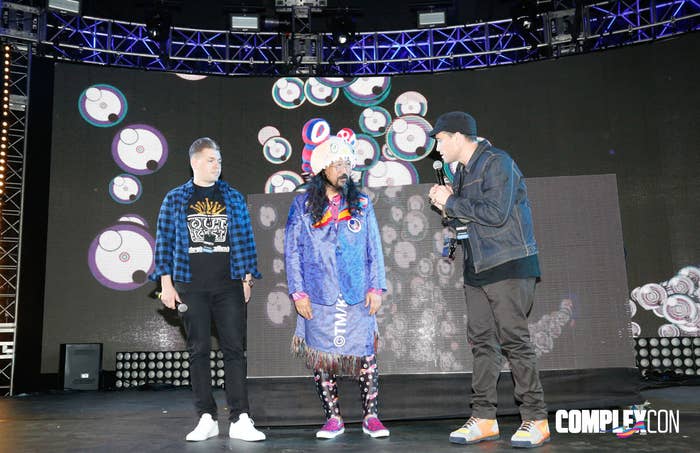 For someone who claims that he's not a sneakerhead, Takashi Murakami has a hell of a lot of sneakers. "No, I'm not a sneaker fan, but I love Vans," the Japanese pop art legend tells us. "I have 300, 400 white Vans." Brand loyalty aside—Murakami famously collaborated on a very successful run of slip-ons and apparel with the company in 2015—he has an artistic interest in maintaining his personal collection. Murakami wears each pair for one month, then moves them to a storage unit. "When I'm dead, I want to show them in my museum," he explains.
Murakami was spotted around ComplexCon this past weekend in a flashier pair of pink and blue Vans that matched his custom suit, printed with elements of the art he made as the event's official creative director. As is to be expected, his look was topped off with his signature round glasses and a furry, stuffed animal hat. But, he says he typically favors the more egalitarian designs of outdoors label Patagonia in his daily life. "Patagonia is great," he says. "Mostly the down jacket. The whole year, I wear the down jacket. With air conditioning—young people are always hot, hot, hot. I have to work with young people, so it's always freezing."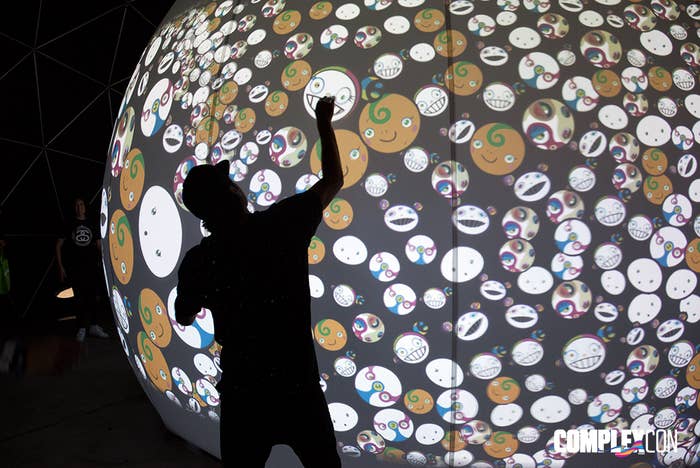 That Murakami surrounds himself with youthful company isn't surprising—his art is all bright colors and high energy, and he has long been a champion of emerging talent in the art world. Still, he was surprised by the enthusiasm that greeted him when he arrived in town for ComplexCon, an event that celebrated youth culture. At various times throughout the weekend, Murakami appeared throughout the Long Beach Convention Center. Here he was, onstage next to Complex founder Marc Ecko when he received a key to the city; there he goes to meet with fans under a giant LED screen flashing animated versions of his work. Whenever he turned up, he was treated like a rock star. "My fan signing was a little bit different for me," he says, contrasting the young crowd at ComplexCon with the art types who typically show up to his gallery openings. "This is a sneaker people."
The language barrier—Murakami occasionally uses a translator to communicate in English—didn't seem to be much of an obstacle toward expressing the mutual love. "A very strong passion they have," he adds.
There was at least one familiar face in the crowd, though: Pharrell, ComplexCon cultural director and host committee chair, is a frequent collaborator. The two came together on Sunday to introduce the Beats by Dre Pill speakers featuring Murakami's art. They had last spent time with one another just two weeks prior. "He was recording in Tokyo," Murakami says. "He invited me to his studio. I saw for the first time his recording situation. Before, I completely forgot that he's a musician. He's a pop icon. He's famous, and he's dancing, and he's speaking—so, that's why I completely forgot. But his creation of music is completely different. Like, oh my God, this is great! That's why he's Pharrell!"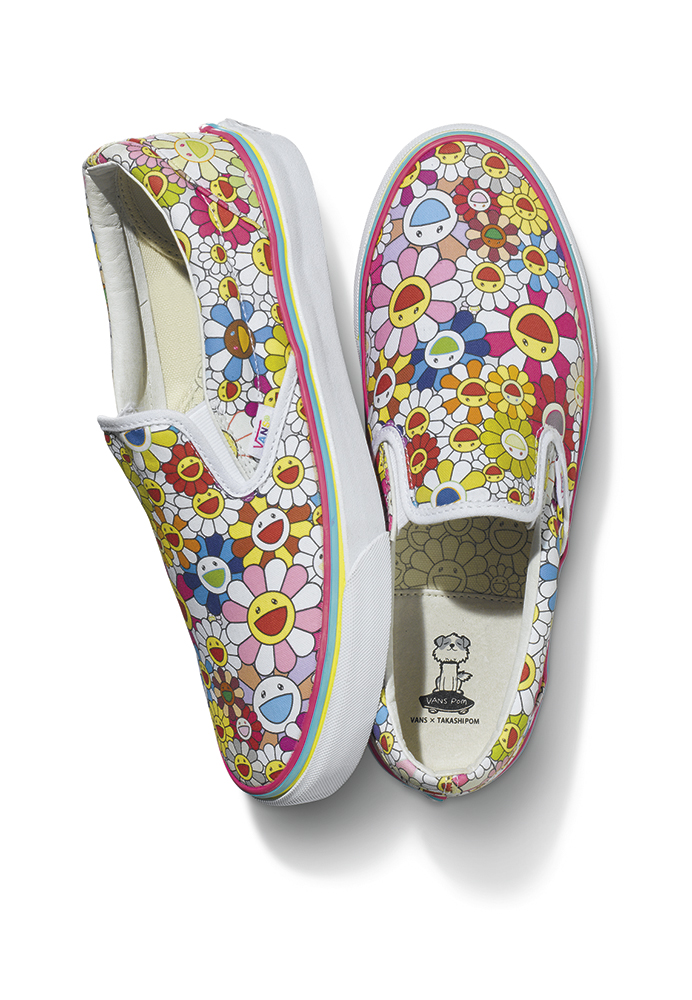 The experience in Tokyo also uncovered some similarities between both artists' creative process. Murakami describes how Pharrell spent 18 hours in the studio working on only two songs with a Korean pop star, despite his obvious jet lag. "I asked him about why he travels to make his sounds," he recounts. "He said, 'When I make sounds in New York, I have noise—my company, my staff. But Tokyo is very quiet, and I can make creativity in my mind.' This is a similarity with me when I make a drawing: A trip to any city [gives me] a much more open mind."
Quiet, here, is a metaphorical term; Murakami reports that the new music Pharrell is making—which was on loop continuously throughout the hours they spent in the studio together—is big, loud, and reminiscent of his past work with N.E.R.D. Murakami also cranks music at specific moments while he works, although his favorite genre is dance. "When I'm making a drawing, there's no sound. It's better," he says. "But when choosing a color [for a painting], my brain has to move. So, I need help to pick that." Just don't ask him to ID any of the acts who provide that creative assistance. "I cannot remember the artists' names, but they sound like space-y techno," he says. He finds new music primarily by typing "best dance songs" into YouTube. 
Despite his familiarity with Pharrell, and his relationship with Kanye West—the rapper's album Graduation featured album art by Murakami—his knowledge of hip-hop, in general, is limited. He does, however, have very distinct memories of being introduced to the early work of ComplexCon headliner Snoop Dogg years ago. "When I came to New York in 1994, his name was already big," he recalls. "The Nirvana guy was dead. Smashing Pumpkins came, and a bunch of the hip-hop [artists] came up. ​That moment is very [connected] with American sounds.​"
After his sustained success and world renown, the opportunity to learn about new facets of pop culture is endlessly appealing for Murakami, as is the opportunity to connect with new fans. "It looks like a breath of fresh air," he says of his time at ComplexCon. "A new zone. I didn't know this group of people. This is [making me] very happy."