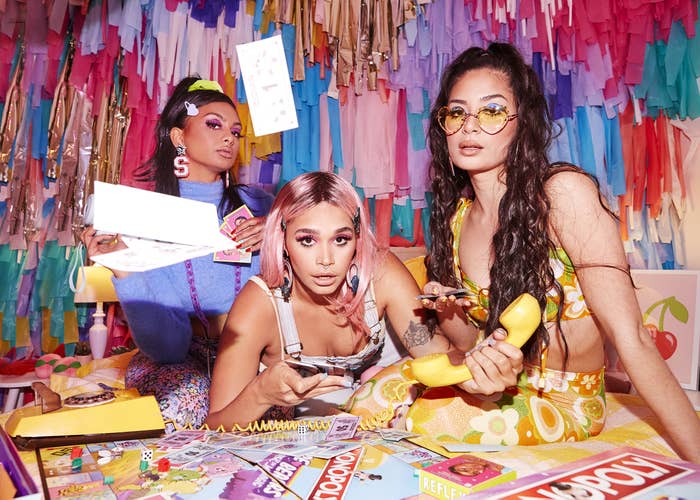 First Nations-owned brands are making their way to the limelight as Indigenous designers from across the country continue to spotlight their culture through their creations. Influenced by traditions, roots and narratives, for the brands on this list, their designs are more than just fashion statements—they're an ode to Indigenous lands and people. "Indigenous designs go beyond being fashion statements because they tell our families' stories and show our pride [in] being First Nations people," says Haus of Dizzy's founder Kristy Dickinson. "My Indigenous heritage shapes my work as it allows me to highlight our beautiful stories and knowledge of the land and waterways—and [it] keeps our heritage alive." 

If you're searching for sustainable garments that give back to the community, we've gathered the best Indigenous Australian brands for you to shop from and support. Read on for our full list.
Website: https://gracelillianlee.com/

IG: https://www.instagram.com/gracelillianlee/

Grace Lillian Lee is a Cairns-based artist, weaver, designer, and curator whose Indigenous roots are the source of her creativity. Since graduating from RMIT University with an honours degree in fashion design, Lee has been honing her skills under her eponymous label, and has become renowned for incorporating traditional weaving into her silhouettes. Lee has also made it her mission to champion other creatives in the industry by establishing a slew of projects like First Nations Fashion and Design and getting involved in fashion shows in Papua New Guinea, Melbourne and Adelaide.
Website: https://hausofdizzy.com/

IG: https://www.instagram.com/hausofdizzy/

Meet Kristy Dickinson (aka the "queen of bling"), the Wiradjuri designer behind Haus of Dizzy. Specialising in jewellery, Dickinson takes inspiration from her Indigenous background and spotlights her culture through the artisanship of her acrylic and fine metal creations. For over 20 years, Dickinson's handcrafted accessories have been much more than just statement pieces—they've also served the purpose of shedding light on political and social issues. Furthering its commitment to activism, the label hosts a number of fundraisers in collaboration with not-for-profit organisations such as AYCC (Stop Adani Movement), Seed Mob, Sydney Mardi Gras, Djirra, NAIDOC Week and the YWCA.​
Website: https://lillardiabriggshouston.com/

IG: https://www.instagram.com/lillardiabriggshouston

Putting ethical fashion at the forefront of her self-named label, Lillardia Briggs-Houston is known for her handmade silhouettes made from natural-fibre textiles that she produces herself—talk about talent.​​​​​​​ In terms of design, the Wiradjuri, Yorta Yorta, Gangulu designer gravitates towards one-of-a-kind patterns inspired by her heritage. The techniques incorporated into her garments involve a range of skills such as carving, bush dying and weaving. On top of her brilliant creations, Briggs-Houston is also a fierce activist, and debuted her Walumarra collection in 2022 alongside a petition to the government, advocating for the enactment of legislation that preserves First Nations cultural heritage.
Website: https://ngali.com.au/

IG: https://www.instagram.com/ngali_australia/

Based in Melbourne, Ngali—meaning "we" or "us" in several Aboriginal languages—was established by Wiradjuri woman Denni Francisco, who was put on the map after taking part in Afterpay's Australian Fashion Week in 2021. Aboriginal and Torres Strait Islander artworks are the stars of the brand's sustainable offerings which are reimagined into prints featured on everything from clothing to collectibles. An integral part of  Ngali's brand philosophy is creating garments through the lens of Yindayamarra: fashion that is respectful, represents politeness, is gentle to Country and honours cross-Country collaborations with fellow Aboriginal and Torres Strait Islander artists.
Founded by designer and Yuwaalaraay woman Julie Shaw in 2019, MAARA Collective is a luxury Australian label whose pieces you need in your closet. Shaw was the recipient of the Australian Fashion Laureate for Indigenous Designer of the Year in 2021, as well as a winner of Marie Claire's 2022 Women of the Year Awards, and teams up with Indigenous artists and creatives to create modern, refined resort wear. Boasting traditional methods executed through a contemporary lens, MAARA's designs evoke elegance, and at the same time highlight the narratives of Aboriginal and Torres Strait Islander artisan communities.
Luxe resort wear brand Kirrikin boasts a collective of talented Indigenous Australian artists and designers who create contemporary pieces. Kirrikin offers a diverse catalogue of handcrafted and sustainable goods from names like Emma Kerslake, Kaye Lorraine White, Shane Hansen, and Helena Geiger that all centre Aboriginal artwork, traditions and culture. Personally handpicking the featured creatives on its platform, Kirrikin makes it a point to showcase artworks that complement the fabric and the selected type of garment.
As its name suggests, Clothing The Gaps is dedicated to supporting Indigenous health and education programs through its garments—with 100% of the profits going towards these causes. The Aboriginal-owned unisex brand—whose name derives from the Australian Government's health initiative, "Closing the Gap"—produces a variety of offerings such as graphic tees, jumpers, track pants and accessories, some of which are emblazoned with empowering slogans or symbolic emblems.