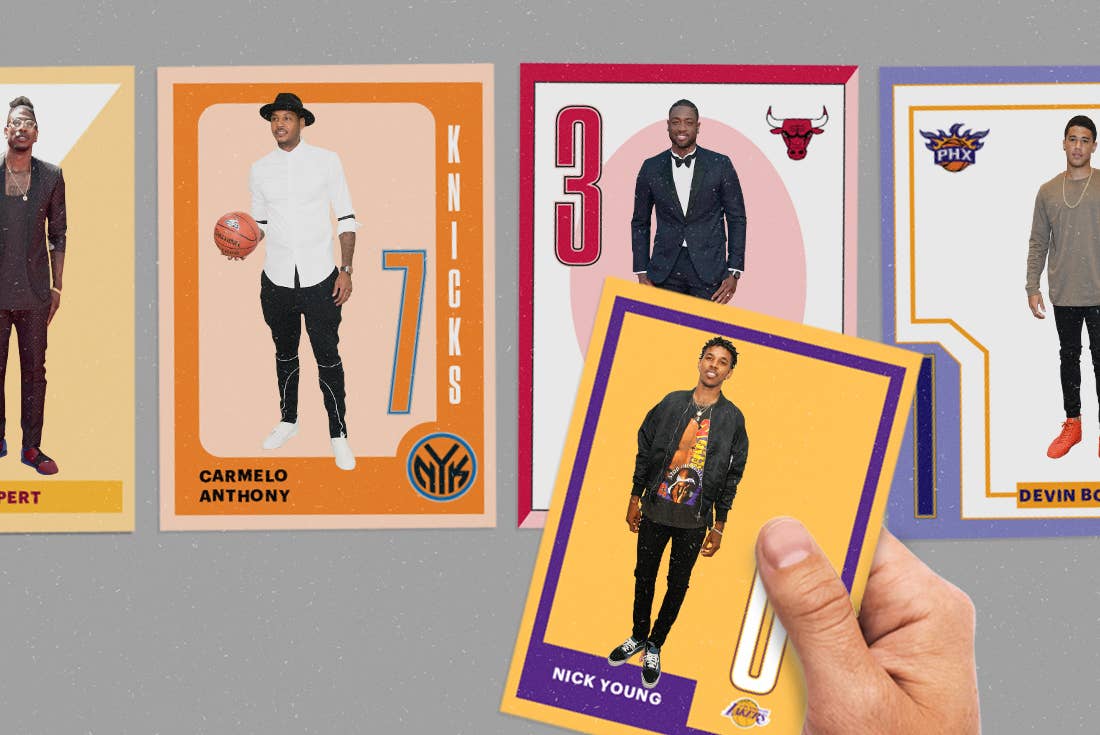 The average yearly salary of an NBA player is approximately $5 million. Even the D-League guys, who get called up for non-guaranteed 10-day contracts, take in around $26,000 for a couple practices, some travel, and maybe a few minutes of game time. Professional athletes generally make an ungodly amount of money that grants them access to things us plebes are not accustomed to, including designer clothing. Money, however, does not prevent a majority of athletes from making some extraordinarily swagless choices when it comes to their personal style.
Still, there are some style bright spots in professional sports, and NBA players lead the charge. Catalysts like Amar'e Stoudemire and Tyson Chandler broke the stereotype of how NBA players should dress, suiting up for Fashion Week and taking chances with cutting edge designer gear in their off-court attire. The new fashion guard has the savvy to seek out the same information about trends and designers as the hypebeasts, fashion elite, and stylists of the world do, and it shows.
Players like Russell Westbrook have turned the pre-game tunnel entrance and post-game press conference into proverbial fashion runways, and have gained significant attention for doing so. That's probably why more and more athletes are adopting Westbrook's stance on fashion. James Harden, Andrew Wiggins, Steph Curry, DeMarcus Cousins, Mike Conley, Kevin Durant, and Trevor Ariza—to name a few—seem like they're trying to one-up each other, solidifying the NBA's place as home to the most interesting style in pro sports. 
Who reigns supreme (sometimes in Supreme)? In honor of the new season, we've taken a look at every team's roster from superstars to newcomers, relentlessly researched pre- and post-game ensembles, and stalked every player's social media accounts to determine the most stylish NBA teams right now.
5. Chicago Bulls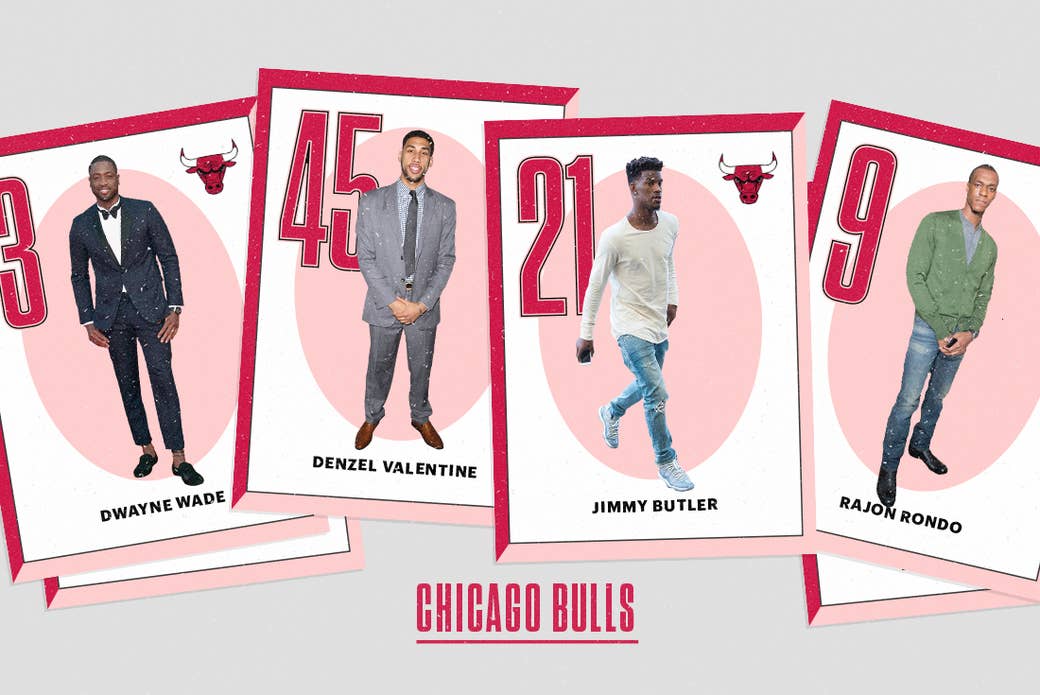 Most Stylish Moment Ever: That photo of Jordan stepping out the Ferrari. You know the one.
Most Likely To: Make a day trip to RSVP Gallery, Barneys, Notre, and Saint Alfred, and ball out together.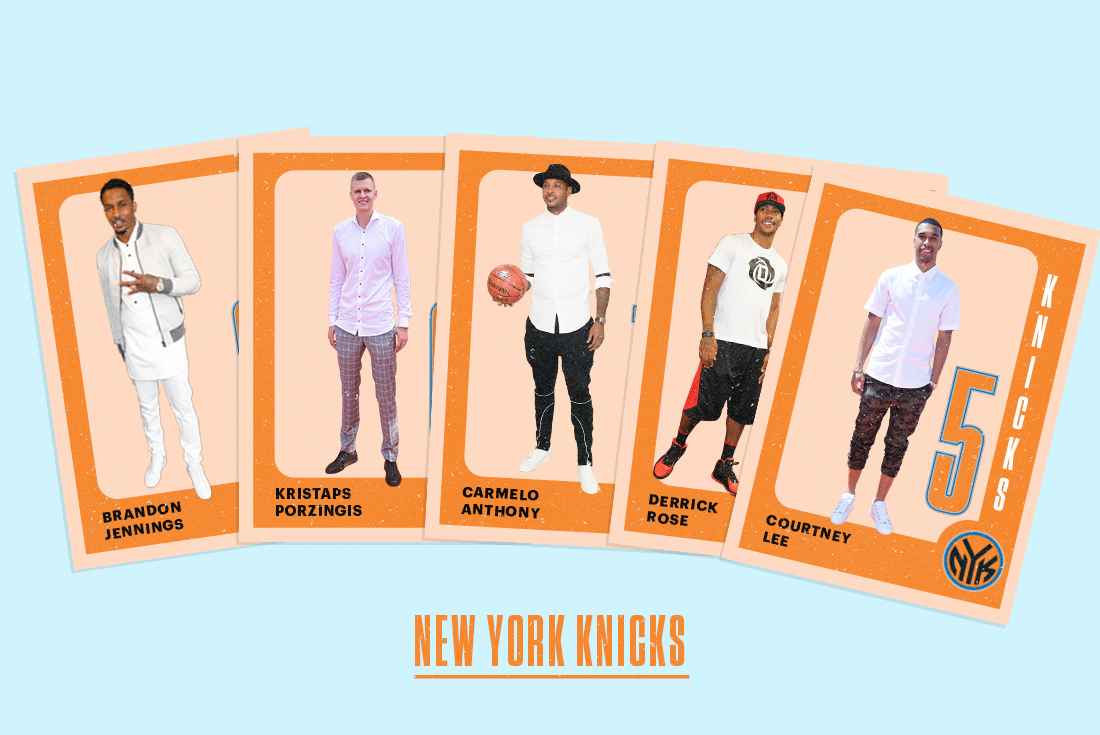 Most Stylish Moment Ever:Carmelo Anthony's Fall 2013 Fashion Week ensembles.
Most Likely To: Wear their finest garb for a nationally televised game that they will lose badly.
It's hard not to put the team that is located smack dab in the middle of America's fashion mecca on this list. Naming the New York Knickerbockers one of the most stylish teams in the league could be considered pretty lazy, were it not for the team's stylish success, much of which can be attributed to newcomers bringing their swag with them.
Newbies Brandon Jennings and Derrick Rose have shown glimpses of stylish brilliance, especially as of late; both of the point guards have finally found their looks. And it's about time—Rose needed to ditch the baggy denim. Kristaps Porzingis has proved he has a teeny-tiny bit of ratchetness in him, as evidenced by his approach to style. Still, that didn't keep him from killing it at the ESPYs in his robin egg blue suit. Carmelo Anthony, meanwhile, is the undisputed leader of this team. He has the ability and experience to lead this team to the playoffs for the first time in four years; he also has the fashion know-how to teach some of these young bucks a thing or two, whether it's about an expensive watch, a personalized robe, or some semi-formal wear. But, Carmelo may have some competition. Former Memphis Grizzlies shooting guard Courtney Lee is making the case that he's one of the most stylish Knicks in recent memory. A lot of the league is gravitating toward some of the more hyped brands, but Lee has shown he has a knack for mixing luxury street brands that favor a baggier cut, like Vetements, Rick Owens, and Fear of God, while still being able to pull off a slim suit because of his stature. The Knicks face a ton of pressure this season with all of the moves they've made, but it's already paying dividends in the style department.
3. Phoenix Suns
Most Stylish Moment Ever: Tyson Chandler's DuJour feature.
Most Likely To: Wear fall-ready, layered clothing in smoldering heat and pull it off with ease.
If you follow the NBA at all, you know the Suns aren't necessarily on top of anyone's anything list. But if you follow NBA style, this team and their fashionable accomplishments shouldn't be a shocker at all. While the Suns are largely considered to have one of the best core of young​ players in the league, they also have a group of guys that can consistently dress well.
PJ Tucker is one of the biggest sneakerheads in the league right now—probably only rivaled by Nick Young—so you can only expect him to have a similarly outlandish and robust wardrobe from the ankle all the way up his high-tapered trousers to his eccentric wide-brimmed hat. TJ Warren and Devin Booker are silent killers, with their love for popular streetwear like Palace, Off-White, and Supreme, which they both pull off remarkably well for 6'8" and 6'6" dudes, respectively. Eric Bledsoe has never been opposed to taking a style risk, tossing some bold menswear pieces together from brands like Balmain, Neil Barrett, and Saint Laurent, usually capping it off with some wild accessory. And then, of course, there's Tyson Chandler, the god of this shit. He continues to be a forefather of the street goth style some have tried, but many aren't bold enough to even attempt. I mean, the dude was wearing Rick Owens and Boris Bidjan Saberi four years ago. This team has the potential to make some noise this season with their uptempo play on the court and their eccentric style off of it.  
2. Cleveland Cavaliers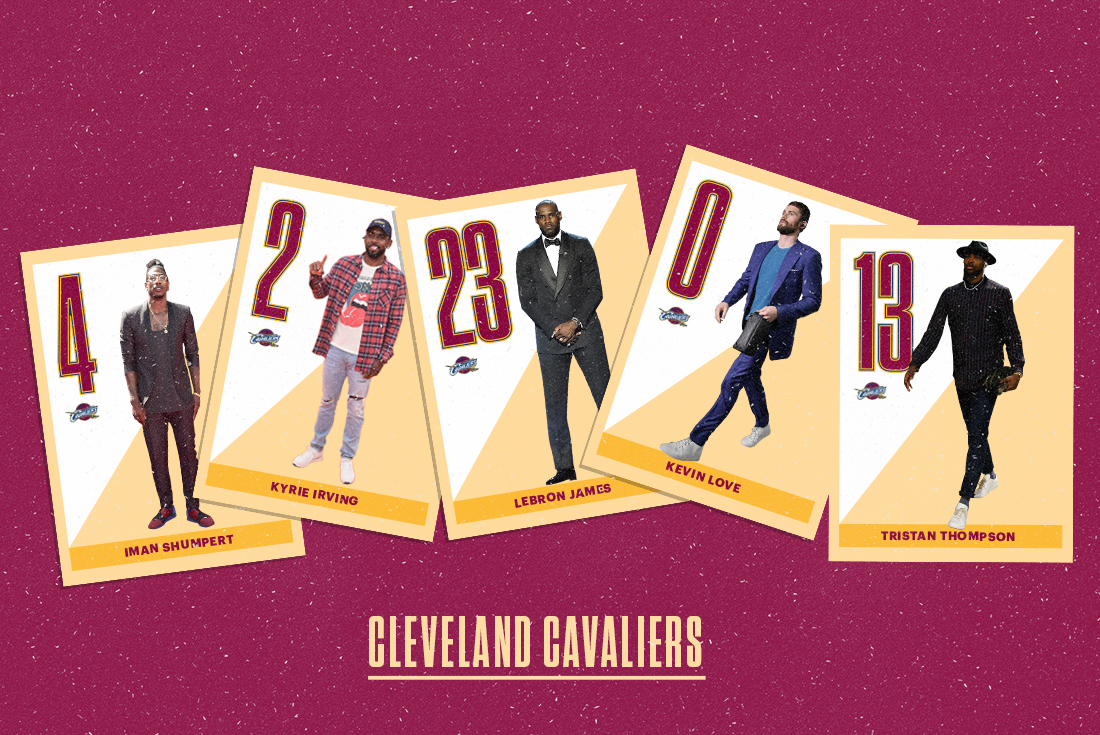 Most Stylish Moment Ever: Lebron James' team Instagram pic.
Most Likely to: Allow you to get a 3-1 lead in the NBA Finals, come back, beat you, then stunt on you in front of all your peoples.
The sky is blue. Grass is green. Donald Trump is a misogynistic racist. And to no one's surprise, the Cleveland Cavaliers are one of the most stylish teams in the NBA. The squad that birthed the team Instagram 'fit-off is coming back in full force with a freshly minted championship banner and a whole lot of new money to blow.
Over the years, LeBron James has generally been regarded as one of—if not the—most stylish in the league, as his versatility spans from suited and booted up to casually swagged the hell out. He is a proven leader, on and off the court, and it seems that his teammates have gravitated toward his desire to look the part. I mean, just look at Kevin Love and Iman Shumpert. Their style has vastly improved since they were taken under the wing of King James, with Shumpert in particular making a lot of noise for his fashion-forward choices at Fashion Week. Tristan Thompson has probably been one of the most unsung heroes of NBA style, sitting at the forefront of the new school the past couple of years, stunting in the finest Saint Laurent and Balmain, while introducing a lot of these up-and-coming brands like Amiri and Common Projects to his tall-ass cohorts. Real heads know, though: Kyrie Irving isn't far behind, as he has a very youthful, street approach to his get-ups. And, last but never least, the recent re-signing of the incomparable J.R. Smith rounds out the squad with his rockstar lifestyle, proving that shirtless is sometimes the only way to live your stylish life.
1. Los Angeles Lakers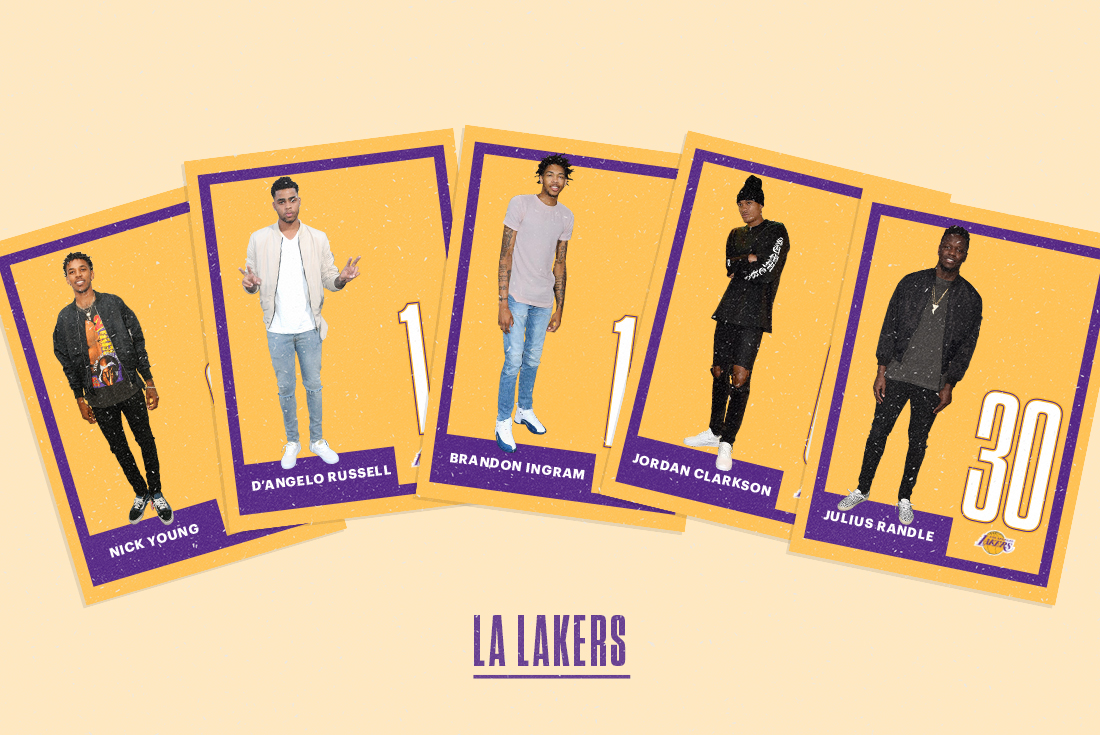 Most Stylish Moment Ever: This GQ photoshoot.
Most Likely to: Show up at Fashion Week together in matching ripped denim.
You know how the Detroit Pistons were the bad boys of the late '80s and early '90s? The Lakers are the fashion equivalent of that. With that old head Kobe Bryant moving on, imprinting his legacy on the game and doling out his invaluable knowledge to all who crossed his path, the Lake Show is left with a bunch of young guns who legitimately look like they just want to have fun both on and off the court. While there have been some off-court issues involving players cheating on their significant others and getting snitched on by teammates, they seem to have since been eradicated, and everyone is ready to move on to bigger and better things, like stunting on anyone who decides to step foot in the Staples Center.
The enigma that is Nick Young continues to carry the new youth movement with his unorthodox and obscure style choices, ranging from Vetements to Rick Owens, brands many fashion fans wish they could own, too. While he is undoubtedly the style captain of the team, up-and-comers like Julius Randle, D'Angelo Russell, and Jordan Clarkson have adopted the L.A. culture and are running with it. The upscale skater look these young guys have been wearing, mixing vintage tees and ripped denim with brands like Fear of God and Supreme, is not one that has really made its way to the mainstream NBA style syndicates just yet; these guys are truly at the start of that wave of NBA style. Second overall pick Brandon Ingram is right behind them, as his tall, lanky frame is already getting fitted in Off-White and Supreme regularly. Will the Lakers be the new Instagram team 'fit favorites this year? Watch out, Cavs.