It's after midnight at Houston's Prohibition Supper Club and Bar, and James Harden is onstage rapping "Best Friend" with Young Thug. The Houston Rockets star point guard isn't here to welcome the rapper on a tour stop, rather he's the man of the hour. Nipsey Hussle, YG, and Travis Scott are also here to perform at the VIP-only function. It's not Harden's birthday, but it might as well be: Adidas has flown out his close friends, favorite rappers, and is serving his favorite cocktail—Hennessy and lemonade—to celebrate his first signature sneaker, the Harden Vol. 1.
More than a year has passed since Adidas announced its signing of Harden for $200 million by bringing moving vans filled with sneakers to his home, and a lot has changed for him in that time period. He briefly dated Khloe Kardashian and was seen out with Adidas' other big man, Kanye West, and he's also been given the opportunity to create, a chance that Nike never afforded him. It's clear that it's been on his mind for some time.
"Freedom, a voice, a very powerful voice," Harden says when asked what's the most important thing Adidas has given to him. "I'm very creative. I'm always thinking of new things, so it was just a collaboration. It's something that was phone-calls, e-mails, meetings, back and forth. Every since I signed, great things have been cooking up and more to come."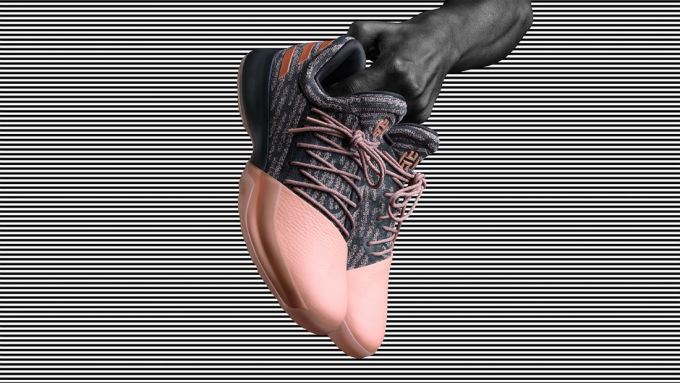 Earlier in the room where Harden addressed the media, a screen flashed images of the bearded baller paired with self-assuring mantras: "This is just me," "Remember where you come from," "Imma be a star." All of these statements can be applied to Harden's journey to getting his own sneaker and becoming one of the NBA's biggest stars. The confidence that he's known for on the court is present when he's talking about his first signature sneaker, a $140 low-top shoe with a Boost sole and Primeknit upper that's designed for scoring 40 points and wearing in the streets.
"I think I do," Harden says when asked if he has the best sneaker in the NBA right now. "It's my first one. I'm extremely excited about it. Everything I do is swaggy, you know."
In late August, an early, all-black version of the Harden Vol.1 leaked on the Internet, and the reaction wasn't good. It came a few months after Twitter had roasted Steph Curry's white pair of low-top Under Armour sneakers, and Harden's shoe received a similar fate. "Did it leak?" VP, Global Basketball Design Brian Foresta says with a laugh. "Every time something leaks, it's like you walk into a kitchen and see all these ingredients, but you don't know what meal you're going to get. And when you get that harsh criticism before you get to do your best, I take it personally."
The shoe that leaked was an early sample of Harden's sneaker, and there have been several significant changes to the design since. "It started off really smooth, which made me nervous," Foresta says about when he first started to work on the sneaker. "We had gotten down the line, and we two options. We had a great meeting, but he was super quiet. I left and my phone rang, and he said, "Look, I like both, but can we push harder? Can you show me something that will scare me so much that I'll want to back to where I was at?" And the team accepted the challenge."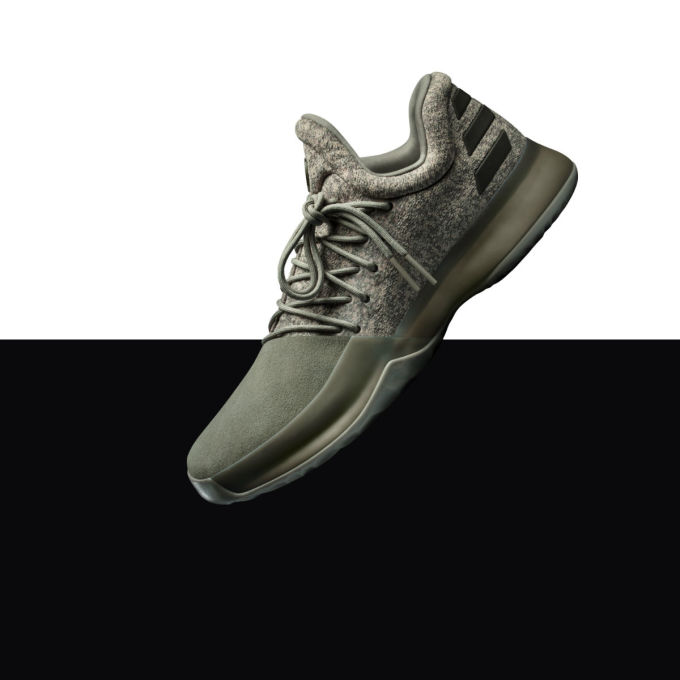 It's Harden's input into the Vol.1 that's turned it into a shoe that's been well-received by the general public. He had a vision of what he wanted to wear on his feet, and it started from the most minute details. "The thing I like about working with him is that he always wanted something that could stand out without having a logo on it," Foresta says. "There was a debate on whether the shoe should have a logo on it, and he was a big fan of having a shoe without a logo. We went over the shoe detail by detail and asked him if he liked it. If the answer was yes, we applied that detail to the shoe."
Beyond Harden being one of the largest names in the NBA right now, his sneaker with Adidas is significant for other reasons. The brand has struggled in the past, especially with its basketball sales. Things have been on the uptick lately, though, and Adidas is looking to cash in on the hardwood. "We've re-set our basketball category, and we wanted to bring people into the brand who would help us create," Adidas Global Product Manager Corey Allen says, "James Harden, from day one, has been super involved. He's helped us design and worked on colorways."
With all the money involved, there's pressure for Harden to live up to the big contract he's been given. But he doesn't feel it, not in the slightest bit. "I don't know what pressure is," he says. "I go out and hoop, man. I've been doing this since I was a little kid."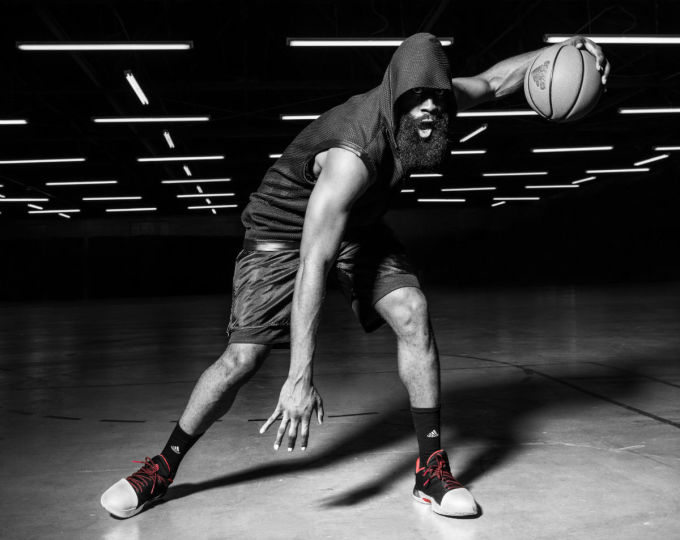 The guys designing his sneaker have a different mindset. "Any time you work with an athlete of that caliber and has those type of stats, there's going to pressure to make good product," Foresta says. "James fits that bill, so it was a fantastic platform to work with him. So the pressure was on, definitely."
Allen admits he'll be paying extra attention to how Harden's playing this year, too. "We root for all of our guys, but I have my eyes on the box score for the Rockets," he says.
Harden's close ties to Kanye West and sense of personal style make him a natural candidate to help bring the Yeezy line to the NBA, much in the way that it's come to the NFL this season. Foresta, however, won't confirm anything yet. "I can't comment on that right now," he says on Harden's shoes getting the Yeezy treatment.
Before the VIP event later in the evening, the Harden Vol.1 was unveiled in a runway event for a crowd made up of his family and friends, media, and local high school basketball players. Slim Thug, a Houston legend himself, makes his way onto the stage and gives Harden the city's stamp of approval. His performance is followed up by Travis Scott, who, in between raps, says about Harden, "I'm so happy for him, I wish I could have a shoe."
The world will have their chance to own Harden's first shoe this December, and it won't just be a chance for people to have his sneaker, but, perhaps, a glimpse into his life. "[It's surprising] how much access he's allowed us to have," Allen says. "Sometimes that's not always the case."