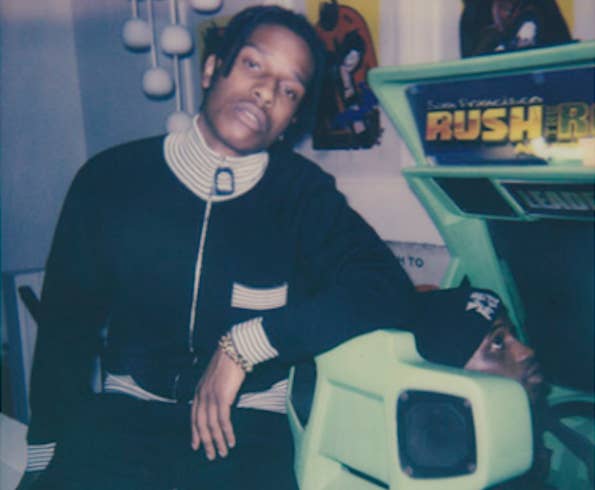 When A$AP Rocky was revealed as a face of Dior Homme yesterday it wasn't just a notch in his belt; it was the notch. The accomplishment erased any doubt that the Fashion Killa had etched his name in fashion history books. It made him the first person of color to front the label, putting him alongside Rihanna was the first to front the women's label. And while this isn't the beginning of his fashion voyage by any means, when combined with his recently released J. W. Anderson range, it could be the dawning of a new era.
Last year in an interview, Pretty Flacko said that celebrities ruined fashion for him. "I used to put a lot of thought into what I was wearing and then when all my favorite brands were being bought and worn by the biggest poseurs and celebrities with terrible taste," he said. "Now that's why I'm wearing old Raf Simons jeans, beat up Alexander Wang boots, and a distressed VLONE T-shirt. I'm just over it." It's worth noting that the statement came shortly after releasing his At.Long.Last.A$AP project where he dropped over 20 brand names including Goyard, Hermes, and Saint Laurent. Since then, it seems Rocky has taken it upon himself to make a change.
That same month it was revealed that the creative was working on a line of luxury fur coats. Unfortunately, that project hasn't materialized. What came instead was a 90s inspired Guess Originals capsule collaboration in January that included overalls, a two-tone bomber, denim jackets and tees. Next up was the J. W. Anderson range (which does include fur coats) released last week.

The product hasn't come out of nowhere though. Rocky broke on to the scene in 2011 dropping names like Rick Owens and Raf Simons in his debut single, "Peso." By 2013 he was in those designers' inner circles, getting Adidas collaborations and paling around with Michele Lamy (Rick's wife).
After having worn Jeremy Scott's Adidas line in videos before, the Harlem-repping rapper collaborated with the brand on a pair of all black Wings sneakers. He followed it up the next year when the whole A$AP Mob partnered with Pacsun on a controversial capsule of tees. But this recent news is different.
Rocky pre-empted his Anderson project by wearing the designer's pieces in his "Jukebox Joints" video. But working with the brand, which is partially owned by LVMH (as is Dior), takes things to a different level. What makes the collaboration significant is the company allowing Rocky to make his own logo for the tie-in which would infer, in some respects that they believe there's more than a little bit of significance to having Rocky being associated with it in a major way.

Today's fashion culture is one of collaborations: luxury to fast fashion like Kenzo for H&M, elevated design to sportswear like Kim Jones for Nike, and celebrity to anything like Beyonce to Topshop or Rihanna to Puma. For some celebrities, the projects are a stepping stone, a tool to eventually launch their own brand. Rocky seemed to put ice on that idea. "I would never want to be a fashion designer," he told the New York Times.
Regardless, the fact remains that his recent namings have made him the face-du-jour for luxury brand's looking for a boost. And with the industry already engaged in an ongoing conversation about diversity, we only expect more from here.