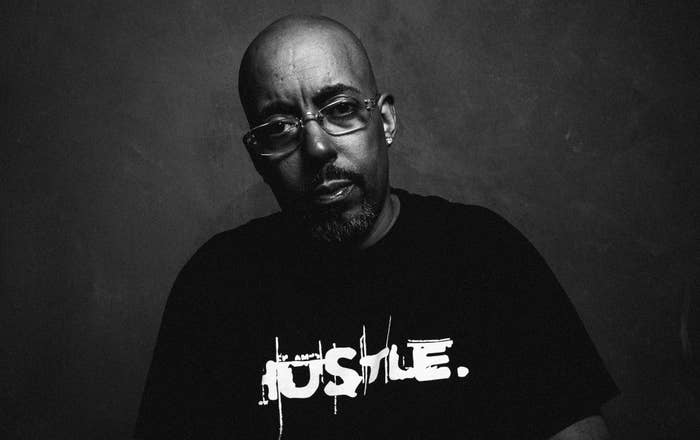 "Hustle, period." 
This is the mindset of entrepreneur and Chicago music legend John Monopoly. Nowadays, John Monopoly has his hand in a wide array of business ventures. He is the chief strategy officer for cannabis brand Village. He's on the advisory board for gaming platform Gamelancer. He is executive producing a drama series about the Chicago drill music scene. And of course, he still has his ear to the streets in search of untapped musicians and creatives.
John Monopoly has a ton of new business opportunities to handle. But earlier this week, he also decided to get a bit nostalgic and tap back into one of his earliest ventures, Hustle. Hustle was his and Don C's management company founded in 1998. Along with promoting big events in the Chicago nightlife scene, Hustle would also act as the management group for the Go Getters, a rap group that included Kanye West, GLC, Timmy G, and Arrowstar. Monopoly would go on to co-manage West during the early years of his career before the two mutually parted ways in 2008. While he says the two are currently not working together officially, Monopoly has assisted Kanye on and off with consulting and other duties over the past couple of years.
To help promote the Hustle brand in the late '90s, Monopoly created a series of graphic T-shirts that featured the Hustle logo across the chest and "It's Almost Over" written on the back, a phrase Monopoly says was used as a nod to Jay-Z's introduction on the track "Jigga My N****." Now, over two decades later, Monopoly is re-releasing the T-shirts for the first time. While the legacy item that is currently available for $80 will act as a soft introduction to the brand, he hints at new items like White Sox fitted caps and a hoodie collaboration with Jerry Lorenzo's Fear of God.
"Through my years of working with Kanye and Virgil, Don, Jerry, and our whole crew, I just felt like the time was right," Monopoly tells Complex. "These last couple of years I had reconnected with Ye. We did a bunch of stuff together and I guess I was feeling a little nostalgic."
Ahead of the Hustle relaunch, we got a chance to chat with Monopoly about why now felt like the right time to bring back Hustle, future plans for the brand, the Chicago fashion scene, and more. 
(This interview has been edited and condensed for clarity.)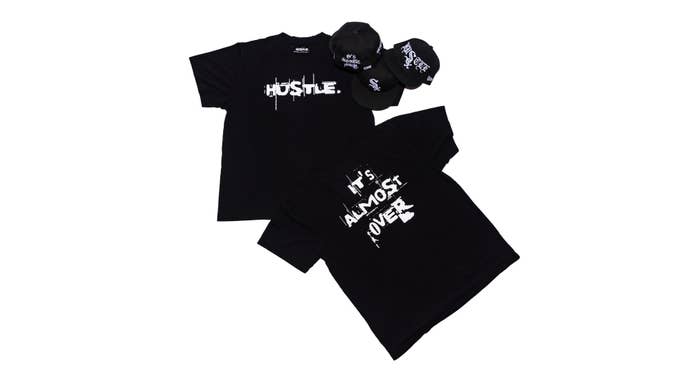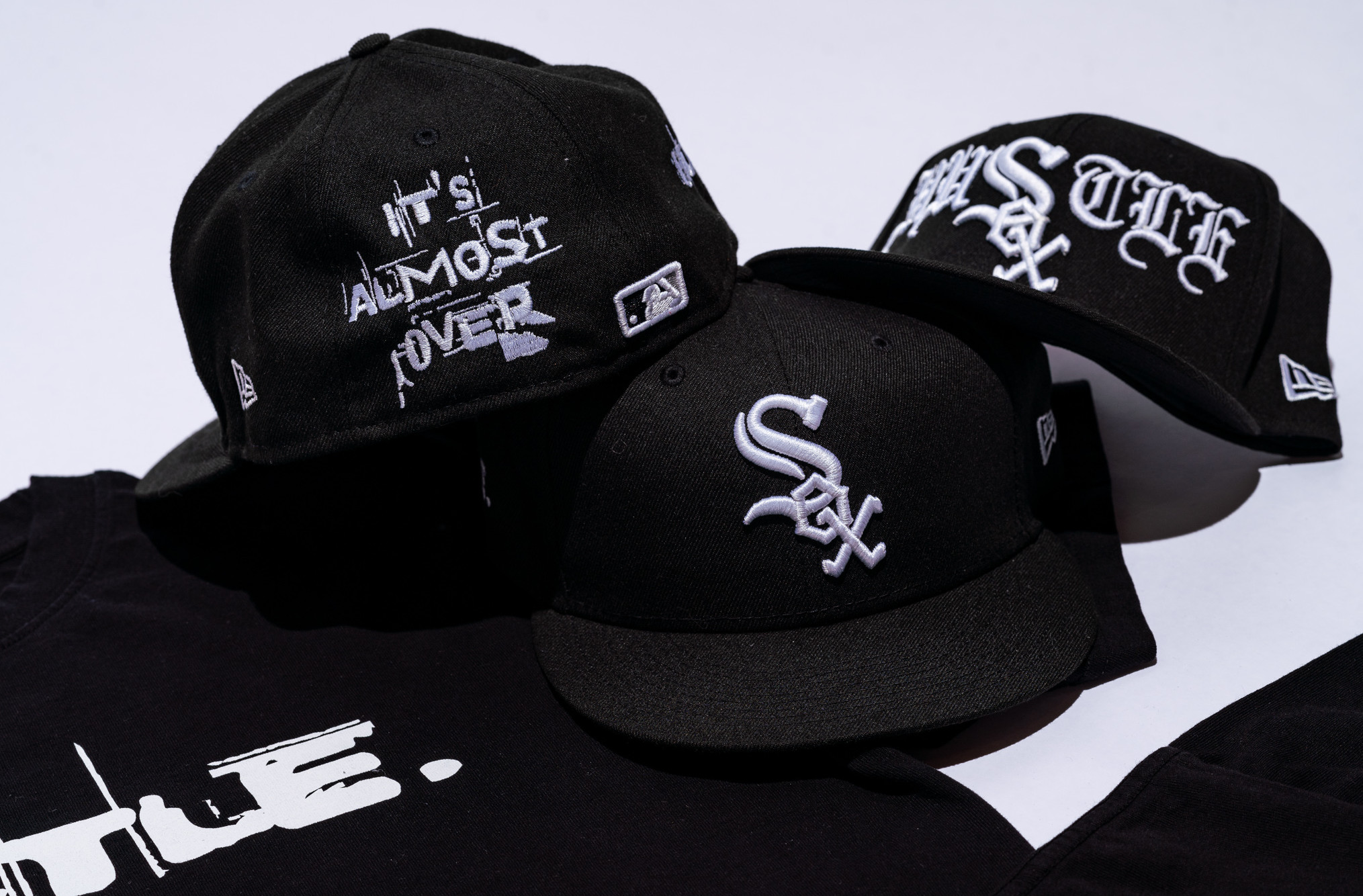 So we've mentioned Don C, Virgil, and Kanye, and there's others obviously. They all have these established résumés within fashion so many years later. You've been able to see them grow and evolve essentially from the beginning. You have a perspective and you've been instrumental in a way that a lot of people haven't. I'm sure that has to be a little surreal for you to see all of them get to this point. What are your thoughts on that?

Absolutely. You gotta understand, when I connected with Virgil, he was an architect and a design intern for my big brother Jay Boogie. I always thought he was extremely talented and was going to be a real success, but in full transparency I didn't know he was going to be one of the top designers in the world. Even my cousin Don, I always knew that he was going to be super successful in whatever he had decided to do. I think back then we were all just kind of figuring it out and trying to get in the music business, but for him to be one of the top designers in the world is just amazing. Same with Jerry. Same with Ibn. Same with Woodie [White]. That whole little Chicago crew is shining right now. I was privileged enough to watch their growth from the beginning. Ibn and I are friends from high school, damn near, you know. I think we went to Freaknik together in like, '94. Even Woodie White with his Oyster brand that's starting to blow up. He was on the original Go Getters street team. I got pictures of Woodie in Go Getters T-shirts passing out tapes and flyers and stuff for us. So yeah, it's just been a blessing that I've been able to have relationships with these guys for many years and watch their ascent into greatness.
Then you also see within that, a lot of like, full-circle moments where like Virgil has his spot at Louis Vuitton now, and he works directly with Reggieknow.

Reggie is the godfather of Chicago hip-hop. That's family. I started throwing parties with Reg and the Dem Dere crew in 1992 or 1993, you know? I've been rocking with Reg for decades. 
I wanted to ask you about Chicago fashion. There's like, the Buck 50 hats, for example, that Don C eventually goes on to remake in his own way with Just Don. I guess even to an extent you could say that Air Jordans are a big part of Chicago fashion too. Were you always someone in tune to that stuff? Were you buying these things back in the day? 

I was always a big Jordan guy, a big Air Force 1 guy. In my circle, Don was always the fly guy, the progressive fashion guy, you know what I mean? I would just try to dress as close to him as possible, but I was lucky enough that somebody in my family was like, the flyest dude ever. All my kind of education around fashion and all that came from Don for sure. And still does. I literally ask him for, "What should I wear to this thing?" advice all the time.
[Don C has] always been in tune with what's going on in that world. Did you see him becoming an actual designer back in the day, though? 

I'm gonna be honest with you. When I first met him, he's my cousin but we didn't meet until very late in life. We start rocking in '95 and I thought that he was going to be a rapper. We even put him in a rap group in '97. I've been trying to get somebody to find this audio so I can extort him. [Laughs]. But there's a song that he's actually on. There's a song that exists with a Don C verse on it. I think the song was called "Hater Proof." The point I'm trying to make is that I didn't know what he was going to be. I just knew that he was going to be hugely successful. And at the time my focus was on music, so for some reason I thought, "Man, this dude is like the dopest, flyest dude." So he was in a rap group.
Do you remember what the group was called?

Major Leaguers, I think. I've been trying to find that song for a while, just to fuck with him. You gotta understand. We were trying to figure shit out since we were like, kids, basically. We didn't have any rhyme or reason. It was just like, "Yo, you're dope. Let's figure this out." We're starting to figure shit out years later.
You mentioned Jay Boogie. Can you just talk about the legacy he built and why he's such an important figure in Chicago?

Jay Boogie is like my big bro. He gave me my first real paying job in the music business when I was 19 in '95, which was the same year I actually connected with Don. He was and is just a real tastemaker. I guess I kind of get credit for discovering Virgil, but he's the one that introduced me to Virgil. Boogie always designed promotional items, and clothes, and all kinds of great stuff, and would always go to him for new designers to work with me on stuff. Whether it was for Ye, or Busta, or whoever I was working with at the time, I would always go to him.
At the time, it was like 2005 or 2006 or something like that. He had me work with Virgil. That was like his new designer. We clicked. He started coming over to my house every day and kind of interning for me. And after a while I was just like, "Yo, you're so amazing. I got to connect you with Ye." And the rest is history. But Boogie in general is just like triple OG, an amazing hustler, designer, businessman. He was a record label CEO. He always had his clothing line that was hugely successful in the '90s in Chicago. That's our big homie.
It was the leather jackets, right? 

Yeah. Booge did a bunch of stuff. He had his own brand, Jay Boogie Leathers. He did stuff for Biggie. There's a very well-known photo shoot where he styled Big. He's done stuff for Puff. Everybody. He's an OG designer, very well-respected. We owe everything to Boogie. I know I do.
So you worked with Kanye early in his career, and then you stepped away from that for a number of years. You began working with him again fairly recently. Can you just sort of clarify how that started back up and what exactly your role with Kanye is at the moment?

Yeah. I don't work with him right now, to be honest. I have been working with him off and on for the last 30 years. I reconnected with him after our split like three years ago. I kind of just came on as a consultant initially, signed this artist named Valee to GOOD Music. It snowballed into me helping him run the label, and then me working with him directly, and then me being on his management team again. And then now I'm not working with them currently. But that's my brother. I spoke to him as recently as last week. That's family forever, business or not.
You've been able to see his career from a whole different point of view than most people can say they have. You have these Go Getters posters with him from decades ago and now he's like, in the middle of Soldier Field setting himself on fire.

It's crazy to see the growth. It's just truly amazing. It's a blessing to be a part of it. The whole Donda exercise was brilliant. He's such a brilliant guy and I'm blessed to call him a friend.
Is there a story that sticks out between you two from all the years working together?

When we were trying to get the "All Falls Down" sample cleared. Just to kind of let you know the kind of drive that we had, still have, but we couldn't find Lauryn Hill. So someone told us that she was in Miami and [Kanye has] told this story before. Someone told us that she was in Miami. So we decided just to fly to Miami and just drive around, literally on some private investigator shit trying to find Lauryn Hill to see if she would clear our sample. This is so long ago. I don't remember all the particulars, but I just remember getting down there and cooking up with Fat Joe and I think introduced us to Rohan Marley and he was trying to help us get with Lauryn. We eventually got the sample cleared, but it was just the whole concept. That really represented that hustle moment for the both of us, the whole concept of somebody telling you, "No, I'm not going to do this for you," and then us actually saying, "OK, we'll just go find the person. Let's go to Miami right now." We're just gonna drive around until we figure out where this person is, what studio, what house, what restaurant, whatever. We're gonna just figure it out. That was kind of like the embodiment of what we felt like as being young entrepreneurs. That was just how I always moved. Hustle, period. It was the name of the company. That was our attitude. Don't tell me why we can't do it. We're going to hustle, period, till we do it. 
I came across a super old video clip on YouTube and he's getting his haircut. It's like a quick clip, but he references the first time he met you and came to your house. Do you remember that moment that he references in that video?

Yeah. So we met through a guy named Lucian who was our mutual friend. Lucian was in Kanye's first rap group, State of Mind. And Lucian was also a dear friend of mine, still is. [Kanye and I] met and became like immediate friends. It's funny if you watched that clip, it really went, like he said. He liked my beats and said, "You sick," and I said, "Nah, you sick." We were telling each other how dope each other is, you know? We kind of looked alike. We still do look alike, you know, a couple brown skin brothers, but when we were kids we really looked alike. I started calling him my little brother or cousin, you know? Just family type of thing.
You've been such a big part of the Chicago music scene. Chicago has also become its own destination in streetwear now. I feel like now a more mainstream audience is giving it that attention it deserves. Do you see that parallel between how you helped put Chicago on the map musically so many years ago and now how that sort of movement is happening in fashion and streetwear?

That's kind of the point. We've been putting it down as a unit in my city for three decades. That's why we're coming back 20-something years later with a legacy brand, which represents so much for the city, specifically the South Side of the city. It's just a blessing. The reception of us coming back out has been so great.
Have you worked with Joe Freshgoods or Fat Tiger? 

Joe's family. Joe is my guy. I don't think we've worked together yet, but I definitely want to.
I know you're also involved in the cannabis industry and working with Viola now?

Not Viola. It's the brother company Village. It's co-founded by the same guys, Dan Pettigrew and Al Harrington. But yeah, I'm the chief strategy officer for Village. I'm really excited about working with the team.
What intrigued you about getting into the cannabis industry, coming from music and where you've been previously?

It's something that I've always wanted to be a part of. Because I partake personally. I understand marketing pretty well, I'd like to think. I know Al, but I grew up with Dan. He was always just a great businessman and I was always looking for an opportunity to do some stuff with him and I saw them build Viola into a huge brand. So it was more like the team really attracted me, their crew. We are the largest Black-owned cannabis group. I'm excited to be a part of the crew.
Anything else you're working on right now?

We have a television show on the drill scene in Chicago, a scripted drama. It's executive produced by myself and Niecy Nash and the creator is a brother from Chicago named Vernon "Xtreme" Brown. This is like my first foray into television, so I'm excited about that. I'm excited about a new platform called Protege, which you're going to be hearing a lot more about in the near future. I'm on the advisory board for Gamelancers, which is a gaming platform. I'm just hustling, as always, hustle period.