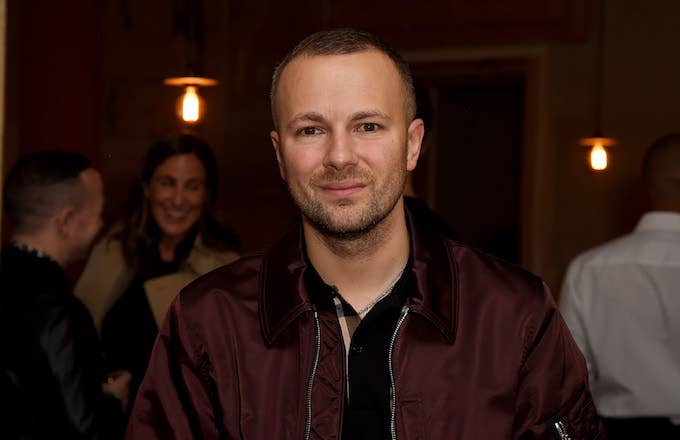 UPDATED 1/14/18 2:26 p.m. ET: During his Fall/Winter 2018 show, Rubchinskiy debuted two new collaborative offerings with Dr. Martens and Levi's. In addition to these new collabs, the Russian designer also showed off new additions to his recent efforts with Adidas and Burberry. 
His latest work with Burberry is a 13-piece capsule consisting of pieces like trench coats, scarves, shoes, and flannel bucket hats. The continuation of his work with Adidas will include new athletic footwear styles. 
"It was important that Burberry be part of my new collection as it was one of the first iconic western brands to reach Russia after the Soviet collapse. It was very popular here in the Nineties, so much so that Boris Yeltsin can even be seen wearing a Burberry scarf in pictures from the time in the Museum where we presented the show,'' Rubchinskiy tells WWD.
As for the Dr. Martens collab, he gave his interpretation to styles like the Adrian Tassel Loafer and Oxford silhouettes. "The brand has never collaborated with a Russian designer to my knowledge. However, what Gosha is doing is inspiring and exciting to us," global category director, footwear and accessories, at Dr. Martens Darren McKoy tells WWD. 
The brand's first project with Levi's since 2016 will include takes on classic pieces like the 501 jeans and trucker jackets in black and blue hues. Both of these projects were inspired by Yekaterinburg's history as an industrial city known for manufacturing.
Expect Gosha Rubchinskiy's Fall/Winter 2018 line to be available for purchase later on this year.
Original story is below.
Today, Gosha Rubchinskiy will be debuting his latest Fall/Winter 2018 collection. The Russian designer will continue the trend of his recent shows by holding his latest runway effort in another Russian city. This time, the show will be held in Yekaterinburg. 
This new collection draws inspiration from Rubchinskiy's native country and its youth culture. It will reference his past offerings as well as hint at the brand's future plans to evolve going forward. Held at the Yeltsin Center Museum, the show's location will more specifically take a look back at former president Boris Yeltsin's mandate from 1991 to 1999. The models will walk through the museum, thus symbolizing a walk through Russian history into the future. 
Word is that Rubchinskiy will also be debuting two new upcoming collaborations during the show as well. Stream the recap of the show here.