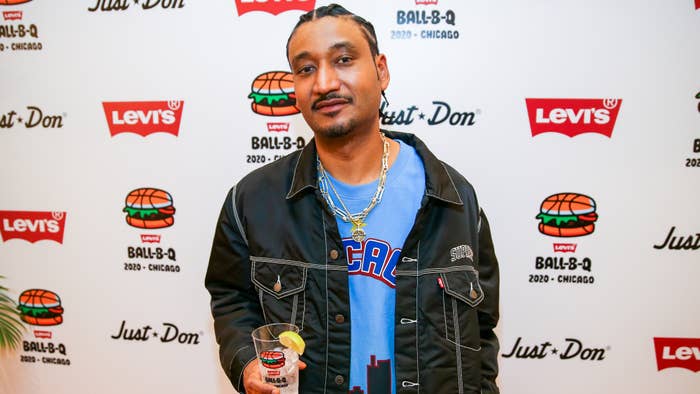 Don C is just trying to have fun. You can tell from the giant smile on his face when he sits down in the greenroom, drink in hand. The creator behind an enormous amount of collaborations releasing in Chicago for NBA All-Star Weekend has been mingling with his friends, including Rhude's Rhuigi Villaseñor, Travis Scott's DJ Chase B, and NBA superstars like Kemba Walker and Shai Gilgeous-Alexander, on the rooftop of the Godfrey Hotel in Chicago for Levi's third annual Ball-B-Q. 
This is Don's time to celebrate his busy weekend, one that has included running around from event to event promoting everything from a special Nike Air Force 1 collab to khaki track pants with insurance company State Farm. At the Ball-B-Q, he isn't just celebrating his home city's big weekend, but another project as well. The designer crafted three basketball-inspired pieces with Levi's through his brand Just Don, a further homage to the Windy City. 
We got a chance to sit down with him to discuss the inspiration behind his newest Levi's collab, his busy schedule, the legacy of Kobe Bryant, and more.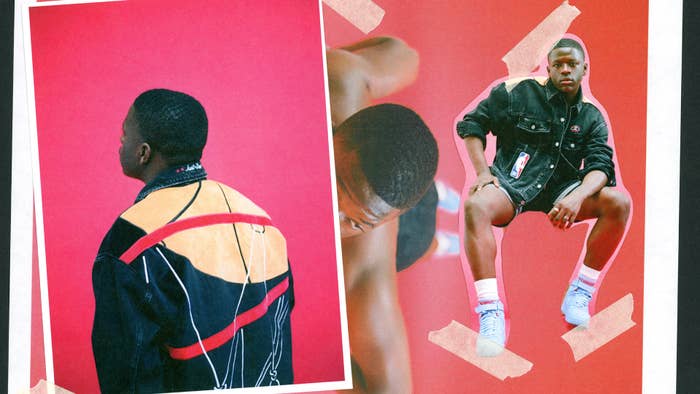 The Levi's project you just did, what specifically inspired these pieces?
Chicago. My mood board was the '88 All Star Game and different Chicago imagery that really represented the city. So that's why I put the six-pointed star on that because I felt like that really represented the city. That's the star that's on our flag. The velvet on the side not only represents the color of the velvet, but the pile fabric, it's like a luxurious feel with denim. So it's also that juxtaposition of street and luxe. That's sort of it. It's like street essence. That's my mode: basketball, luxury, and hood stuff.
Aside from the colors and logos, how does this represent Chicago stylistically?
I felt like the track suit was some '90s hustler vibe. And then the trucker [jacket] was like...the back panel is completely a canvas. Usually, the back panel has different panels to it, but we made it just one blank piece and then did the imagery on there of the basketball hoop, the ball, and the rim because it was just representing basketball and art. That's why I really appreciate it.
Do you have a personal NBA All-Star memories?
Oh absolutely. The 1988 game, I had to watch the game on my back porch with my dad, that Saturday Dunk Contest and Three-Point Shootout. That's one of the most memorable sports moments of my life, the '88 All-Star Weekend. Larry Bird, he came from behind to win the Three-Point Shootout. He was the favorite, but he came from behind. He had to score a certain number to win it in the final round and he was one point away from that number on the last ball. Please, I challenge the youngins to go to YouTube and look at 1988 Three-Point Shootout. Larry Bird, when he took that last shot with the money ball on that fifth rack, he put the number one up as he won. He didn't even look. He pulled up, he shot the ball, and then he turned around and said, "I'm the champion." That was his legacy. You couldn't even script nothing like that.
Then right after that, the legendary Dunk Contest that happened with Dominique [Wilkins] and [Michael] Jordan, that's arguably the best Dunk Contest of all time. Mike, that was the second year he did the free throw line dunk to win the dunk competition. And this was the year that he really was behind the line because the first year people was like, "Oh, he was on the line." And so all those memories are in my head, in my spirit. The Black [Air Jordan] 3s debuted All-Star Sunday in '88. Literally, Mike scored 40 in them, which beat the Wilt Chamberlain record at the time for the most points scored in the All-Star Game, which another Chicago native, Anthony Davis, broke a couple of years ago. So, I'm just happy man. We've been waiting 30+ years for this All-Star game to come back to this city. We have just been planning for a real long time.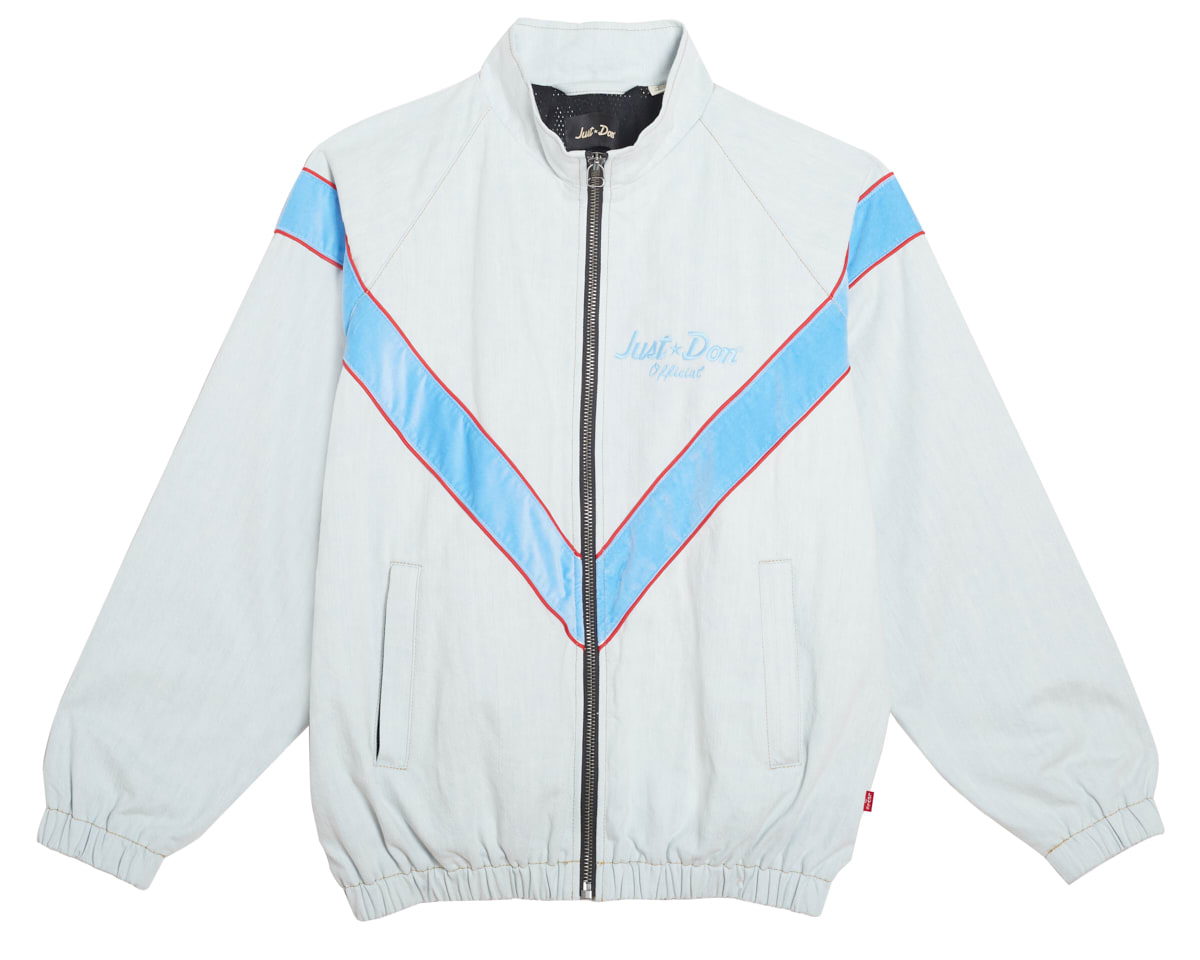 Clearly you had some ideas, you have collaborated with a bunch of people for this weekend. Was that always your plan? Being from Chicago, did you know you wanted this heavy presence that you have this weekend? 
I wouldn't say that I said, 'I want a heavy presence All-Star Weekend.' But I just say...no cap...I'm just authentically representing basketball, street, and style culture. I think real recognize real and it's the time for the real to shine. So I just encourage all the real authentic purveyors of what we're doing: sport, art, design. Man, you all are about to have your time to shine because people want the real. The thought of guys sitting in a boardroom saying, 'Hey my son, a friend came by the house with baggy jeans on, I think we're going to make baggy jeans this season.' That shit is over with. I'm sorry, but that's over with. It's all about real culture. So we're just trying to represent this city in the best manner and communicate how fresh this city is. Chicago is the freshest city in my opinion. And so I just want everybody to see how it's so good, it's so therapeutic for the people here because all we receive is bad news. This weekend, to have all good news and all encouragement is so good for the city. I'm appreciative to be a part of this.
Unfortunately, it's a little bit of a somber thing to ask about but...
Kobe.
Yes. The NBA has their Kobe tributes planned. What are your thoughts on Kobe?
We got to pay the ultimate honor to Kobe Bryant. Kobe Bryant was one of the greatest people that ever touched a basketball. And to see him transition from such an amazing, accomplished athlete to such an amazing, accomplished entrepreneur and father just took his legacy to a whole other level in the past couple of years since he stepped away from the NBA. I think this weekend is really tragic because the basketball community has lost one of the biggest contributors to our community. I just genuinely feel like it's one of the...it is the tragedy that has hurt me more than people that I know for my whole life. You know what I'm saying? I've met Kobe Bryant three times in my life so I can't say he's my close friend, but I feel like he is, I feel that way.
I just really appreciate everybody from the community coming together to pay homage and honor him and Gianna's legacy as well as honor the other victims of the accident because it's just tragic. Life is precious, so nobody's life is more precious than the other, but Kobe was somebody I just looked up to so much. I have to say, it touched me in such a manner that I don't think any celebrity death has ever touched me in my life.