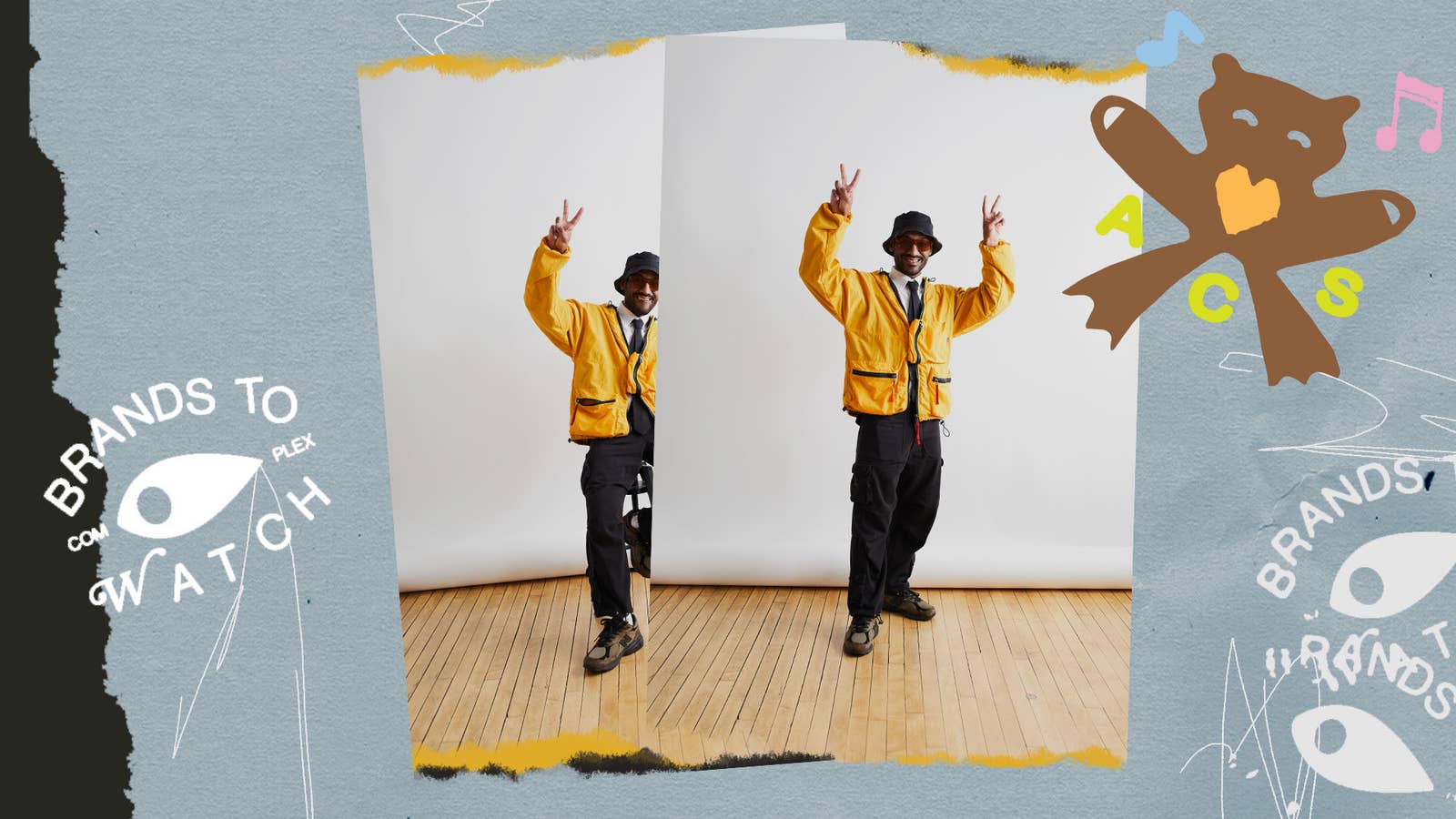 On the internet, typing something in capital letters connotes yelling. Many associate it with anger; though it doesn't have to be. But it certainly commands attention. For ALL CAPS STUDIO founder Saeed Ferguson, it was his way to make sure people knew he was serious about his creative ventures, to make sure he was heard.
"I named it ALL CAPS because as a photographer, I felt like I was doing a lot of work and was underappreciated," says Ferguson while sitting behind a work desk in his Philadelphia office. His gray New Balance 990v3s are on full display as he relaxes in his chair with his right foot resting on his left knee. "I felt like I had to yell to get into the space and be taken seriously."
When ALL CAPS STUDIO started back in 2017, it wasn't even meant to be a clothing brand. Ferguson, who wanted to be a fashion photographer, started it as a way to get his photos out into the world. Over time, it morphed into what we see today. But even now, Ferguson is hesitant to refer to it as a clothing brand. He prefers to call it a "project" as it doesn't operate on any type of seasonal schedule. He just releases things that he's into at a particular moment. 
"I feel like brands are more structured and know what they're doing in 2023. I have no idea what we're doing in three months. We're still kind of just reacting to the constant energy we're receiving and throwing it back out," says Ferguson. "I don't want ALL CAPS to be a super-huge thing. If it does, it's cool, but there's no intention for this to be the next biggest thing. I just wanna make stuff that I genuinely think is cool."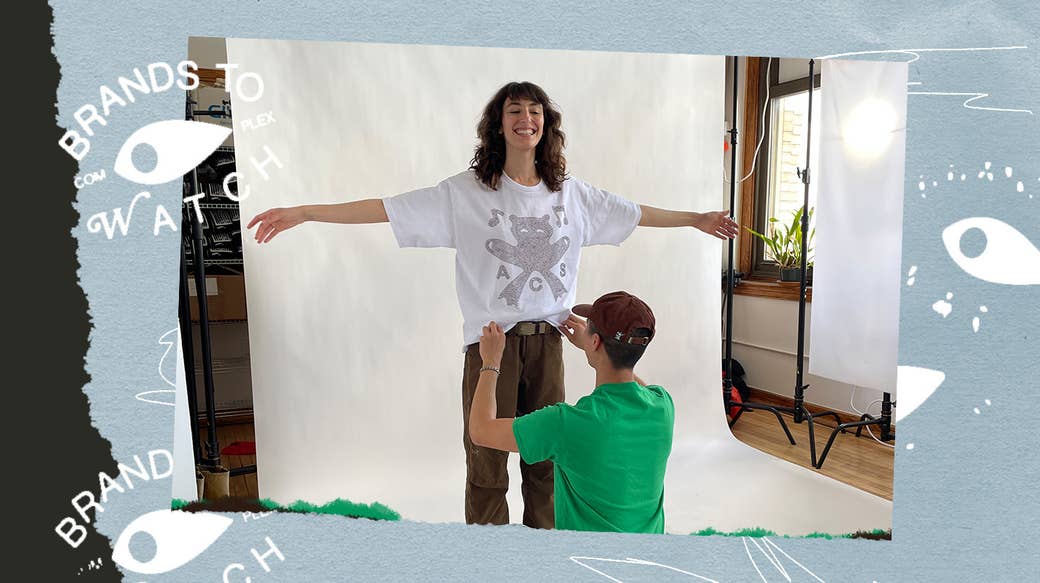 Ferguson was born and raised in Philadelphia, where the brand is still rooted. He's been involved in the city's streetwear community since the 2010s. He remembers initially discovering Abakus Takeout, a now-closed boutique in the city's Chinatown neighborhood that sold brands like 10 Deep, the Hundreds, and Mishka, along with coveted sneakers on consignment, in his teenage years. He was drawn to things like the Hundreds' Adam Bomb logo and 10 Deep's cut and sew camouflage pieces. Eventually, he would work at the shop from 2010 to 2013 assisting with tasks like blog posts and stocking shelves. When Abakus founders Ky and Rick Cao opened their second shop, Ps & Qs, on Philly's popular South Street block, Ferguson moved with them. He wore many hats from buyer to social media manager from 2013 to 2020. Ironically, he wasn't designing product outside of a baseball T-shirt for children that was never released. He credits the experience with helping him hone his skills.
"I spent a lot of time with those guys," says the 27-year-old with a laugh. "That store taught me everything. I established a community. If you have a brand, I think a community is the number one thing you need to operate and be successful."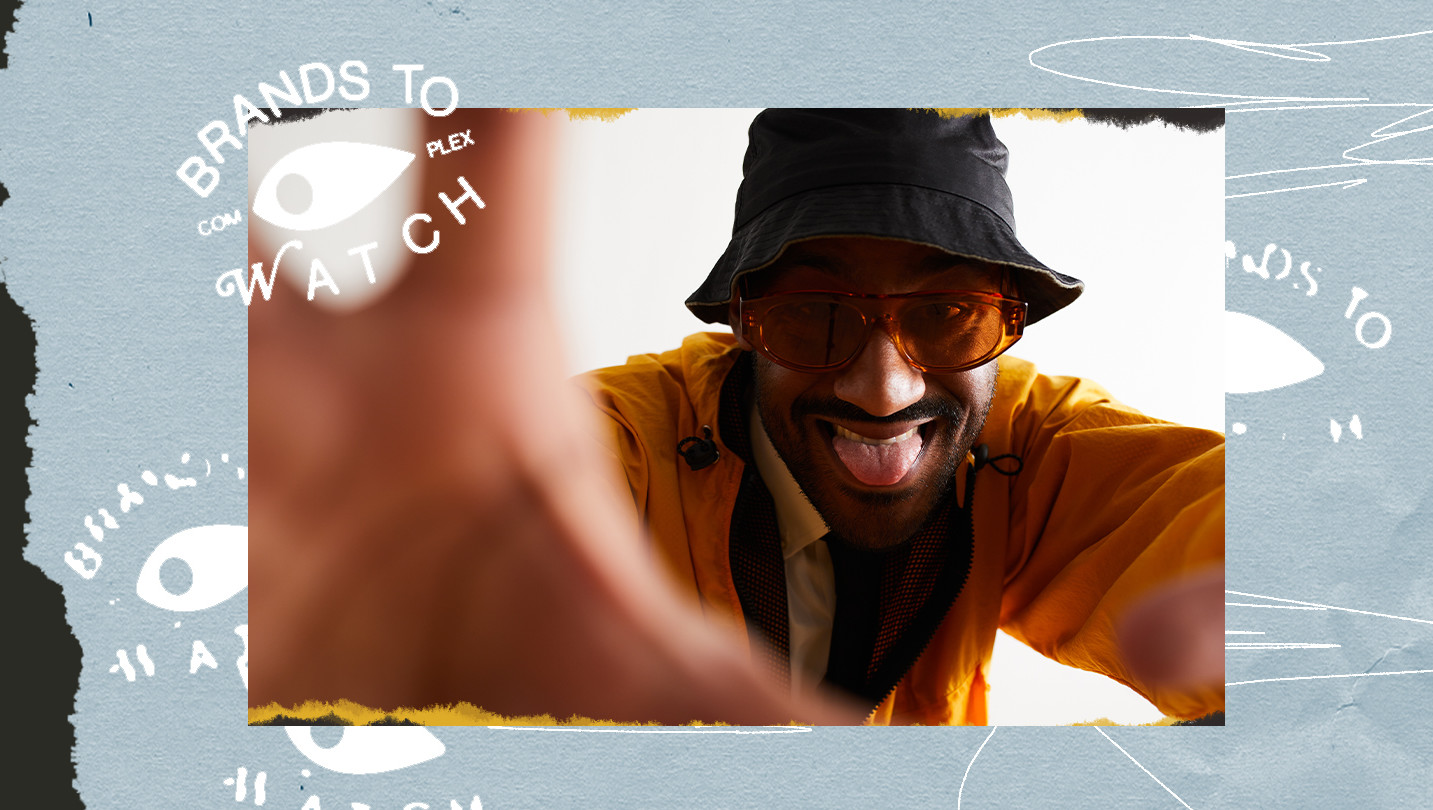 By 2020, Ferguson had decided to move on from Ps & Qs and focus on ALL CAPS STUDIO full-time. His focus shifted to product releases once he noticed his peers liking the small batches of pieces he would create. He had no formal design training, but he was screen-printing a limited amount of T-shirts out of his friend Andrew Sun's living room. He opted to learn through hours of practice. He would vet his ideas through Sun, who he calls the "backbone" of ALL CAPS, and helps with retail and art direction. Ferguson felt like the brand started to get momentum when he released its "Peace and Love" tote bags in August 2019.
"It felt special and cool. The interaction we got from our audience with that was just insane," says Ferguson about the tote bags. "We would print bags and instantly sell out. I never felt that before."
Like the totes, many of ALL CAPS STUDIOS' designs are rooted in nature and overall positivity, partially as a response to being cooped up during the pandemic but also just because Ferguson enjoys outdoor activities like camping and hiking. Ferguson adds images of plants along hoodie sleeves with a cactus printed on the back. Long-sleeved T-shirts feature images of rocks or fungi. While it started as an inside joke between Ferguson and Sun, a frog has become the brand's unofficial logo.
"Something about that feeling of nature just felt good to us," says Ferguson, who wants to gradually expand on the brand's graphic-heavy offering to include more cut and sew pieces and home goods like incense holders or lamps. "It just felt kind of natural to use some of those images. Nature is just positive. It's always just about growth. It's wholesome. And, like, that's always the stuff that I connect with the most." 
These images are often accompanied by the brand's signature Bohemian typeface, which is used to spell out old proverbs like, "A Stone From the Hand of a Friend Is an Apple." Others are from spiritual teachers like Ram Dass or even old children's books, which Ferguson loves to give new context when placed on a piece of clothing next to a specific graphic.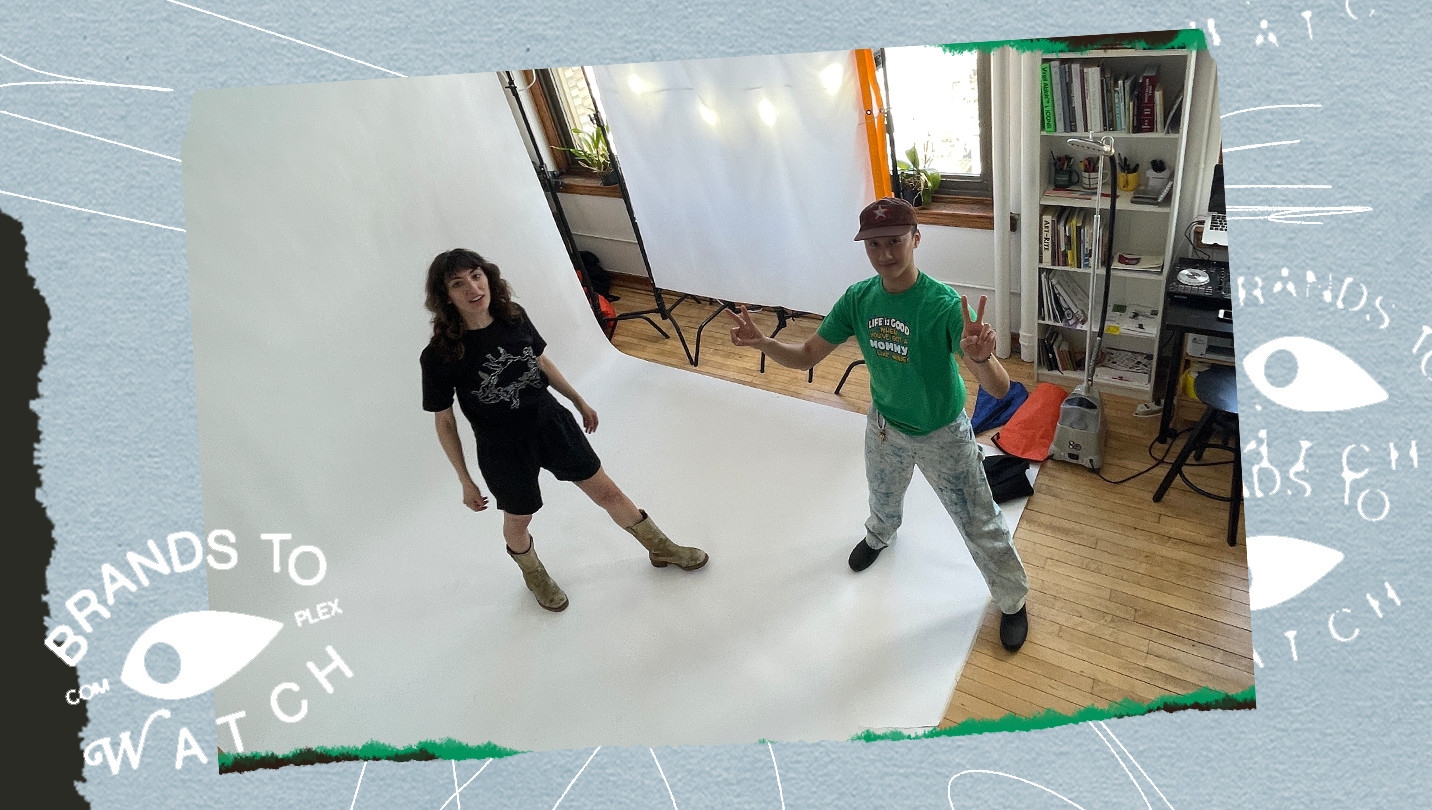 For the last couple of years, the brand has operated out of the Bok Building, a school in South Philly that has been converted into a community center. Its sixth floor office features giant windows that overlook the residential neighborhood. Another wall features shelves full of folded shirts, hoodies, and pants in mostly white colorways. The brown, sage green, and yellow graphics printed on each add a splash of color to the stacks of clothes. Old chalkboards have been covered with mockups of upcoming T-shirt designs. A dye station sits in one corner across from a white backdrop where they shoot the brand's imagery. There is also a floor-level space in the building that acts as a small shop for customers and sells its most recent drops. Sun also uses it as a laboratory of sorts, customizing T-shirts and work pants with one-of-one, hand-drawn prints, patterns, or even stitching excess tags and labels on T-shirts.
The Bok Building pop-up is a testing ground for ALL CAP STUDIOS' future in brick-and-mortar. Ferguson says eventually he would like to operate a hybrid space a la Aimé Leon Dore or Saturdays New York, where customers can shop but also get some sort of auxiliary experience when they visit, like a cafe. Ferguson wants to keep the brand rooted in his home city. But with the help of social media, he is already building a network across the country and expanding the brand's reach.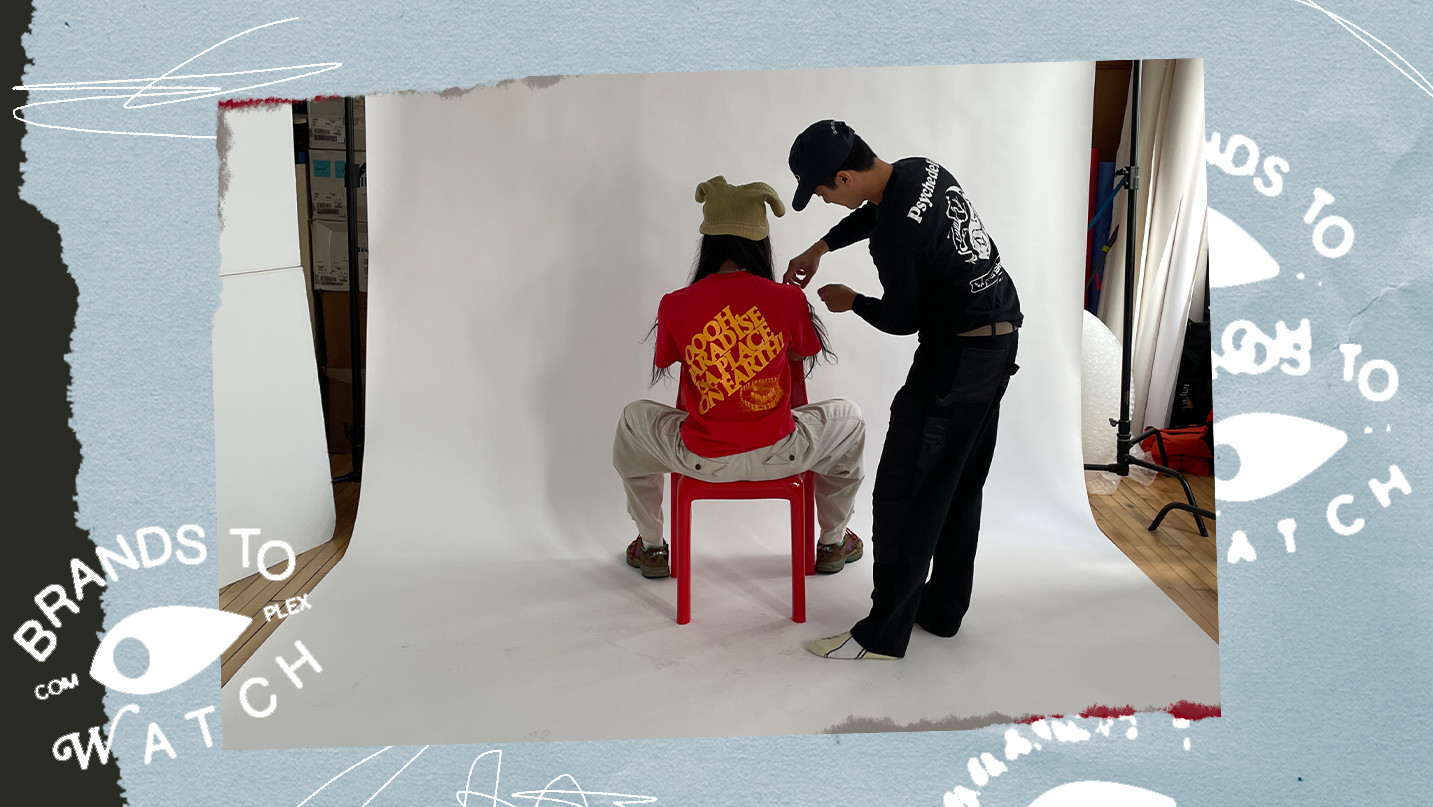 ALL CAPS' stockists include Boston's Bodega and 18 East, a brand started by Antonio Ciongoli who connected with Ferguson through a mutual friend, Cameron Booth, and has supported him from the start. Ferguson has also sold product at Circulate Market, an in-store retail initiative for designers who are people of color that Circulate's Corey Populus formed with PacSun stores across the country. He recently collaborated with Andafterthat, a bubbling San Antonio–based brand that's cultivated an online following for its bootlegs based on iconic films like Heat and American Psycho. And there's also an upcoming collab with Chicago's RSVP Gallery that he's teased on social media. 
"I'm inspired a lot by the homies. We're surrounded by so many people doing such cool things," says Ferguson, who notes brands like Hathenbruck, Boot Boyz, Mr. Green, Bricks & Wood, and Circulate as companies that inspire him. "There's so many more I could name. You see them do something, [and I'm] like, 'Holy shit. I wanna make something now.' It's a constant circle of inspiration and encouragement."
He's also open to more collaborations, as long as they make sense. 
"Collaboration is so hard," says Ferguson. "It takes time to develop that story and figure out what to do with that. You don't wanna make stuff just to make stuff. At least I don't. To make it feel right and good takes time. And some companies don't understand that."
For its virtual booth at ComplexLand, ALL CAPS STUDIO will be re-releasing pieces from its 15th collection, including graphic T-shirts paying homage to jazz composer Sun Ra ($57), a new orange colorway of its popular "Peace and Love" hoodie in collaboration with Carrots ($150), and trucker caps sporting a new teddy bear logo ($45). 
"I hope they think what we're doing is interesting and inspiring," he tells Complex. "With the wording that we use, we try to be constantly encouraging. We just hope people think it's fun."