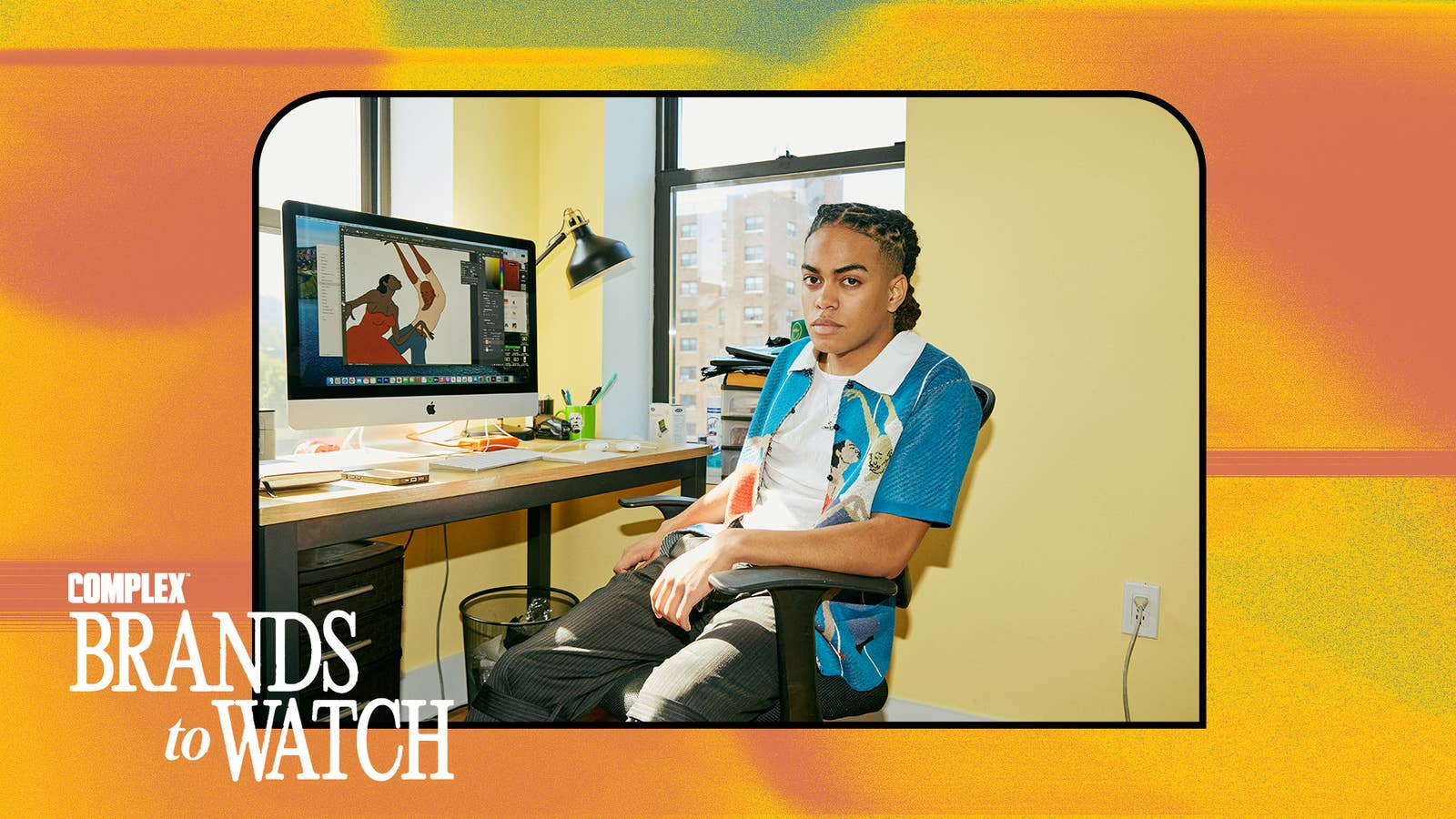 Think back to middle school and high school. It was a time to figure out what your genuine interests were, make friends, try out for the school sports team, or maybe just stress over the next math test coming up. Generally speaking, most kids are navigating the same experiences in their own way. What most kids aren't doing though, at age 13, is starting their own clothing line. But Sacramento native Keith Herron's teenage years were a bit different. Not only was he going to school and experiencing the normal day-to-day of the average teenager, he was establishing the foundation for his own clothing brand, Advisry.
Most clothing brands kids start in middle school or high school sell graphic T-shirts to kids in the hallway and they quickly fade away within a few months. But Advisry is still growing, seven years later. Herron's brand has gone from heat-pressed T-shirts with graphics on Microsoft Paint to short film presentations at New York Fashion Week. And Herron is still just barely old enough to legally drink. 
Founded in 2014, Advisry offers a mix of graphic items and original cut and sew items that range from jackets to tapestry shorts. Herron's graphic references lean heavily on pop culture. A Krispy Kreme logo flip was an early signature. Other T-shirts have referenced legendary figures like Stone Cold Steve Austin or Kobe Bryant. Superheroes like Spider-Man and The Incredible Hulk have also been in the mix. Some take a more serious approach by nodding to significant figures in Black history like Huey P. Newton or Bobby Seale. Herron says these choices come from his own personal interests.
"I love making references to my childhood or certain things that resonate with me personally," says Herron. "I would say it's very subconscious. Like the Krispy Kreme logo, that was a main logo for me because I used to eat Krispy Kreme donuts religiously. I was obsessed with them. They didn't have one in Sacramento, so I used to ask my mom to go to Oakland anytime she was out there and pick me up some Krispy Kreme doughnuts on her way home."
The other aspect of Advisry, which is arguably its strongest, is its cut and sew pieces. Over the years, its collections have included highlights like a pink gradient work jacket, windbreakers with 3M taping, all-over print vacation shirts, and even leather sandals. An original line of sneakers, womenswear, and even suiting are going to be introduced in the coming collections too. Herron says pivoting toward elevated pieces has been the result of an internship with Gucci and his taste level maturing. He took part in the program, Gucci Changemakers, in 2020. He says the experience showed him the ins and outs of running a luxury fashion house.
"It was a huge honor to be able to learn the industry at that level. That's basically when I got the inspiration to move towards designer fashion," says Herron.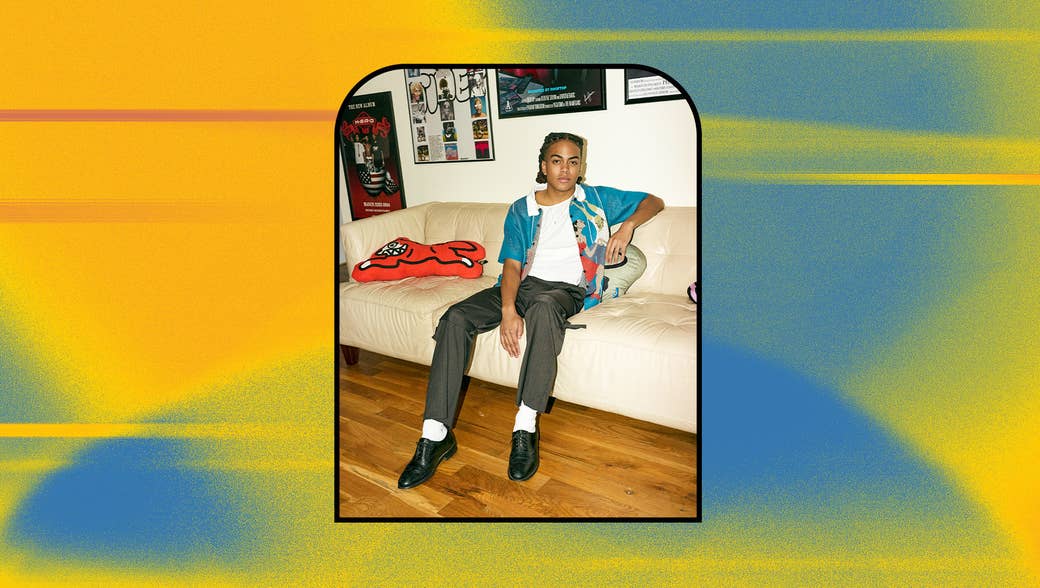 Advisry's latest venture places it at the Long Beach Convention Center for ComplexCon 2021 as a part of its annual Brands to Watch space. It will be selling select items from its most recent End of Summer 2021 collection like sunglasses, dyed pants, linen shirts covered in large crest graphics, and tapestry shorts depicting the Thrilla in Manila boxing match between Muhammad Ali and Joe Frazier in 1975. The booth will also be selling exclusive items, a new brown and blue colorway of its "I Heart VSRY" sweater, as well two new colorways of the brand's leather Village Sandals.
Given his age and catalog of items he has already designed, it may seem like fashion has been Herron's focus since day one, but he says aside from the excitement he would get from back to school shopping every year, he didn't care too much about clothes until around the age of 12. He notes brands like Diamond Supply Co., Obey, and Stüssy as some that piqued his interest at the time, and says CCS was his favorite store. 
This interest eventually grew into something bigger, thanks in part to Pharrell. Herron started to collect OG items from brands like Bape and Billionaire Boys Club, something he still does. Over the phone, he mentions having the Swarovski logo BBC T-shirt worn by Pharrell in the "Drop It Like It's Hot" video framed in his office as one of his most prized possessions. Some of Advisry's past designs have even acted as a direct tribute to Pharrell and N.E.R.D. such as a "Free Shay" T-shirt or Fly or Die tribute to celebrate the album's 15th anniversary in 2019. Along with Skateboard P, Herron also credits Tyler, the Creator heavily rocking Supreme in the 2010s as a moment that really got him interested in the ins and outs of streetwear. He began to study brands' archives.
"I'm low-key one of the biggest Pharrell fans ever," Herron says with a laugh. He notes that a lot of people initially became aware of Advisry because they knew him from his N.E.R.D. and BBC collection on social media. "What really got me about Pharrell and N.E.R.D. was the relentless creativity they had across bounds of medium and expectations. Pharrell was the first time I was able to see Black people doing something that was not necessarily 'for Black people,' the weirdo shit. It was really cool for me."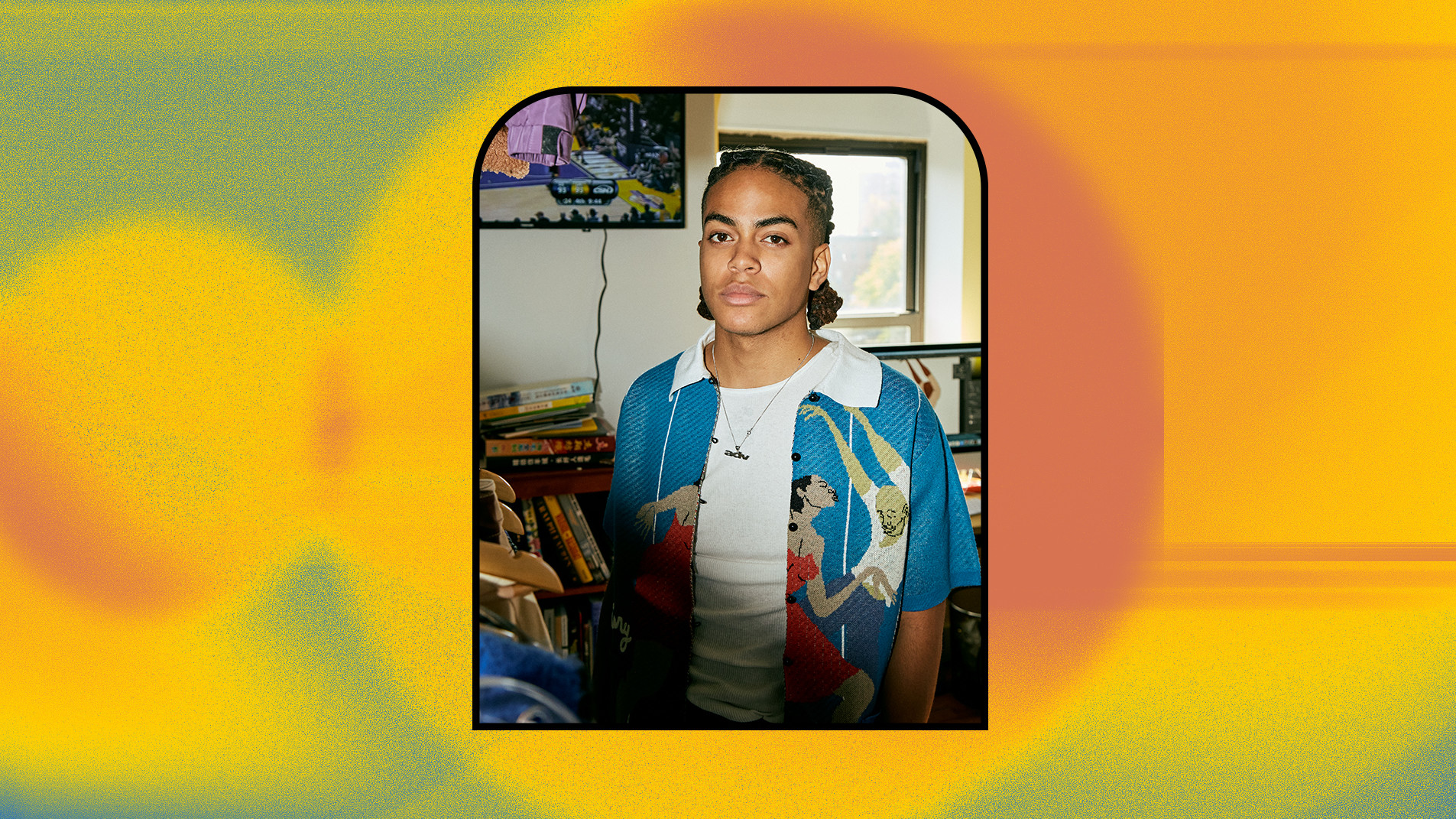 Herron recalls being one of the few kids rocking Supreme in his school back in 2013 and "probably the only kid that owned BBC." Collecting and reselling items from these brands like BBC and Supreme throughout high school is eventually how Advisry was born, along with a little bit of advice from his mother. 
"I walked into my mom's room and I asked her to buy me this $150 Supreme sweater," says Herron. "She literally looked at me and said, 'You should be investing in your own brand, not somebody else's.' I don't think she knew what she said held so much weight, and she probably doesn't even remember that conversation at all, but in that moment I went into the kitchen and started working on my first designs." 
Before he made any clothing, he produced logo stickers that he would pass out to classmates. Eventually, he purchased a heat press for $150 and began printing up T-shirts in his house to sell. Word eventually spread around school that his T-shirts weren't good quality. Rather than give up, he refocused on how to improve his pieces and took his brand to the internet to help grow it with a different audience. While Herron says he's been a creative kid ever since he was 5 years old, he has never had any formal design education. Some might see this as being a step behind other designers. He has a different outlook.
"I feel like when you're working in an arts industry, it's not a bad thing to not fully understand what's going on. To be honest, to this day, I still don't," says Herron. "That's not to say I don't study it. I read the books, listen to the interviews, and see the documentaries. But not understanding how certain things work really gives me the most freedom creatively."
Herron recalls his first cut and sew piece, a two-toned blue windbreaker he made in 2014 that featured a Teenage Mutant Ninja Turtles patch and an Advisry logo flip inspired by the classic cartoon, as one of the moments he felt like he had a serious future he could pursue with Advisry. He was still in middle school at the time, but remembers the older high school kids wanted to purchase it. That jacket, along with a series of items like T-shirts, hats, nylon coach jackets made up what Herron now refers to as Season 0 of Advisry.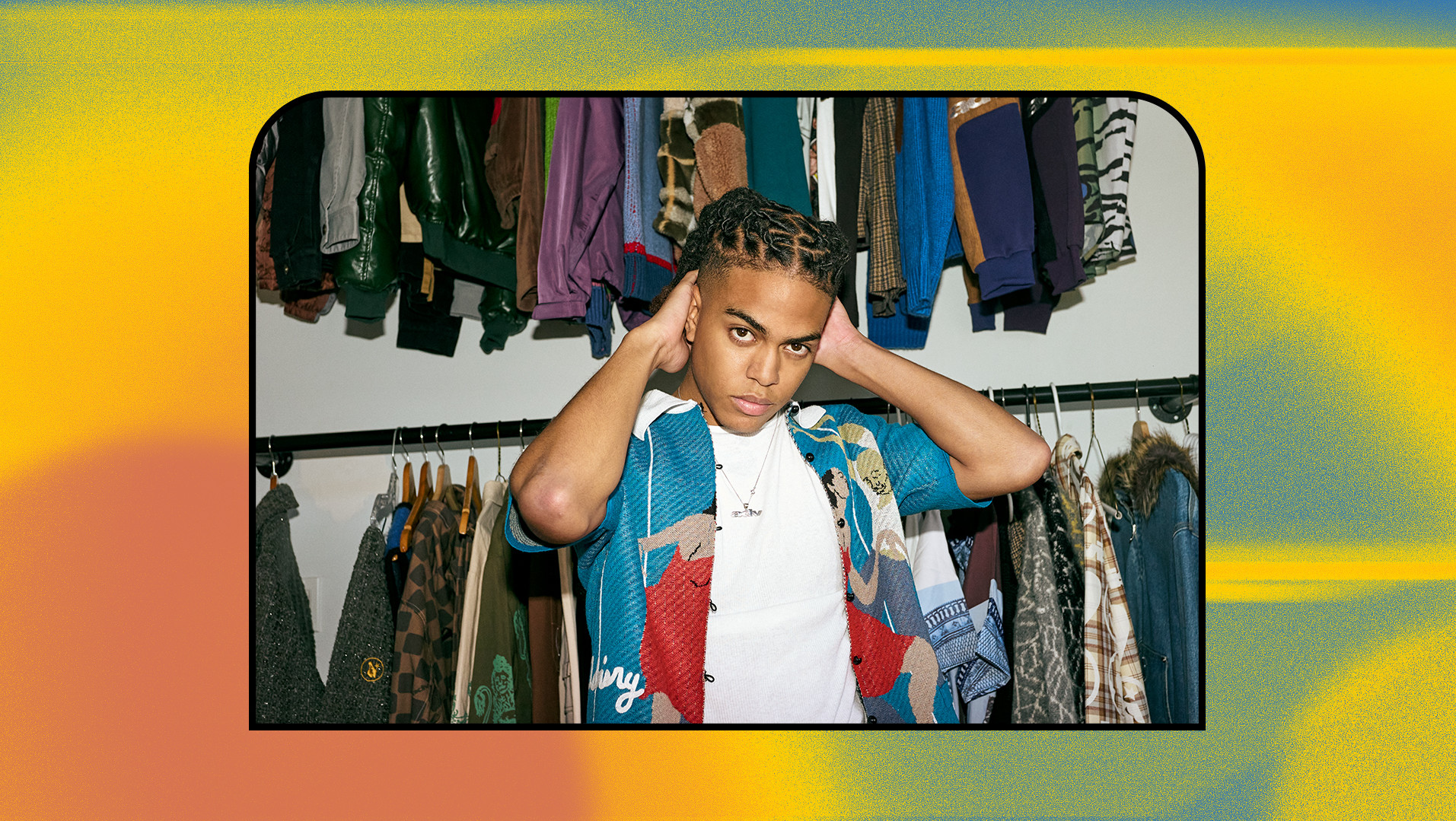 Two years later, Herron produced his first original cut and sew items, two pairs of all-over print shorts, instead of relying on blanks. "It was just incredible to actually see it come to life," Herron tells Complex. "From that point, I started incorporating more and more cut and sew into each collection."
By 2018, the brand's Season 3 range introduced pieces like work jackets and all-over print pants. Herron says despite his creativity pushing him into this new direction, the brand still wasn't really generating a ton of sales at the time. He was starting to get more attention though. He says around this time is when he first traveled to New York and began to really build a community for himself in the city. He fully moved to New York City back in 2018 to attend Fordham University. He stayed in the city and currently operates the brand there. Advisry's upcoming collection is set to be its first that's produced in New York City.  
With some buzz growing, Herron presented Advisry Season 4 in 2018, which would include one of the brand's most popular pieces to date: a royal blue knit cardigan covered in sunflowers. The piece was worn by big names like Tyler, the Creator, Steve Lacy, and influencer Leo Mandella. 
"That was the first time my collections had ever made any money. It was very crazy because coming from nothing, profit wise, was a huge jump," says Herron. To capitalize on the exposure, Herron dropped another collection two months later. He was getting more orders than he could handle. "It put me in a hole because the bigger pieces were selling, but the other pieces weren't selling as much. It became hard to fulfill orders, which led to a lot of distrust from existing customers." While it presented a lot of frustration, Herron says looking back it was a huge lesson in how to operate a business. "Don't get too ahead of yourself. Manage what you can in order to actually carry out the operations of the business."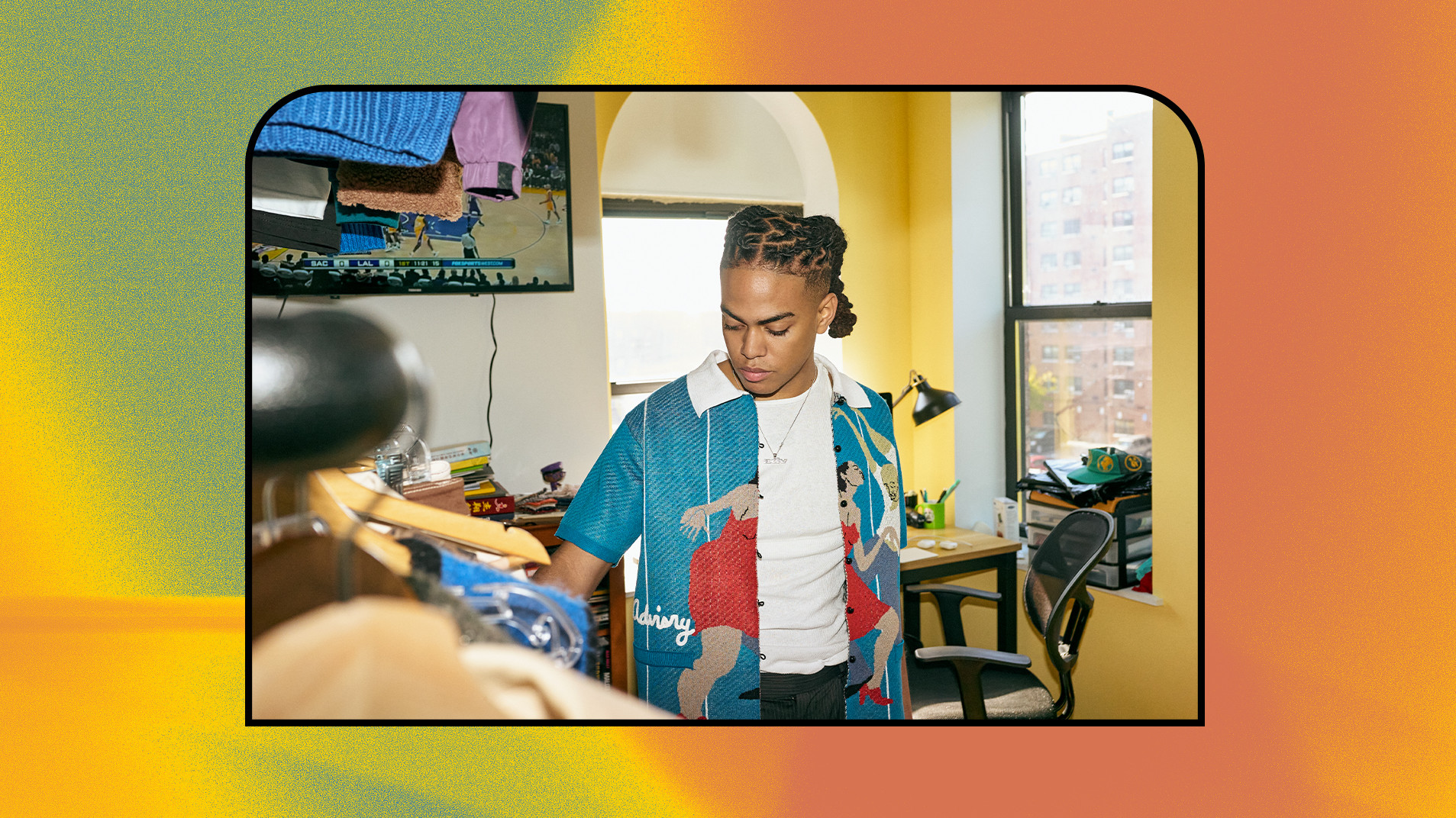 The brand has continued to grow from year to year since with new silhouettes and more refined editions of key items like his aforementioned work jackets being introduced along the way. When it comes to what's next, Herron says his goal is just to constantly keep elevating and growing. He even admits, with a laugh, that he usually hates his collections a few months after they release. Following that line of thinking, he says the yet-to-be-released Season 8 collection is his favorite that he has ever done. "I think the next stuff is always a lot better. Like I said, I have so much room to grow. I try to grow with each collection." 
Despite collaborations being such a big part of fashion today, Herron doesn't usually collaborate on products and doesn't seem to stress the need to do so moving forward. If he were to entertain the idea, it would have to be big names outside of the fashion industry like Pharrell, Childish Gambino, or Jay-Z.
"It seems like a lot of collaborations are very inauthentic and just a way to make money. I never want to come off like that. If I do collaborate, it will have to be something very authentic."
More recently, Advisry was a participant in New York Fashion Week this past September by presenting a roughly 18-minute short film titled "Sometimes Dancing" that depicts a young Black couple discussing love and the story of the Black experience in today's society. All of the characters were outfitted in pieces from Advisry's upcoming collection. Herron says the entire film came together in just three weeks. It highlights Advisry's mission to evolve into a multifaceted brand that creates things beyond clothing. Herron also wants to eventually grow Advisry into a record label and incubator for smaller artists, as well as a film production company. He's a director himself who has already made small films and music videos for Advisry. On the music side, the brand already has one artist signed, Glen the Saiyan, and also produces a radio show and DJ sets from Brandon Lamont. 
As far as Advisry's future clothing output, Herron says he wants to continue to drop large annual collections that will be released in pieces throughout the year. He also hopes to eventually operate his own atelier and show in Paris. When asked about his goal for the upcoming weekend, Herron's answer is simple.
"It would be amazing if [ComplexCon attendees] could learn the values of the brand just by looking at the showroom area, but also it will just be sick for them to know that it exists."
ComplexCon takes place from Nov. 6 to Nov. 7 in Long Beach, California. Sign up for more info and access at ComplexCon.com.