ComplexCon Brands to Watch: Andafterthat Is Bringing People Together One Bootleg T-shirt at a Time
Ahead of ComplexCon 2022, we spoke to Andafterthat founder Edgar Gonzelaz about his bootleg T-shirts and cut and sew inspired by movies and music.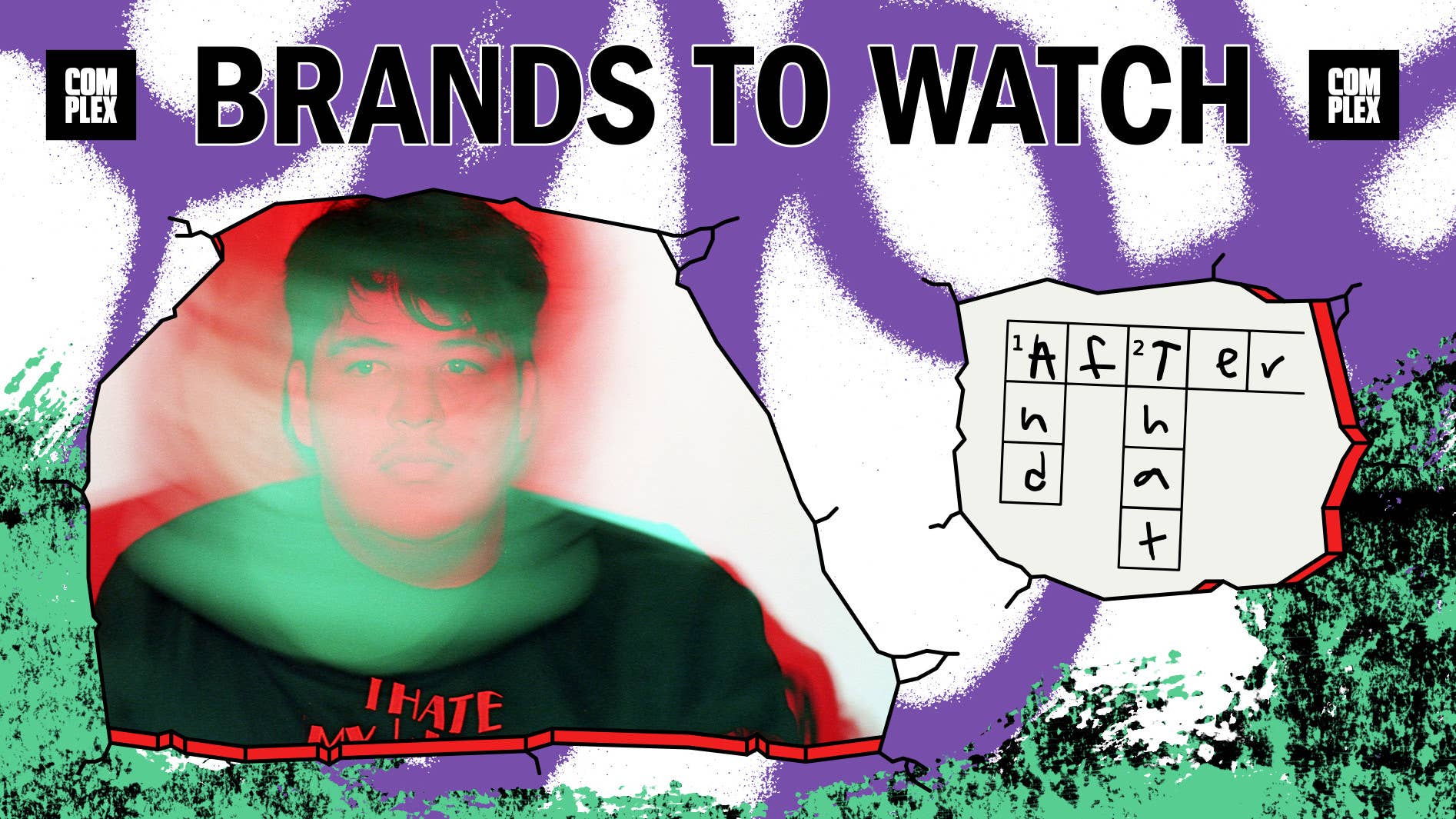 Complex Original
Image via Complex Original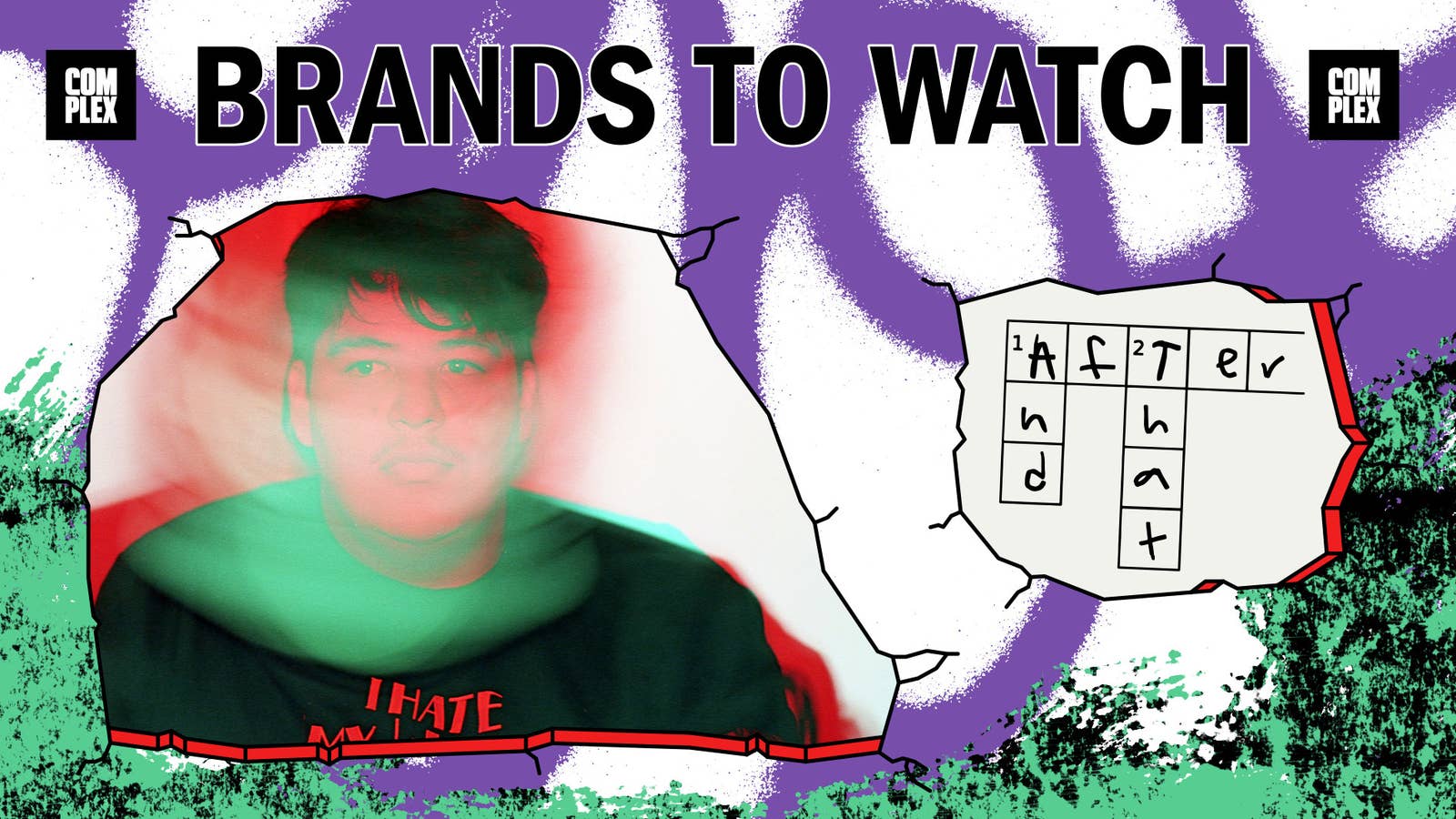 When it comes to creating clothes inspired by the entertainment world, there's a formula that most brands traditionally abide by: slap some recognizable elements from a movie poster or album cover onto a T-shirt or hoodie and watch fans flock. Edgar Gonzelaz, the 27-year-old founder of Andafterthat, doesn't completely abandon this approach. Since launching his brand in 2020, he has released plenty of his own bootleg T-shirts inspired by some of his personal favorite movies and musicians with their own unique spin. One T-shirt looks like it could have been a promo item for Clipse's Hell Hath No Fury. He's paid tribute to Martin Scorcese and his legendary filmography using pictures of a young Marty. Other items have taken inspiration from Taxi Driver and feature the cab driver's license that Robert De Niro obtained while researching his role as Travis Bickle printed across zip-up hoodies. But Gonzelaz isn't just stopping at clever graphics that feel like new age vintage gear. He's also referencing these works with clever cut and sew items. 
You know that blue, white, and red striped button-up Ray Liotta's character Henry Hill wears in Goodfellas? He remade it. How about the shaggy olive green cardigan worn by Kurt Cobain during Nirvana's MTV Unplugged performance in 1993? He decided to create his own interpretation of it, down to the omission of a button to match the worn-in nature of Cobain's. As for his T-shirts, they are all hand printed and hand dyed by individuals based in the Rio Grande Valley, the region of Texas bordering Mexico that he grew up in. Some shirts may have a slightly off-centered graphic. One black T-shirt might be a slightly different shade than the next. His cardigans are missing buttons. But that's sort of the point. It isn't due to lack of effort. It's intentional. 
"I want to create things that people have to live in. The whole idea of perfection is so boring to me. If the T-shirt's slightly crooked, that's fucking dope. That's a one of one. All my shit is one of one," says Gonzelaz.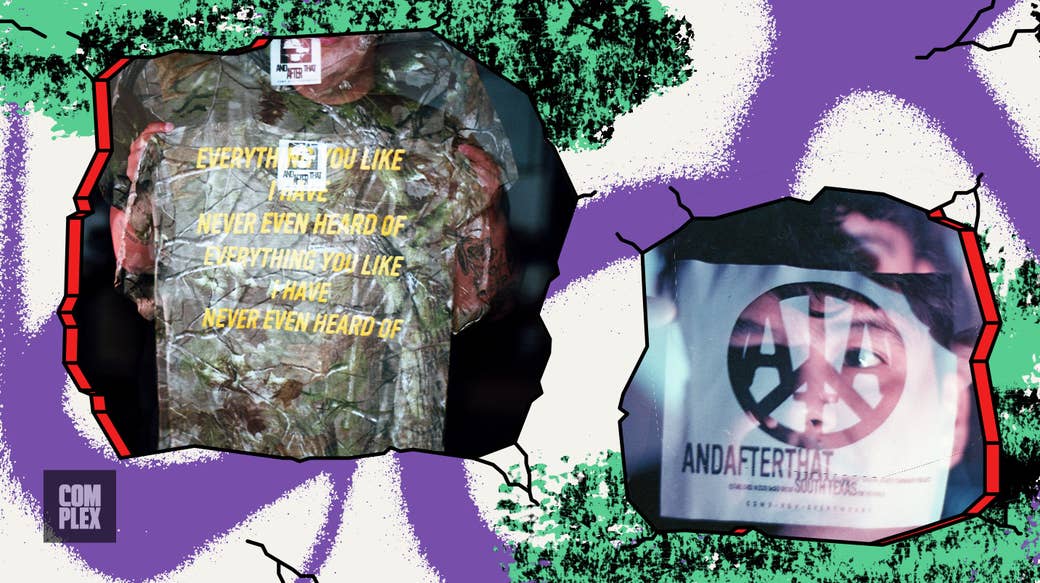 After speaking with Gonzelaz for about an hour, it's immediately apparent that this brand isn't just a source of income for him. It's a way for him to share his upbringing in Mexico and Texas with the world. A lot of the media he references in his work is how he learned about American culture when he was younger. Andafterthat is also a way for him to support his loved ones. 
His family is why he started the brand in the first place. In 2020, he wanted to find a way to raise money to pay for his little brother's DACA application (DACA is administrative relief that protects eligible immigrants who came to the United States when they were children from deportation). Rather than just create a GoFundMe and blast it all over social media, he created a limited run of T-shirts inspired by a vintage New Order T-shirt he loved.
"I just wanted to make my life and my mom's life and my brother's life a little bit easier. That's all I was focused on," says Gonzelaz.
At the time, it wasn't meant to evolve into his full-time job or a brand with multiple capsules releasing each year. He figured he could maybe sell around 30 T-shirts to make about $300. He ended up raising over $800, crediting the Throwing Fits podcast, which shared his web store on its social media accounts, as being a big reason for some of the extra exposure. But beyond hitting his target goal, the experience showed him that there was an audience out there looking for new ways to show their love for some of their favorite entertainers.
So, Andafterthat was born. And Gonzelaz kept designing. Subsequent releases included nods to episodes of The Sopranos and one of his favorite musicians, Björk. Sometimes, he decides to make something simply because he likes it. Other times, he may stumble upon a rare item given to the cast and crew of a film on eBay and strive to make his own version of it that people can actually obtain. A story of David Lynch sending a letter to the crew for one of the movies he directed could be the spark. Some of the more obscure references that he chooses to spotlight make a bit more sense when you realize what Gonzelaz wanted to become an author before his brand took off. He may not be telling stories in the pages of books, but his dream was still realized. He's doing it in his own way. 
"I love when kids are like, 'Hey, I'd never seen this movie, but I bought the shirt. I love this movie now. I watched it. It's amazing.' I'm almost trying to do what blogs that I like used to do, but through T-shirts," says Gonzelaz. "I'm trying to put kids on."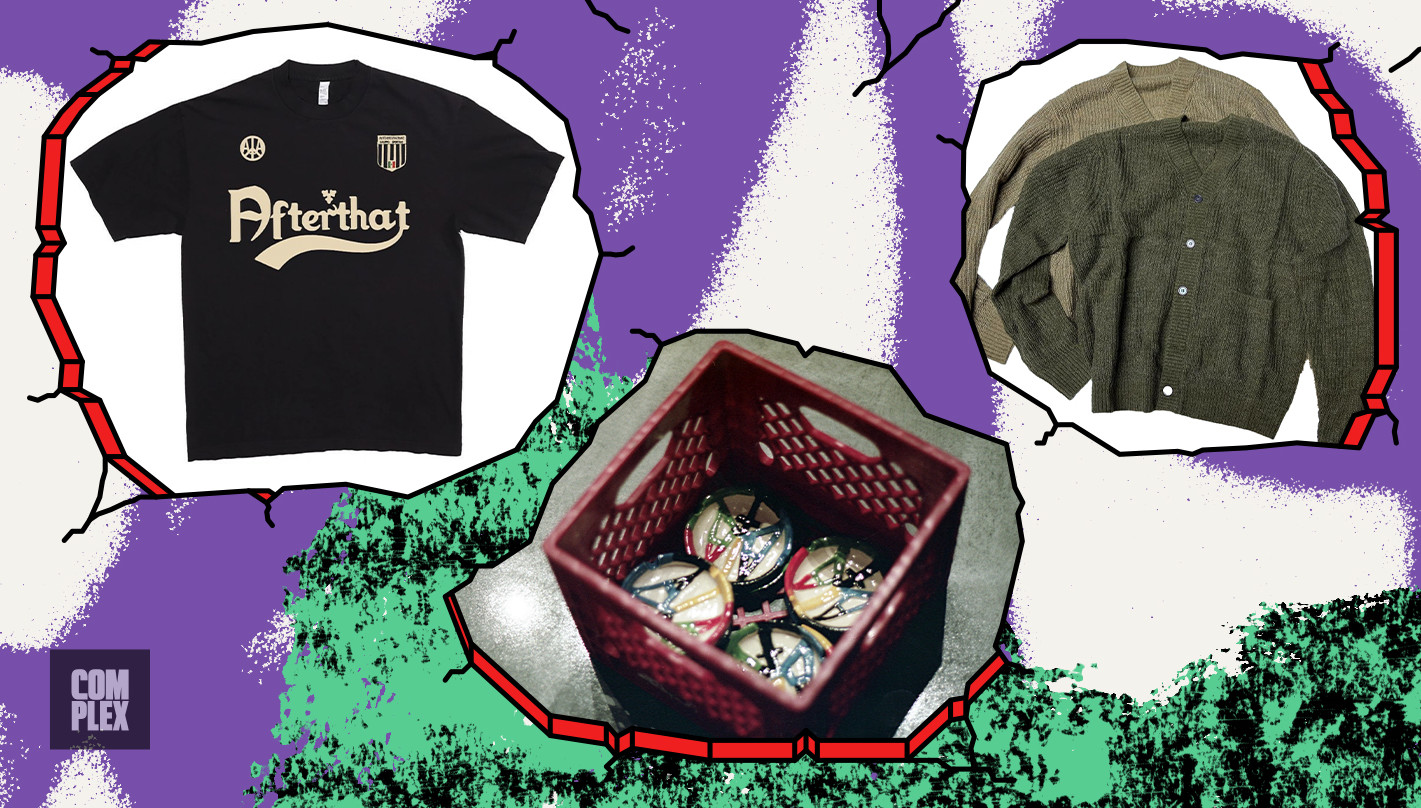 For the first year of the brand, he created new T-shirts in his downtime between 12-hour shifts at a shipping warehouse. He would use his off days on Sunday to pack and ship his orders. Eventually, he decided to dedicate even more time to Andafterthat.
"One day I had a rough day at work and I was just like, 'Man, I kind of want to try to do this. I feel like people would support me if I did this.' I just took a little leap of faith and it's been nonstop since," says Gonzelaz.
Currently in its second full year of operation, Andafterthat is releasing one to two capsules a month, usually centered around a particular theme. One of the most recent was his play on Halloween, complete with nods to horror films like Carrie. Others have been a spotlight on certain filmmakers like Scorcese or Lynch filled with mentions of their most celebrated works. Gonzelaz jokes that looking at his Letterboxd account will give you a sneak peak at his upcoming drops. 
Given the fact that many of Andafterthat's designs pull direct references from movies and music, you may assume he runs into a lot of legal woes. But according to him, he hasn't had to deal with cease and desists thus far. Part of the reason is his release strategy. Each drop is only available via his web store for a limited amount of days before it is pulled and gone forever (restocks are few and far between). 
His brand is gaining more traction by the week. But Gonzelaz never had aspirations to be a designer. He never took sewing classes or received any type of formal training. Despite the success he has found operating a clothing brand for the better part of two years, Gonzelaz is quick to dismiss the "designer" title.
"I'll never call myself a designer because I literally have a fucking Photoshop for Dummies book somewhere here," says Gonzelaz. "I just think I'm somebody who works really hard because I've had to work hard. There's way more talented designers. There's way more talented people. But I do think I have probably the best work ethic."
He says he initially became interested in fashion the way many millennials did, through musicians like Pharrell and Ye. When he was 8 years old, his family moved from Mexico City to Texas. He learned how to speak English by watching music videos on MTV, VH1, and BET's 106 & Park. When something caught his eye, he would jot it down on his notepad to make sure he researched it later. Pharrell, Ye, and The Clipse ended up on the list. Being enamored by some of the most fashionable rappers of all time, it was only natural that he became intrigued by the clothes he saw them wearing on his television screen as a kid. He was introduced to brands like Bape and Billionaire Boys Club. He recalls asking his mom for a pair of Bapestas for Christmas before realizing how elusive and expensive they were. Meanwhile, he was learning about bands like The Smiths and The Cure from his father. Elements from both genres of music are still prevalent in his designs today. 
"I always say, I'm not that talented. I didn't go to design school or anything. I'm just curious," says Gonzelaz. "I value authenticity over talent. Hard work beats talent any day. And that's in everything."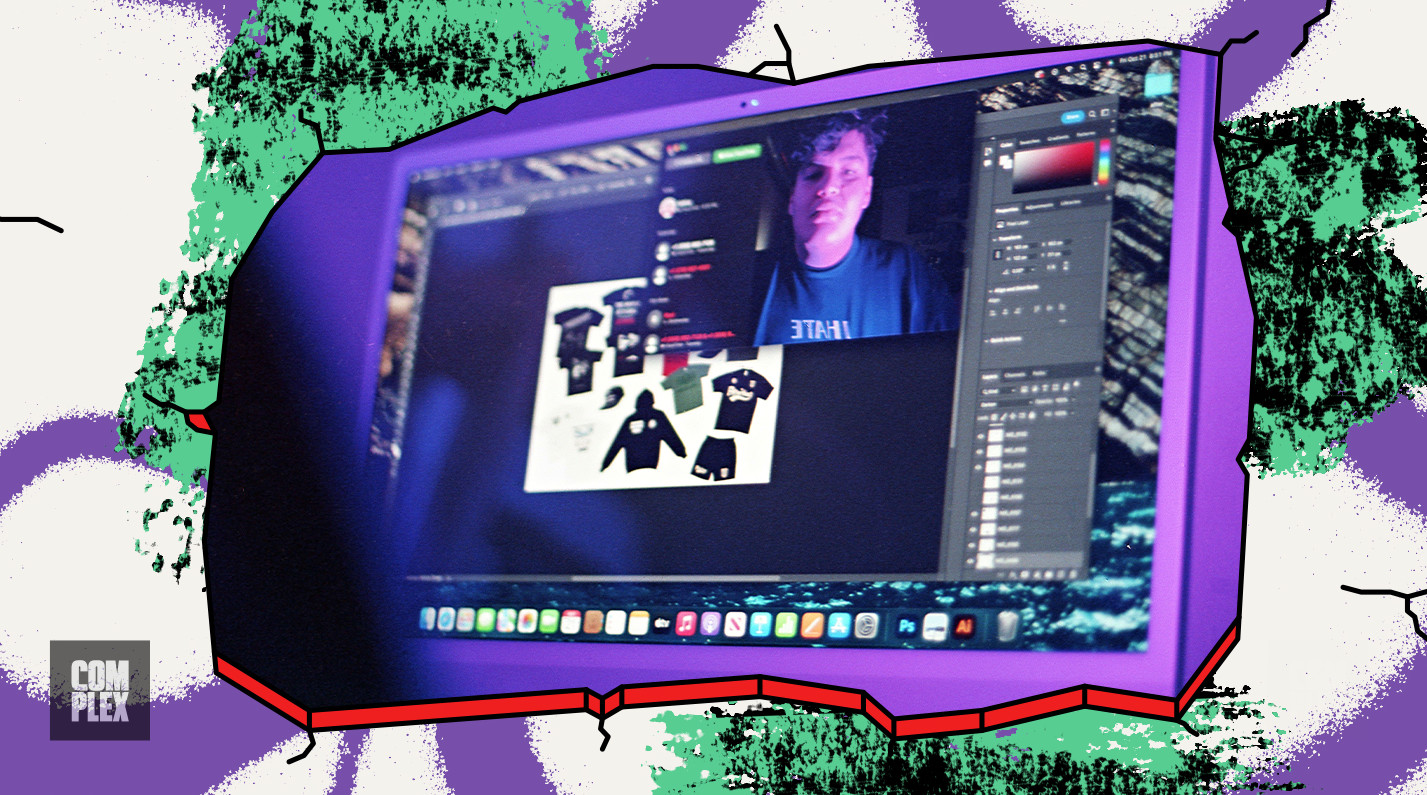 While his bootleg T-shirts and hoodies are what have helped Andafterthat build a following, Gonzelaz has aspirations to expand his offerings to his customers, which have included stars like Zendaya and Post Malone, into other avenues. He wants to keep finding new ways to incorporate cut and sew into certain drops. A future release will see Gonzelaz reinterpret vintage Polo Ralph Lauren pieces he has accumulated with their own Andafterthat spin. He would love to design his own take on the Adidas Samba, not because of its current status as a trendy sneaker on the market but because of its direct ties back to his Mexican heritage. "If you know any Mexicans, you know we've been wearing Sambas," he says with a laugh. It's one of the many ways he wants to weave his Mexican heritage into his work. Other examples include mesh shorts and other accessories nodding to the 1986 FIFA World Cup. Mexico was the host country that year.
"I just wear [being Mexican] proudly on my sleeve. It comes from old shame. At one point, I just wanted to be perceived as American so badly," says Gonzelaz. "But now that I got older, I'm like, 'What is more American than being proud of where you're from?' The most American thing is for me to be like, 'Yeah, I'm a fucking Mexican, dog.'" 
He hints that pop-ups in cities across the country could be coming in the future. The brand is growing at a steady pace (it currently has around 21,000 followers on Instagram), but Gonzelaz wants to keep a level of exclusivity as long as possible. He even suggests that he could make some of his designs exclusive to newsletter subscribers at some point to keep the brand a bit more secretive to its most loyal supporters. It's about the community he is building with Andafterthat more than it is about getting worn by big celebrities or making tons of money. 
"I love when people are like, 'I just had drinks with a dude who I met because I was wearing Andafterthat and he knew the brand,' and instantly hit it off. Things like that are amazing to me," says Gonzelaz. 
He's dabbled in collaborations, having worked with Brands to Watch alumni ALL CAPS STUDIO on a capsule this year, but says that he isn't rushing to work with tons of other people. The story has to make sense. To that end, his participation at ComplexCon makes perfect sense. Over video, Gonzelaz explains how he and his younger brother spent countless hours watching shows like Sneaker Shopping and Life at Complex on the Complex YouTube channel growing up. 
Andafterthat's ComplexCon booth will be restocking his popular Henry Knit Polo one last time along with a series of other popular drops from the past and some exclusive products. Will there be a super limited run of custom Andafterthat Sambas? Maybe. Above all, Gonzelaz just wants ComplexCon goers to see his brand for what it is. He clearly has a vision for where he wants to take Andafterthat. And he wants to do it his own way, not from an outpost in LA or New York City, but from his studio in the Rio Grande Valley.
"It would be so easy and probably cooler if I just moved to LA or New York. I could network more easily. I could work with bigger people. But I'm trying to do this a little bit differently. I'm trying to keep everything home grown. I want the next me to be like, 'Oh, I don't have to go anywhere to do this," says Gonzelaz. "I draw a lot of inspiration to try to build something different, to try to build something out of a place that is often depicted negatively. It's not just the border, it's my hometown."