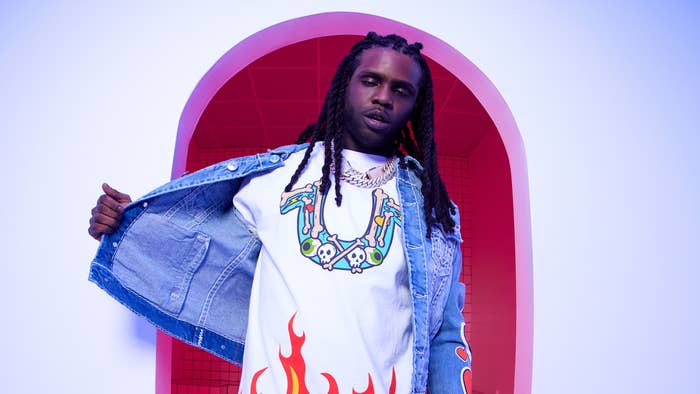 10 years ago, Chief Keef proclaimed himself a "True Religion Fein" over a Young Chop instrumental filled with heavy-hitting snares and bells. Just 16 years old at the time, he was already becoming the face of Chicago's bubbling drill music movement. And "True Religion Fein" wasn't just a clever nickname. The cover of his 2012 mixtape Back From the Dead featured him posing in a V-neck T-shirt with the brand's horseshoe logo stamped on the chest and he wore their signature denim in videos. The influence his co-sign had can still be seen in 2022. Over the phone, Chief Keef recalls a group of young white rappers he stumbled upon recently on YouTube still mimicking his original sound and even dressing like him.
"Oh my God. He sound like the old me. It seemed like he was stuck in 2013," says Chief Keef. He begins to laugh as he explains the video. "They all dressing how I used to, rapping how I used to, it is crazy. And it's brand new, like this year. They still wearing the same fits. The jean jackets, the baseball shirts, the jeans, it's crazy, man. Still to this day."
Chief Keef's ties to True Religion were not official back in 2012, but there was no denying that the California-based company benefited from his support. He says when he finally got some money that all of it was being spent on its jeans and shirts at the time. After years of rocking the designer and influencing his fans to follow suit, he is officially collaborating with True Religion.
"It's always been a dream to work with True Religion since back when I made the song," says Chief Keef when speaking to Complex over the phone about the upcoming release slated to hit True Religion's web store on May 5. While the 26-year-old artist rarely does interviews, he seems particularly engaged. He's most enthusiastic when discussing the upcoming collab. "I told them I started designing and wanted to do a collab and work on some stuff. And they was down to let me do it. They gave me full creativity to do it all. I just went to work."
The collection consists of denim jackets, jeans, T-shirts, and loungewear like sweatpants and hoodies. They gave each item a unique flare with details including flames, cartoon skulls, hearts, and phrases like "TRUEEE" running up pant legs in colorful bubble letters. To Chief Keef's loyal fanbase, the look may be familiar to his solo clothing ventures with Glo Gang and recently launched Bad Weather. This wasn't just a big artist putting his name on a collaboration. Chief Keef designed the entire thing.
"We really look at True Religion as this blank canvas. We hand our brand over for other people to interpret it and see it through their lens. It was amazing to have Chief Keef look at it through his lens," says True Religion creative director Zihaad Wells. The partnership aligned nicely as the denim line's  20th anniversary just so happens to coincide with the 10th anniversary of Chief Keef's "True Religion Fein." "We've just become synonymous. You think Chief Keef, you think True Religion."
The capsule is the latest example of True Religion trying to push its way back into the fashion zeitgeist. Back in 2021, it released a collab with Supreme that sold out in mere minutes. A few months later, it tapped another rapper known for his love of the brand, 2 Chainz, for an official release to commemorate his 2011 mixtape T.R.U. REALigion. 
"There are these parallels that happened alongside the brand. As a brand, you stay true to who you are and you don't try to jump on a bandwagon with Chief Keef, or 2 Chainz, or whoever. You appreciate what they bring and how they represent the brand, but you keep doing what you do," says Wells when discussing the impact that certain artists have had on True Religion's success throughout its history. "Being our 20th anniversary, being able to acknowledge those artists that have stood by this brand for the last 10 years, I think it's the right thing to do."
Ahead of the Chief Keef x True Religion launch, we spoke with Chief Keef for an exclusive interview about what this collab means to him, the influence he's had in music and fashion, the evolution of the drill genre, and more.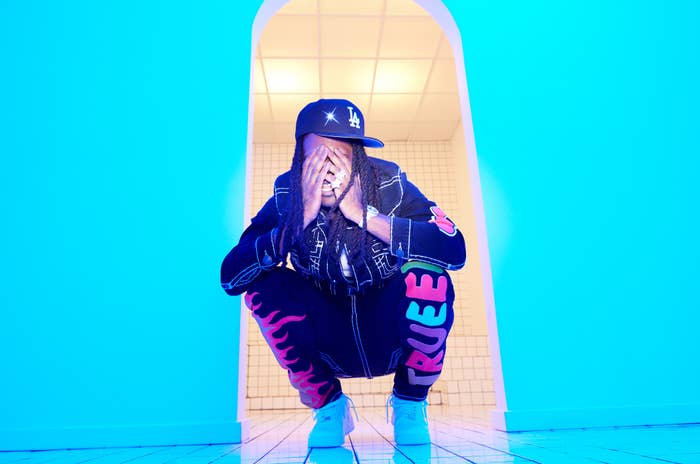 You designed the whole collection. What inspired some of the designs that you ended up going with for the collab?

What inspired it is really just how I am, kinda fun. The colors, I like stuff like that. If you've seen my brand Glo Gang Worldwide, if you look at that stuff, you'll see how fun and colorful it is. We got the sun and the moon. I just like fun stuff. That's just how I am.
I saw you opened the Glo store on Melrose in Los Angeles last month. How's that been?

That's actually going good, man. It's open Friday, Saturday, Sunday. I'm happy to have a store. That's another dream I had, you know. All the dreams come true, which is crazy. But yeah, it's doing fantastic, man. 
You were known for rocking True Religion when you were first coming up back in 2013. How does it feel to be able to officially collaborate with them?

It's a dream come true, bro. I talk about this all the time. I show off my designs all the time. It's crazy 'cause I'm the one designing it, sitting at the computer and putting it together. So that's what makes it even 10 times crazier, 10 times better, man. They let me do it. It's designed by Chief Keef.
I heard you have a whole design studio in your crib now. Is that true? 

Yeah. I turned my garage into a warehouse.
What do you like doing more now, designing clothes or making music? 

My favorite right now is actually both. Designing clothes and making music is the same thing to me. 'Cause I get to create, I get to think of how I want this, where I want that. It's kinda like making a beat, kinda like making a song, to me. It's the same creative process except it's graphics.
Do you remember how you initially became a fan of True Religion in Chicago? 

True Religion was like one of those things you wore if you had a little money or something like that. You'd see the fly girls wearing it. You'd see the fly boys wearing it. Not too many people had it in Chicago, but I don't know. I just became a big fan of it, seeing the style of the jeans. Like I said, all the fly girls and boys had it, so it made you want it too. 'Cause I was fly. I wanted to be fly. So, it made me a fan of True Religion. My first True Religion fit was actually from my friend. He passed away, but I had worn his True Religion fit to my first show. I had the full fit, the jean jacket and the jean pants. 
Do you remember how "True Religion Fein" came together?

I made that one when I had finally got some money, some chedda cheese. I used to go buy all True Religion with all my money. I'd just buy all the True Religion jeans, True Religion shirts. I used to even buy the True Religion girl's shirts sometimes because they were so hard. I used to just buy so much True Religion I decided I should make a song. That's exactly how that came about. They played the beat and I thought "True Religion Fein," and that was it.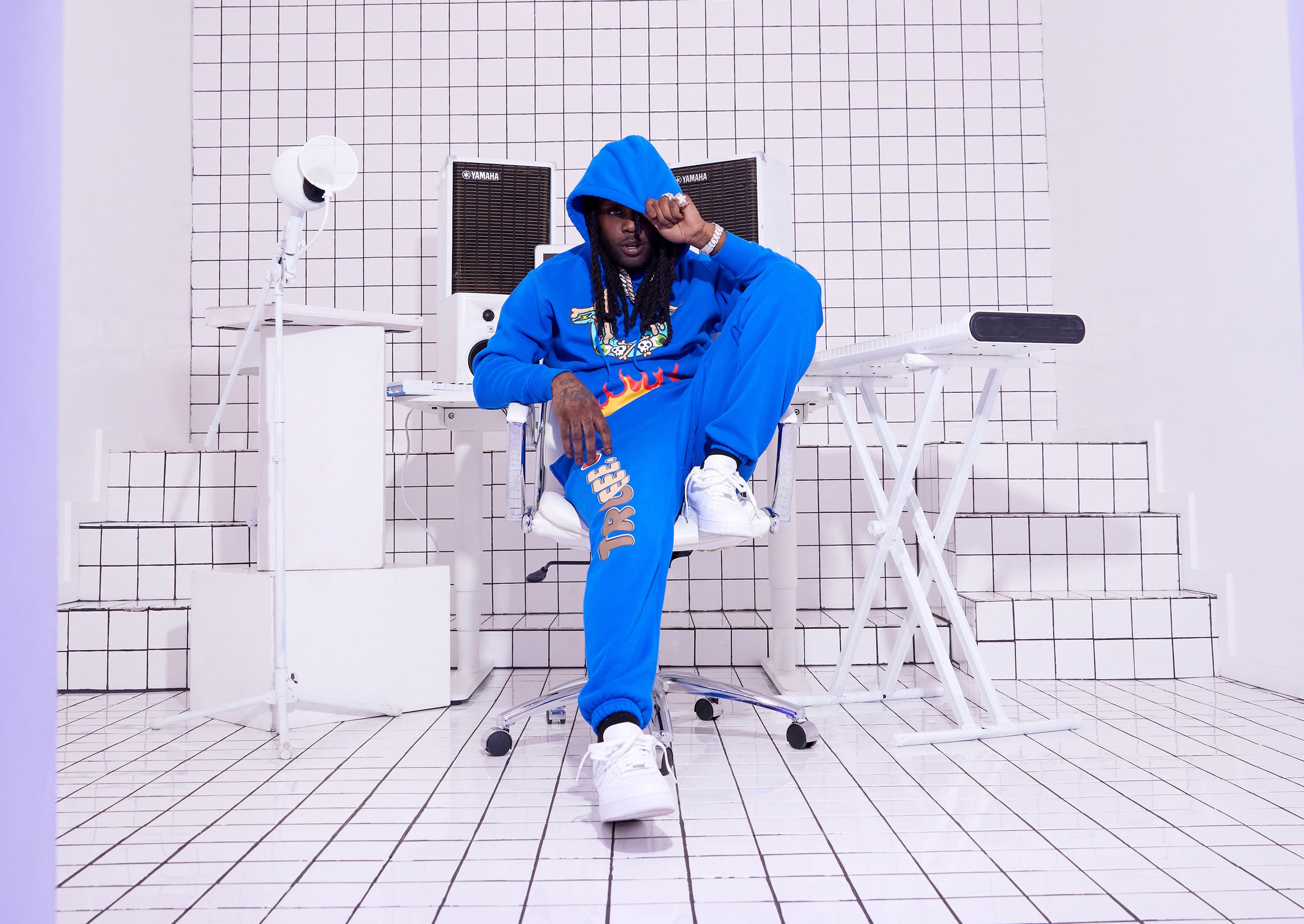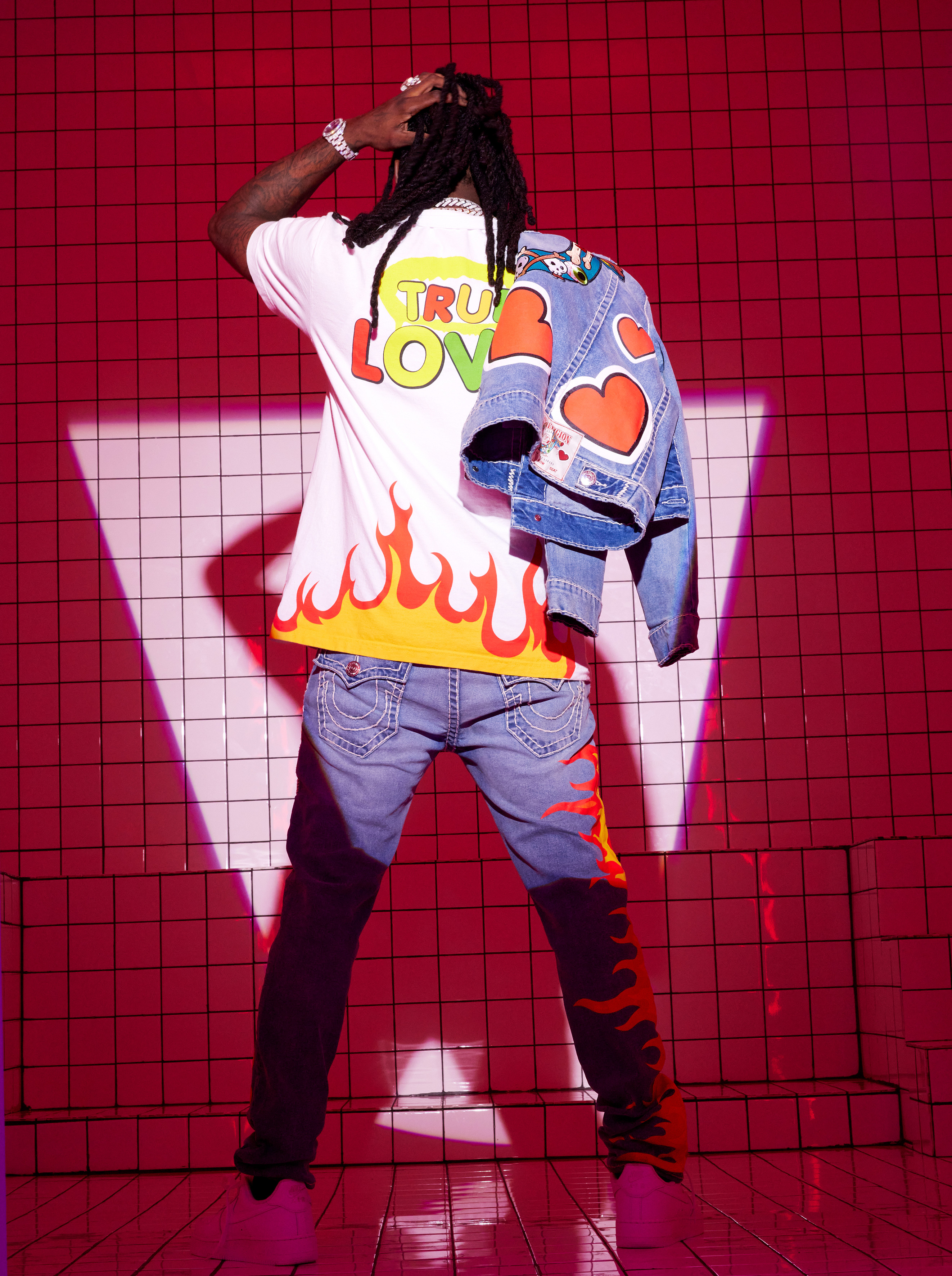 This year is the 10th anniversary of Back From the Dead and Finally Rich. Now that you're a bit older, is it cool to look back at that time and that movement in Chicago and see how it really shifted music and everything?

Oh yeah. Always, man. The thing about that is that all my boys was alive, you know? That's what makes that cool. Back then, my cousin Fredo was alive, my brothers Capo and Tray Savage. Everybody was alive. 
There was also a video that I recently saw on Twitter. It was you performing at the Congress Theater in Chicago. Do you remember that moment and what that was like? You were only like, 16 at the time, but you had hundreds of people onstage.

Yeah. When I did "3Hunna." There was so many of us onstage, like too many people, I couldn't even move. I had to stay in the middle. I been through so much and it's been so long. I can't really remember everything, but I remember that time. I can remember that stuff onstage where we could barely move. Me, Durk, Lil Reese, Fredo, we was all up there. I used to go onstage deep as hell. I stopped doing that though. I used to be too deep, couldn't even really move.
I was gonna say, I've never seen that many people onstage at once. That was crazy. 

It was a little thing we did. 'Cause we was 300. That's how I used to think of it. Since I'm 300, I need 300 people onstage. 
Regarding that Chicago drill movement, you're the face of that for so many people. Now that you've seen drill and that sound evolve, there's Brooklyn drill and all these different evolutions of it. How do you feel about what drill music has become from then to now?

It's different. It's OK. I mean, I ain't got no problem with it. They can do whatever they want. They do what they do. We all know where it leads to, though. We know the head. I'm loving it though. I like that everybody using it, even just saying it's drill, that's turnt for me. I feel like that's crazy. 'Cause drill started with me. You got UK drill. You got people in France doing drill. They don't even speak English. They doing drill though. That's crazy, bro. I'm overwhelmed by that. 'Cause like I said, we all know who the head is. And that's me. So, you know, I fuck with all the New York drill rappers, the UK drill, I fuck with it. Keep doing they thing.
Anyone in music that you haven't had a chance to work with that you would love to get in the studio with?

Nope. I'm good with just me. I probably need to get outta that though. I probably need to learn to do my thing. But it's been so long. I've just been on some solo shit for so long. Yeah. Probably need to expand a little bit, man.
To wrap it up, what can your fans expect with Glo Gang Worldwide and anything else you have coming up?

Yeah, right now I got some shit I fully designed, Bad Weather. I decided to do a line that I fully create myself. Evilbadweather.com. You can go check it out. Glo Gang Worldwide is forever. Bad Weather is my new thing. 7918 Melrose Ave. is the Glo Gang store. Be on the lookout for Bad Weather though. And the True Religion drop is so hard. Be on the lookout for that too.