The Covid-19 pandemic has forced a lot of changes throughout 2020. With social gatherings all but obsolete right now, ComplexCon could not set up shop in the Long Beach Convention Center this year. In its place, Complex has created ComplexLand, a virtual destination that users can explore to check out special panels, product drops from their favorite brands, delicious food, and more from the comfort of ther home just as they would in-person in Long Beach. 
Ahead of next week's virtual festivities, we wanted to preview some of the releases that attendees can look forward to copping. With brands like Rhude, RSVP Gallery, BBC ICECREAM, Gucci, and more offering exclusive product, there is sure to be something for everyone. Make sure to support emerging brands like Darryl Brown and Ampwata at our "Brands to Watch" space, and the sustainable goods that will be available at the Complex SHOP Presents 'Reconstruct' booth as well. Check out some of the best style drops taking place at ComplexLand below.
RSVP Gallery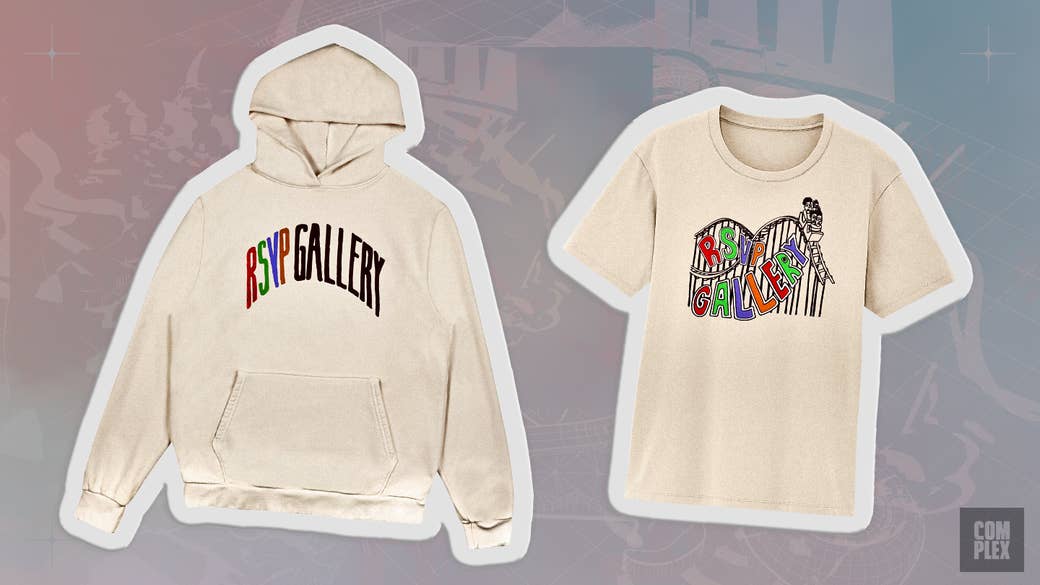 Price: $50-$100
Chicago's RSVP Gallery is bringing a special group of graphic T-shirts and hoodies to its ComplexLand booth. Inspired by the joy of theme parks, cream and white colorways of each are available bearing colorful rainbow lettering and puff print illustrations of attractions like rollercoasters and swimsuit-clad patrons at the water park. 
Rhude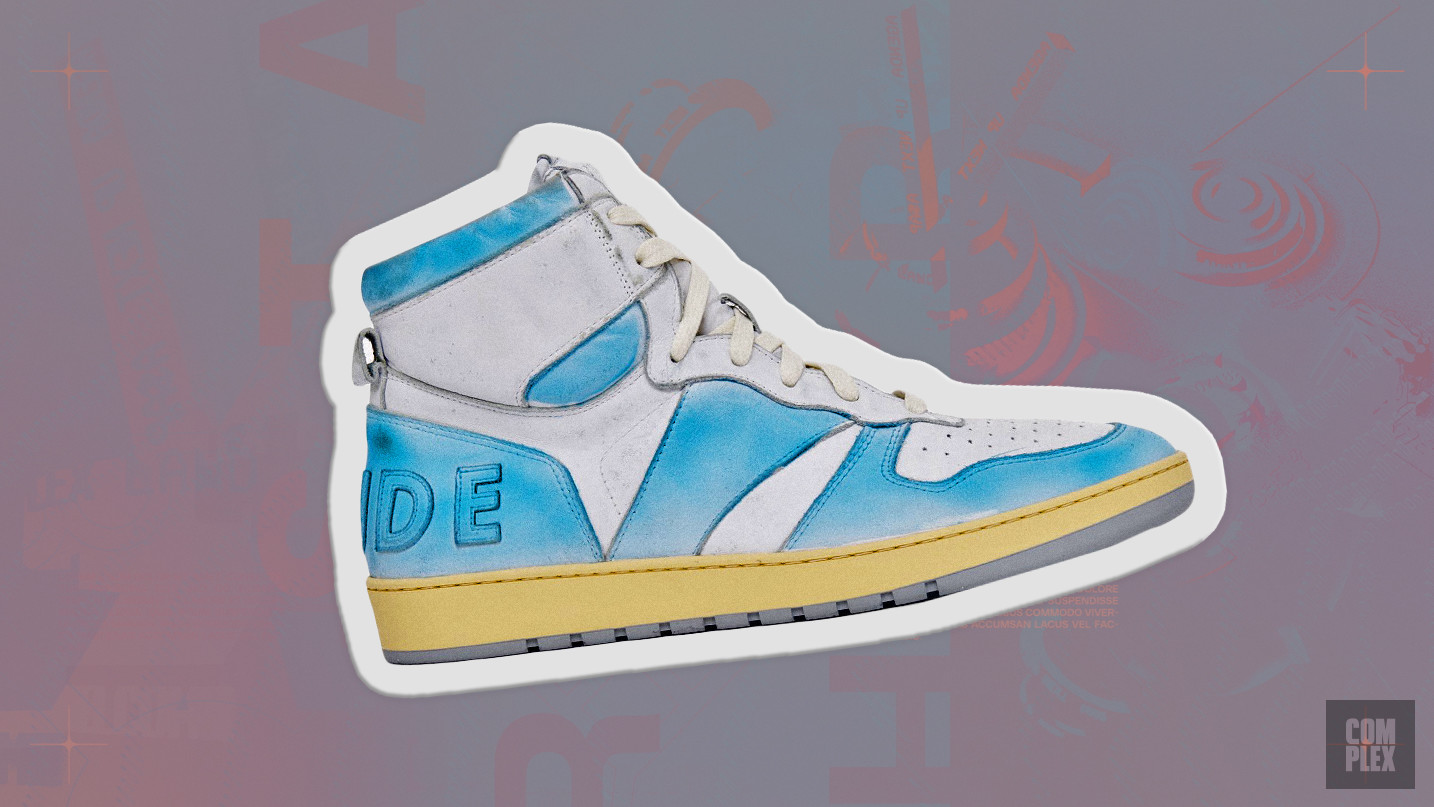 Price: $595
Rhude is dropping an exclusive colorway of its Rhecess Hi sneaker at ComplexLand. The pair features a white leather upper, distressed baby blue panels that resemble a clear sky, a yellowed midsole, and grey outsole. Like all Rhecess His, the high-top is completed with "RHUDE" written across the heel panel. Rhuigi Villaseñor's brand is also slated to drop an exlcusive hat via its virtual booth as well.
Krink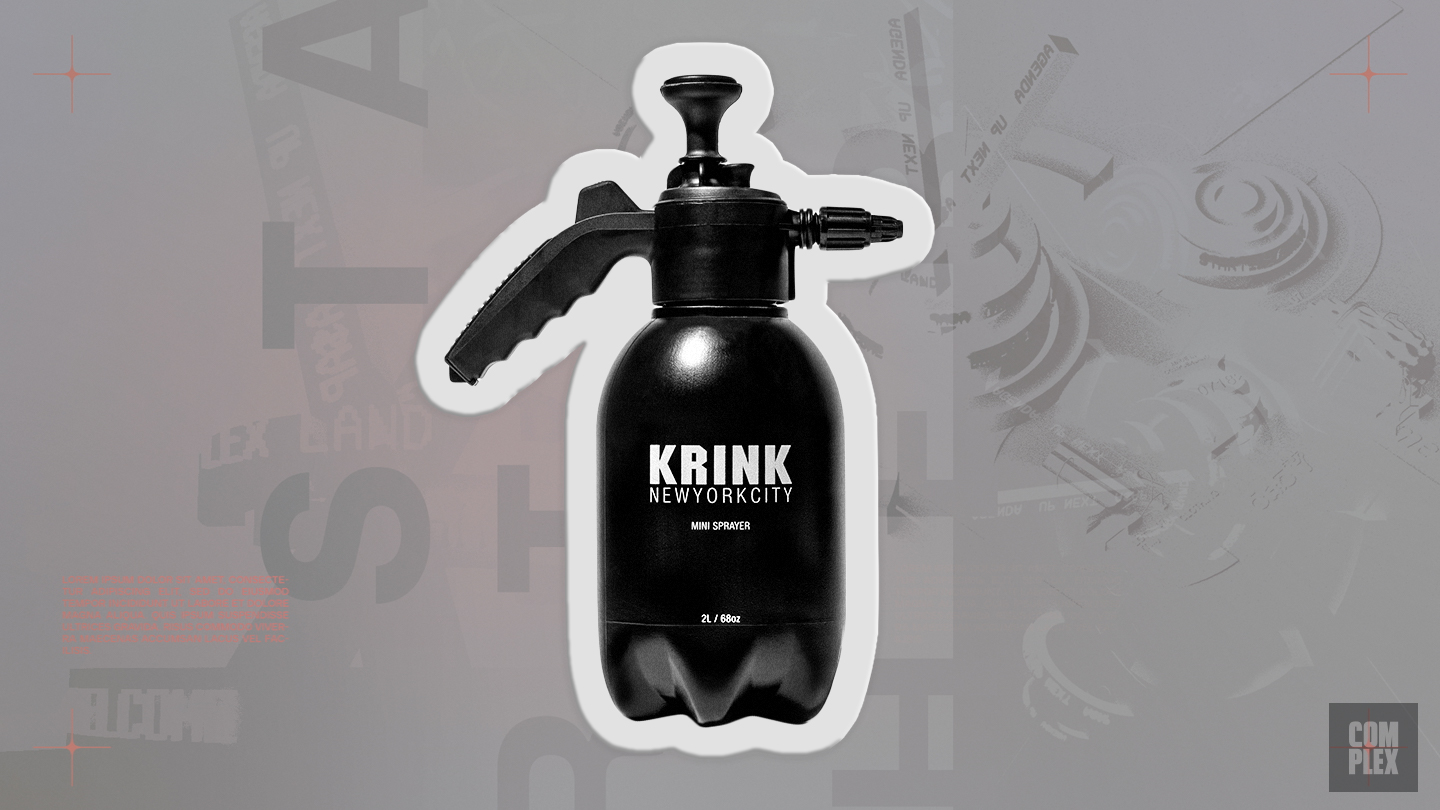 Price: $24-$2,000
The world's most recognized graffiti ink and marker company, Krink, will be present at ComplexLand. A box set of K-60 markers, compact sprayers, mini sprayers, and a fire extinguisher are some of the graffiti tools available. Outside of that, the brand's Rizzoli book Krink: Graffiti, Art, and Invention, and two T-shirts will also be available. ComplexLand shoppers will receive an exclusive 10 percent discount on all Krink purchases.
Gucci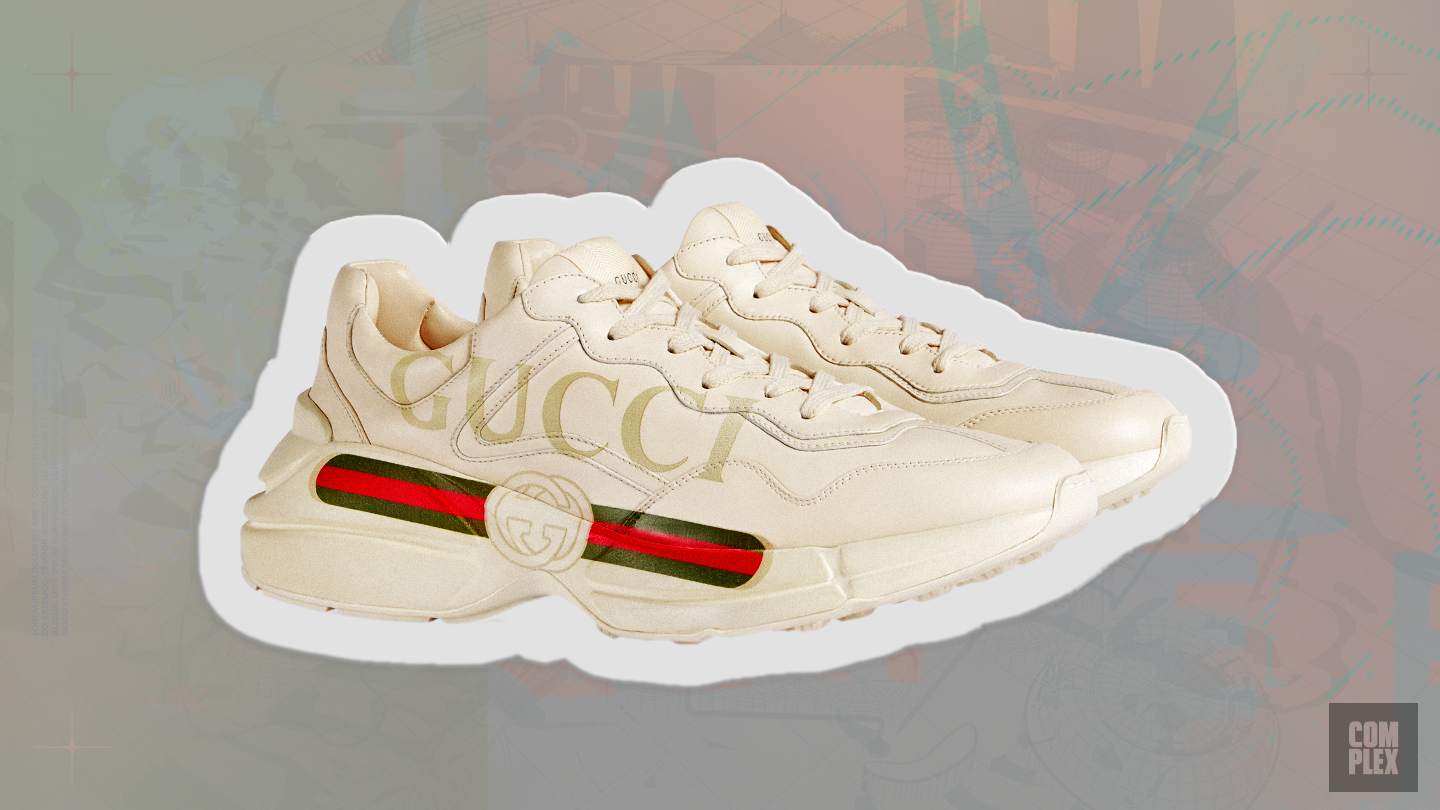 Price: $400-$1,100
The Italian luxury fashion house is bringing a selection of footwear to ComplexLand. At the virtual Gucci Sneaker Garage, you'll be able to purchase exclusive Gucci sneakers and play mini games. The Rhyton leather sneaker, Off the Grid, and Tennis 1977 sneakers will be available. ComplexLand visitors will be able to customize their virtual avatar with a Gucci Virtual 25 sneaker and apparel. 
Bristol Studio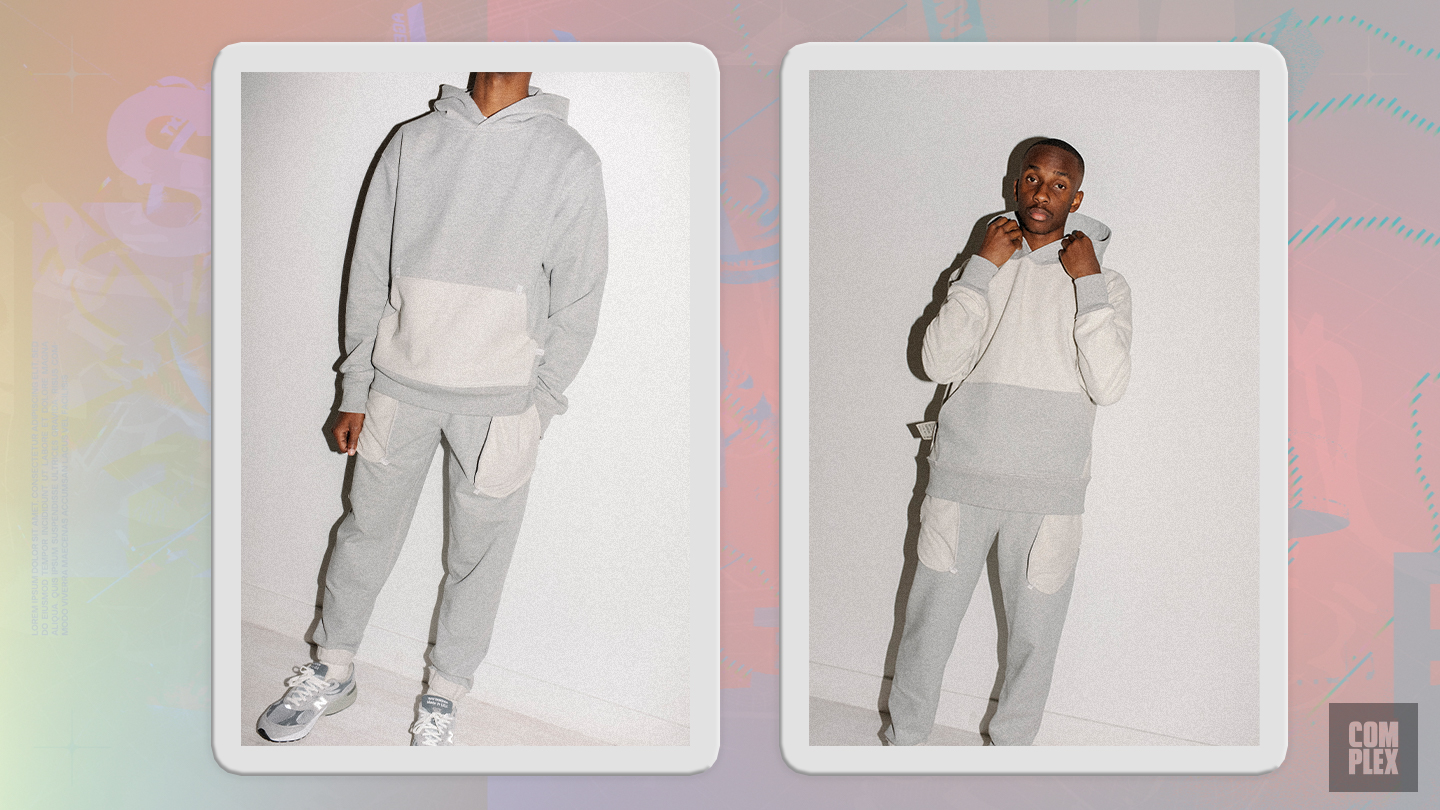 Price: $185-$195
Los Angeles' Bristol Studio will be releasing an exclusive sweatsuit at ComplexLand. The reversible 20 ounce terry fabric hoodie and sweatpants will be sold individually. One side sports an oatmeal color scheme with heathr grey pouches, pockets, hoods, and cuffs. The flip side inverts the equation. The sweats are finished with premium details like zipper pockets and a heavyweight drawstring. Bristol Studio's booth will also stock select pieces from its latest collection as well. 
PERRIER x MURAKAMI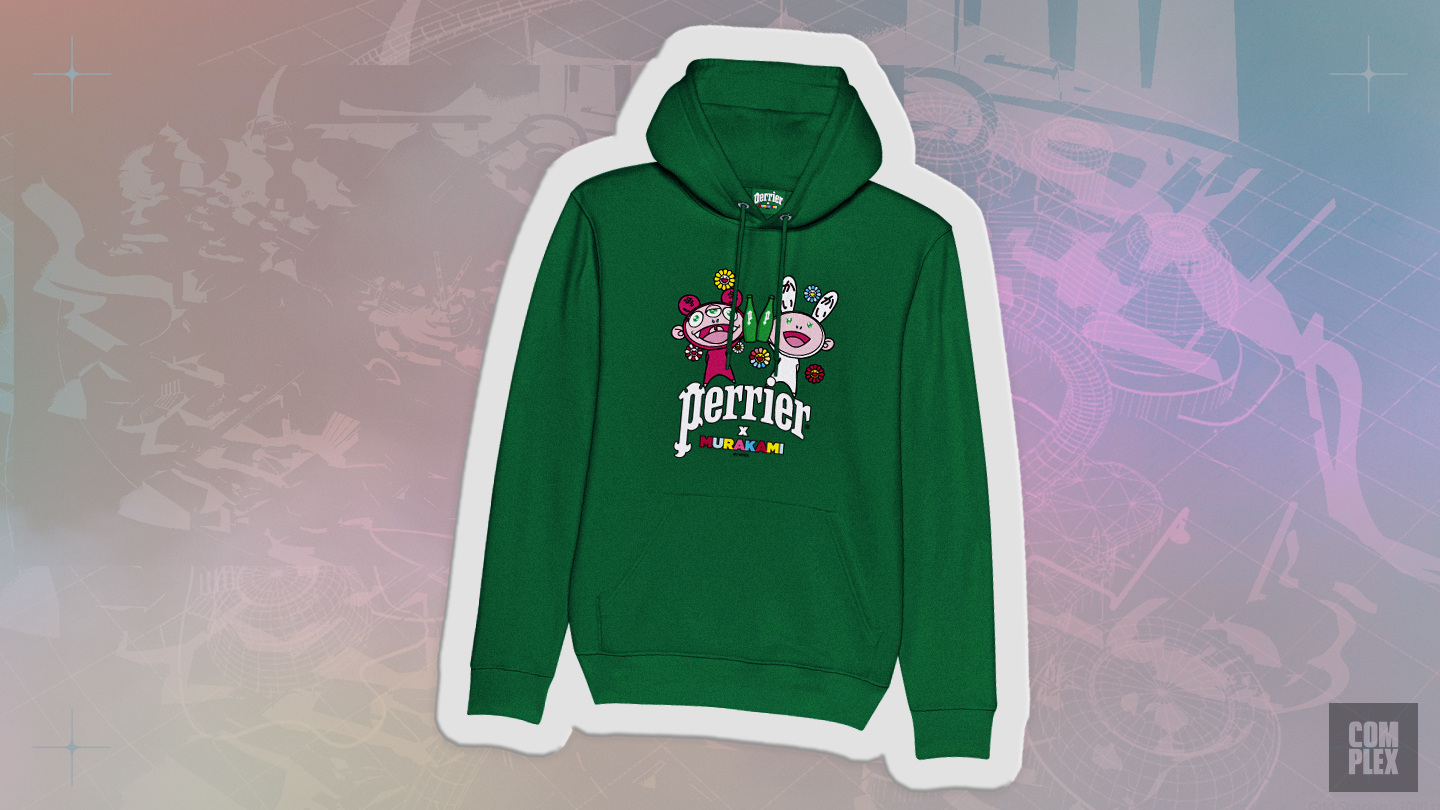 Price: FREE
ComplexLand visitors can score PERRIER x MURAKAMI merchandise like hoodies, T-shirts, notebooks, tote bas, and limited-edition bottles of seltzer. The PERRIER x MURAKAMI apparel is available only at ComplexLand and will not be released at retail. ComplexLand visitors will also have the opportunity to win a special Perrier display signed by the artist himself. 
Atmos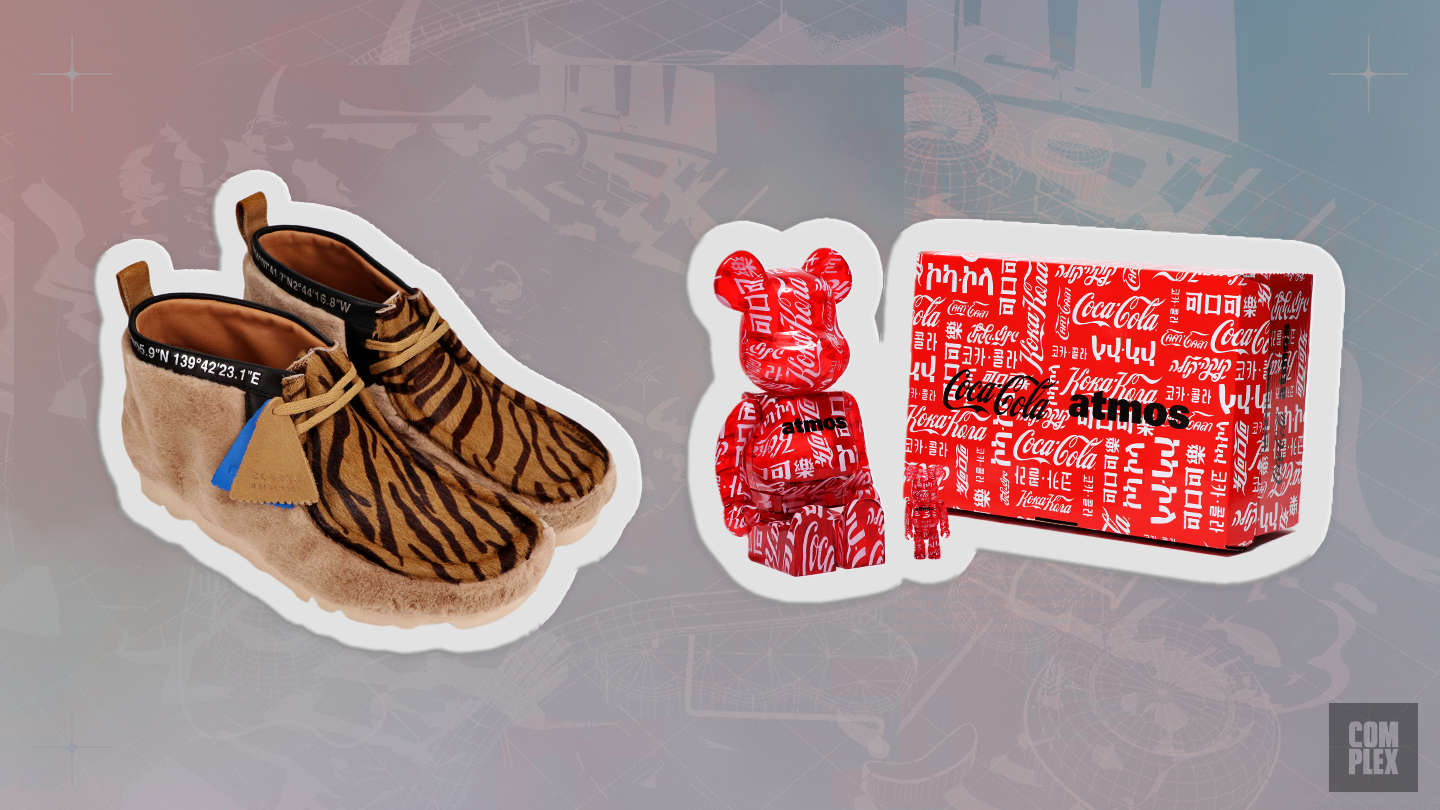 Price: $55-$1,000
The pioneering Japanese sneaker boutique will drop over 30 items at ComplexLand. The most coveted items to drop include exclusive Medicom x Coca-Cola Be@rbricks, tiger striped Clarks Wallabees, and a Jeff Staple x New Balance collaboration centered on the X-Racer silhouette.
BBC ICECREAM x Louis De Guzman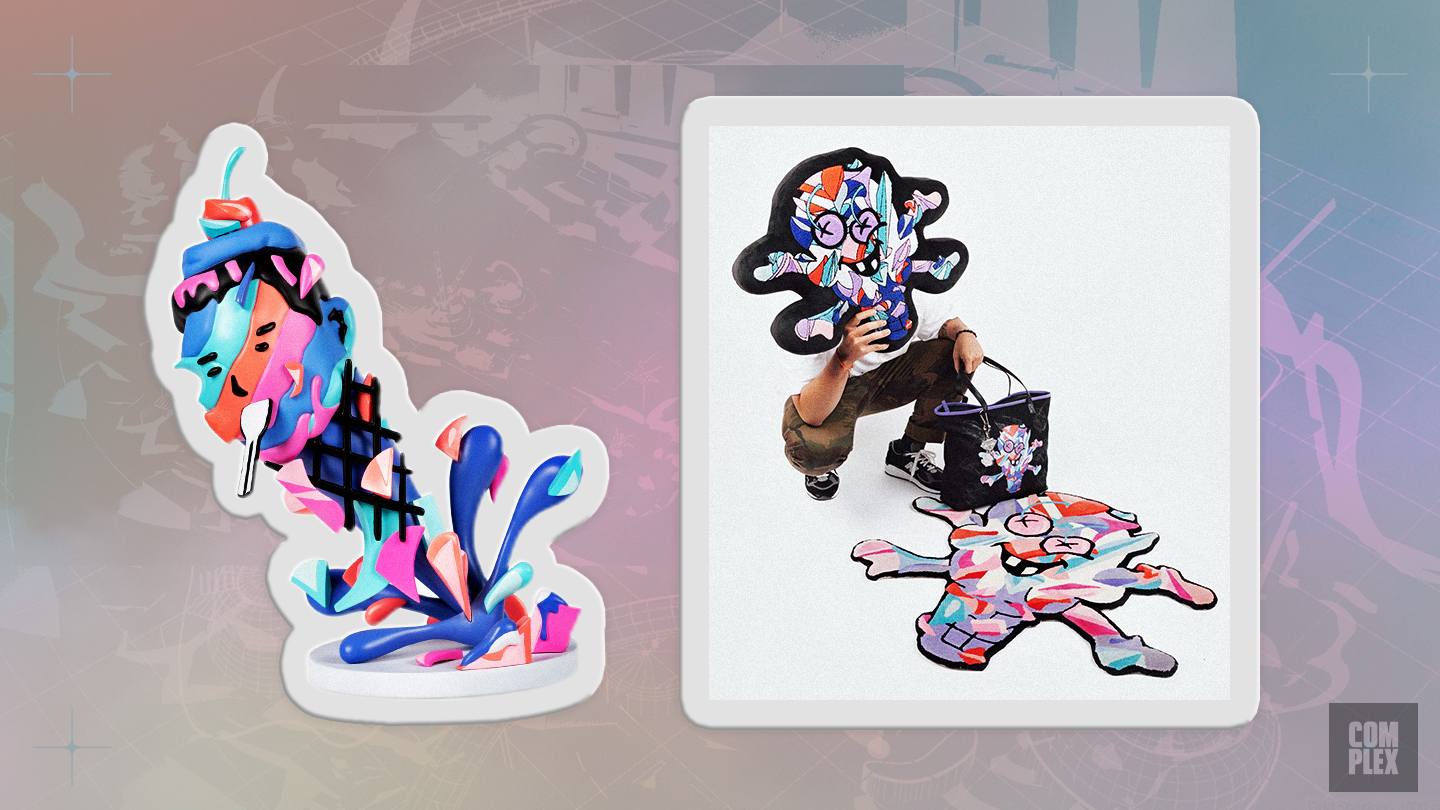 Price: $35-$275
BBC ICECREAM has collaborated with artist Louis de Guzman for a limited edition capsule only releasing at ComplexLand. Items include a graphic T-shirt, tote bag, black and silver key chains, a hand tufted New Zealand wool rug, and collectible vinyl sculpture. De Guzman's signature style and color palette results in remixed versions of ICECREAM's signature motifs like the Cones and Bones, Conehead, and Diamonds and Dollars. 
One of These Days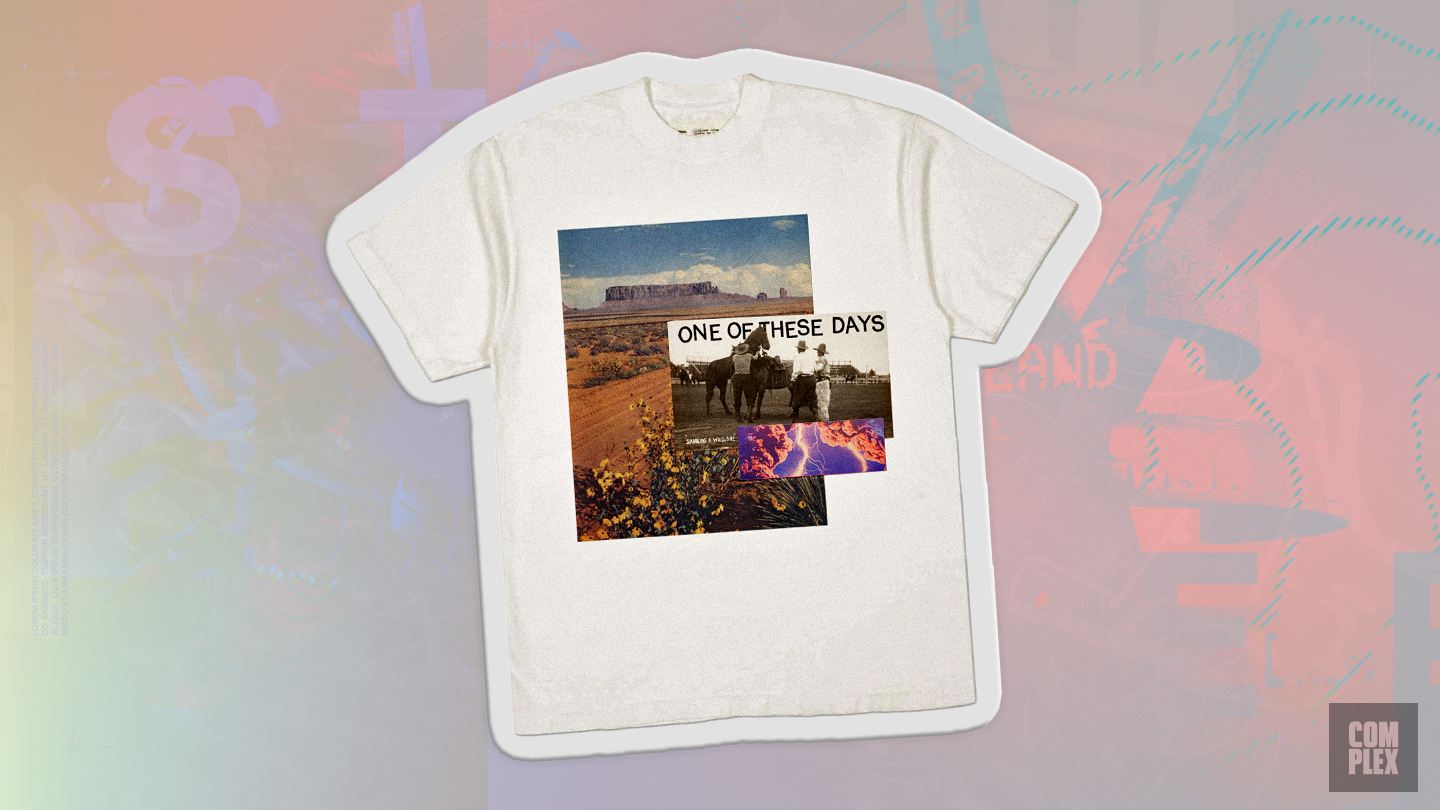 Price: $80-$150
Matt McCormick's One of These Days will be releasing some exclusive T-shirts, hoodies, and crewnecks. Western Americana-inspired graphics like gallopping horses surrounded by barbed wire, colorful desert landscapes, and cowboys bucking on bulls and broncos at the rodeo in line with McCormick's usual aesthetic appear across the never-before-released capsule. 
Supervsn x Enkone
Price: $38-$148
Supervsn is debuting its latest collaboration with Los Angeles-based artist Enkone exclusively at ComplexLand. Known for his realistic murals painted around the city, Enkone has etched a special picture for the collab, a young Black girl with three eyes. The graphics appears on white and tan hoodies, crewnecks, and T-shirts alongside the phrase, "Pressure busts pipes and turns Black kids into super heroes," in bright pink lettering.
ComplexLand takes place from Dec. 7 to Dec. 11. Sign up for more info and access at complexland.com.
ComplexLand Brands to Watch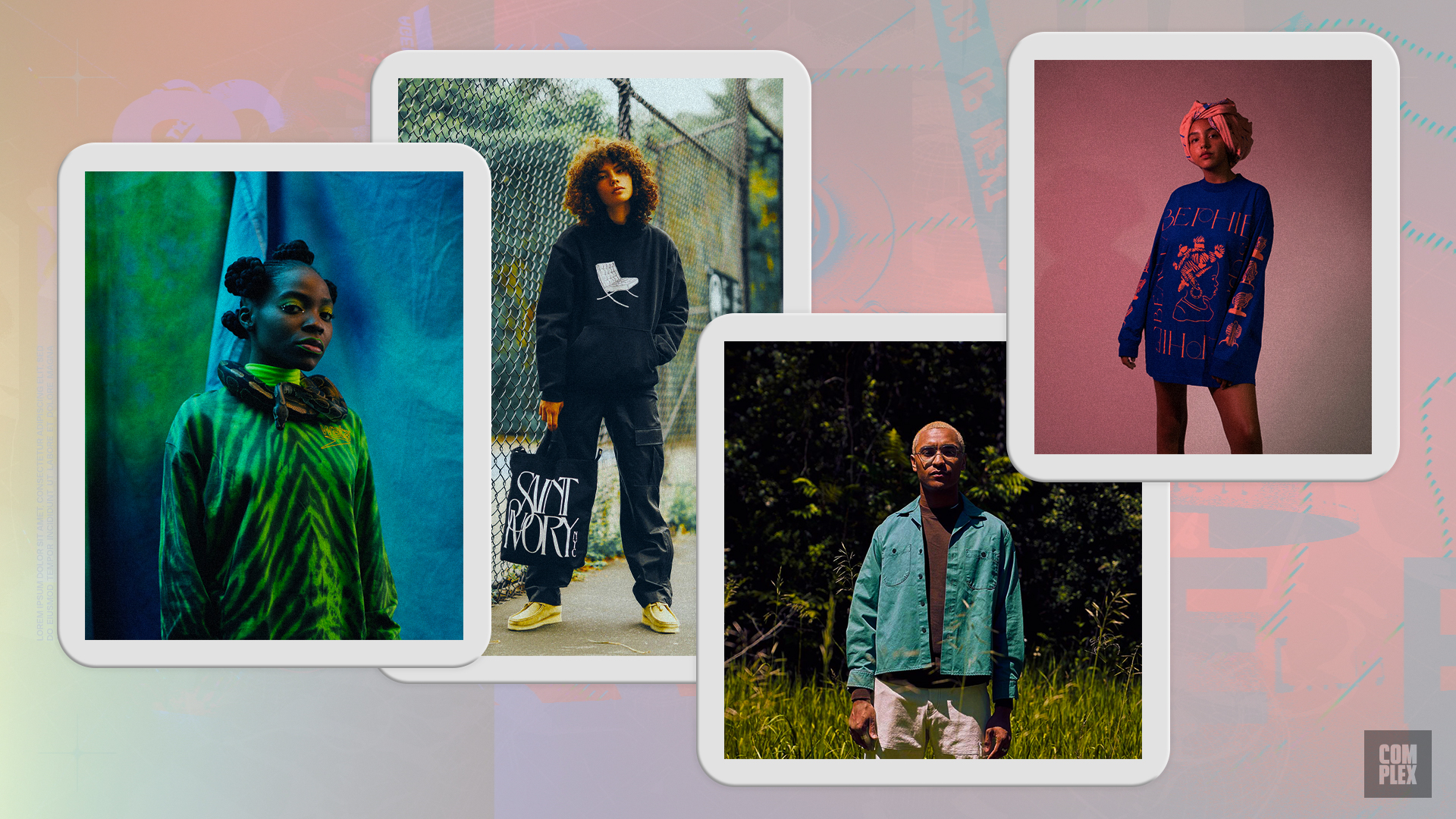 Price: TBD 
Since 2019, ComplexCon's "Brands to Watch" program has supported emerging brands and designers that we believe in. The program has returned at ComplexLand with four designers and brands. There will be pieces from Darryl Brown, a designer who has worked with Kanye West and is inspired by wokwear and his upbringing in the Midwest.  One-of-a-kind hand-dyed Ampwata T-shirts from Jasmine Plantin, a textile artist who works as a color direction designer at Nike, will also be available. Union Los Angeles' co-owner Beth Birkett, will sell pieces from Bephies Beauty Supply, a brand that seeks to support women of color, LGBTQ entrepreneurs, and creatives. Lastly, Madrell Stinney's brand Saint Ivory, a women's streetwear brand that functions as a non-profit to support creative women, will release T-shirts and home goods to raises funds for The Free Black Women's Library and the National Organization of Minority Architects.
Complex SHOP Presents Reconstruct: A Curation of Sustainable and Upcycled Goods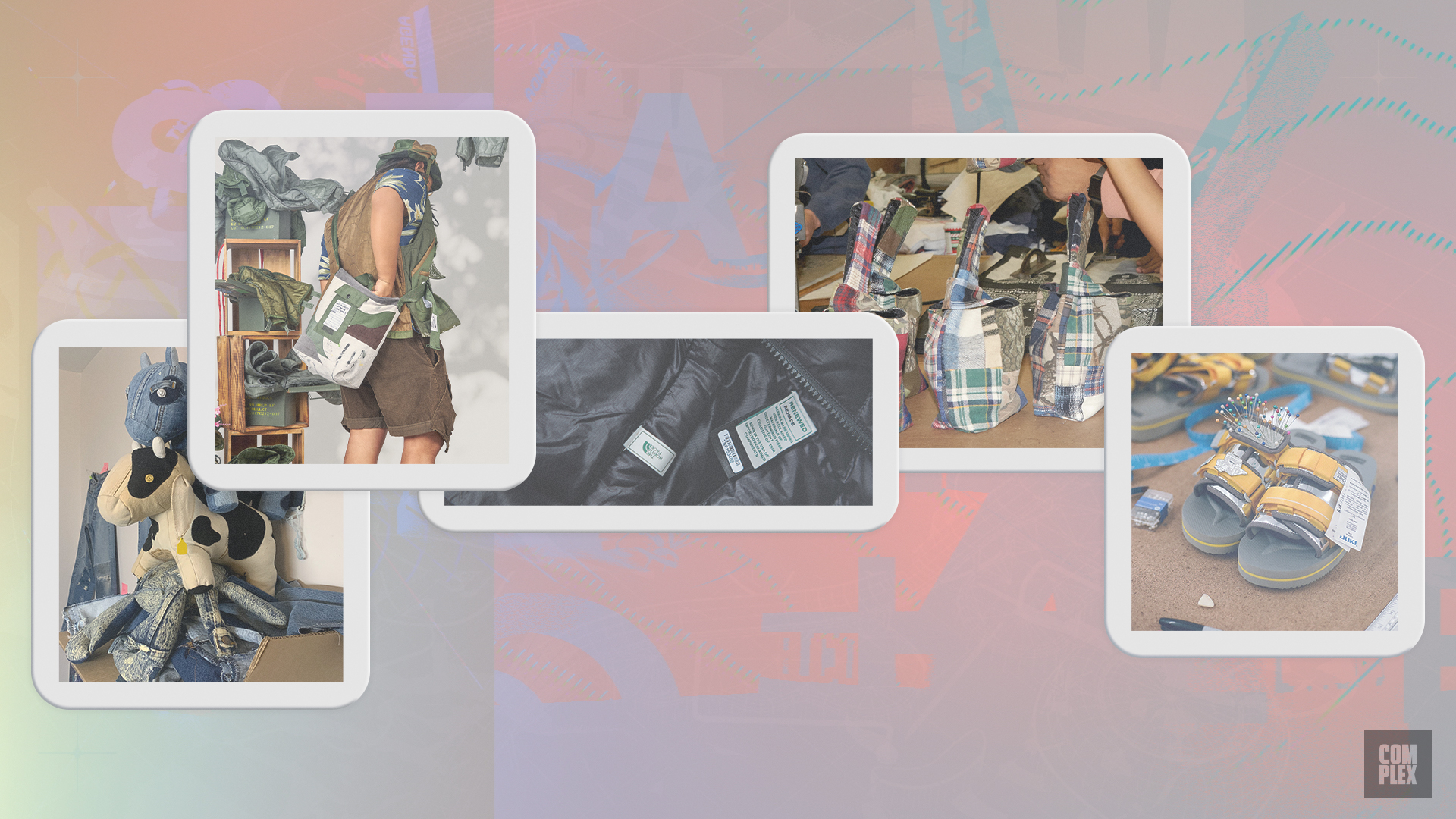 Price: $90-$300
Complex SHOP Presents 'Reconstruct,' a thoughtful curation of upcycled products from a handful of brands both big and small.  Levi's® SecondHand Reworked by Makayla Wray, Yaito, Mentor en Route, Suicoke x Worldwide Manufactureʷʷ, and The North Face Renewed are releasing upcycled items at ComplexLand. Each brand designed pieces, like denim Levi's stuffed animals or patchwork North Face Nuptse jackets, using only existing products and materials.