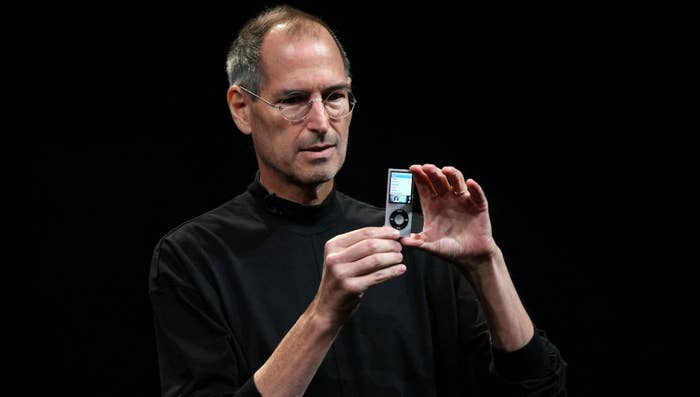 Steve Jobs' used 1970s Birkenstocks have been sold for a whopping amount of money.
The Birks worn religiously by the Apple founder were auctioned off as part of Julien's Auction House in Culver City, California, and were expected to go for around $60,000 before the price skyrocketed during bidding.
The auction house, which described the Birkenstocks as "well used" but "intact," noted the sandals were a fashion staple of the tech giant in the 1970s and '80s.
"The cork and jute footbed retains the imprint of Steve Jobs' feet, which had been shaped after years of use," the auction house wrote on its website. "Steve Jobs wore these sandals during many pivotal moments in Apple's history. In 1976, he hatched the beginnings of Apple computer in a Los Altos garage with Apple's co-founder Steve Wozniak while occasionally wearing these sandals."
The description added that Jobs' love of Birkenstocks ran deep. Margot Fraser, the woman who popularized the sandal in the U.S., told the auction house that Jobs was fascinated with the footwear's design.
"He was interested in where the form comes from," Fraser added in a statement. "He wanted to know everything about the materials and he was also interested in the technical side."
The sandals had previously been part of several different auctions and were finally sold for $218,750, the highest price ever paid for sandals. Similarly, the first-generation iPhone from 2007 sold for nearly $40,000 at an auction in October. Last October, a pair of Nike air Ships donned by basketball legend Michael Jordansold for $1.47 million, the highest price paid for sneakers at auction.
In an old interview with Vogue cited by the auction house, the mother of Jobs' first child Chrisann Brennan spoke fondly of her ex-partner's footwear, and said they represented his "uniform."
"The sandals were part of his simple side," Brennan told the outlet. "They were his uniform. The great thing about a uniform is that you don't have to worry about what to wear in the morning. He would never have done or bought anything just to stand out from others. He was simply convinced of the intelligence and practicality of the design and the comfort of wearing it. And in Birkenstocks he didn't feel like a businessman, so he had the freedom to think creatively."