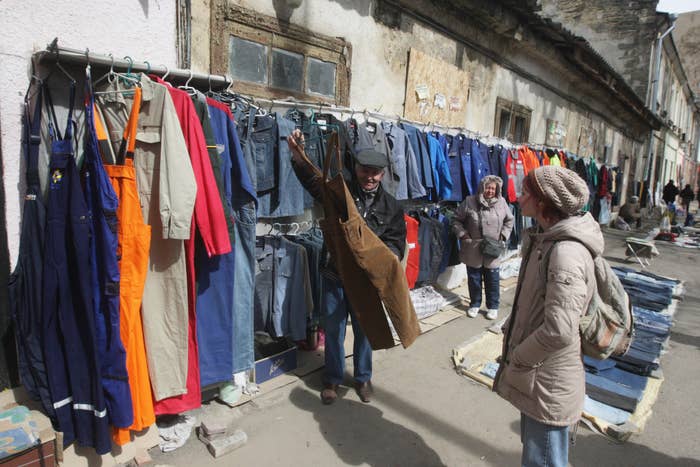 Igor Zakharov has been selling secondhand clothing full time for more than a decade. His business, Hodkotom, has made nearly 20,000 transactions collectively on Grailed and eBay since 2016, which works out to selling something every 27 minutes. He has buyers who source clothing on payroll, and he analyzes his sales data to forecast new trends in the vintage market. But a year after Russia invaded Ukraine, life has not been the same for Zakharov. His hometown and province of Zaporizhzhia, which holds Europe's largest nuclear power plant, has been occupied by Russian military forces. In September, Zakharov moved himself and his operations to Kyiv because of frequent missile attacks by his office.
"Our office was in a building in the industrial zone," he says. "While my team worked there for six months, this area was attacked three times by missiles, fortunately no one was injured."
Chances are, if you've consistently shopped for clothing on Grailed in recent years, a piece or two in your closet was likely shipped from Ukraine. According to MIT's Observatory of Economic Complexity database, Ukraine was the second largest importer of used clothing globally in 2020—importing $158 million of used clothing that year alone. Such an abundance of secondhand clothing makes reselling clothes to other parts of the world a viable source of income.
"My life has been tightly connected with secondhand clothing all these years," says Zakharov, 32. "Since childhood my parents most often bought my clothes secondhand. We've been a post-Soviet state for over 20 years with a troubled economy and a huge number of corruption schemes. For sure, that entire secondhand [clothing market] then came to us as a humanitarian cargo and was just sold here. This market has since grown very fast thanks to strong demand and a lack of cheap international mass market brands here." (He used to act as a supplier for boutiques in Russia in the early 2010s, which he said was a fun time, "but as I said, it was over quickly when the war in Donbas began and Crimea was occupied.")
While it's unclear exactly how high-end brands end up in countries like Ukraine, Adam Minter, the author of Secondhand: Travels in the New Global Garage Sale, believes it's very unlikely that the secondhand clothing in Ukraine is directly being exported from the United States—according to MIT's database the United States was the world's largest exporter of used clothing in 2020. Minter believes the used clothing found in Ukraine likely goes through intermediary traders in Canada and Dubai before hitting Eastern Europe. Although Minter has never researched the secondhand clothing market in Ukraine, in other countries where secondhand clothing imports are especially high, such as Ghana and Malaysia, he finds that secondhand clothing also contributes greatly to their economy. In some cases, like with Zakharov, resale money is also funding Ukraine's war effort. Several of his closest friends are now soldiers, and he donates 10% of his revenue to the military.
"In Accra, [Ghana] the city's wealthiest city, secondhand shops and apparel are more common than new. This speaks to the level of economic development, and the consumer's interest in obtaining fashion at a reasonable price," says Minter. "As Ghana climbs up the economic ladder, it will inevitably buy less secondhand, and more new. This is what has happened in Malaysia over the years. Secondhand remains incredibly important to the consumer economy, especially for low-income consumers."
The business of flipping secondhand clothing is so popular in Ukraine that there's even an Instagram page with over 88,000 followers dedicated to bragging about the biggest thrift store finds in the country.
"I have been into street fashion since childhood. Whenever I watched TV shows, movies, music videos, I always paid attention to how cool celebs dress, but there was no opportunity to dress as such because there was no money for it," says 28-year-old Andrey Boguslavsky, a Ukrainian fashion influencer who frequently posts himself wearing outfits he thrifted to his 19,000 Instagram followers. "As soon as I found out about secondhand stores, where you can find an expensive brand for a penny, plus vintage clothes that you can't find in a regular store to dress differently from everyone else, I started looking. I've been doing this for 10 years now."
Boguslavsky says that due to the unstable situation within Ukraine, secondhand goods are delivered to thrift stores slowly and may arrive in smaller quantities than before the war. But while the stock of these thrift stores are not as abundant as before, he's noticed little to no change in the quality and value of the secondhand clothing he finds today. Like thrifting anywhere else in the world, some trips will lead to great finds while others may leave him empty-handed.
Boguslavsky also makes YouTube videos that document his thrift store hauls, swiping through clothing racks, visiting local flea markets, and lining up in front of thrift stores that sell used clothing by weight. In one video, he ends up finding two Stone Island sweatshirts with badges, a vintage Nike vest, a vintage Nike Olympic shirt, and a Stussy T-shirt for 3500грн ($80). Although Boguslavsky thrifts every day and keeps many of the items he thrifts, he estimates that he could resell these items online for $500.
But the competition for that kind of high-margin flip is fierce. In one video Boguslavsky posted in October, he visits a Humana (a Ukrainian thrift store chain like Goodwill) in the eastern Ukrainian city of Odessa. When the doors opened, shoppers can be seen rushing to the clothing racks like Americans mobbing a Best Buy on Black Friday. The profile picture of an Ukrainian thrifting Instagram page dubbed "ЖИРНЫЙ УЛОВ" (which translates into "Fat Catch") actually references the frenzy to enter these shops within their own profile picture and in the Instagram Reels they post—one Reel even shows a shopper getting his hand sliced open while trying to push himself through a crowd entering a thrift store.

Although Boguslavsky said fashion fell in the background for him during the early days of the war (he had to relocate from his hometown of Kyiv to Odessa due to missile strikes), he eventually felt that he had to move on and keep working. He notes that even the flea markets that he sources items from stay open on weekends. "Surprisingly, these markets work even during shelling, people earn money for bread, so nothing stops them," he says.
Getting the clothes is one thing, getting them out the country is another. Zakharov, the reseller from Zaporizhzhia, tried to keep his business going after moving to Ukraine's capital, but attacks from Iranian-made "kamikaze" drones would knock out the city's power grid for weeks and months at a time. It forced Zakharov to continue selling clothes without any electricity or heating, resorting to generators, power banks, and Starlink satellite Wi-Fi to continue running his resale business online. Eventually he relocated to Barcelona, where he arranges pop-ups with the Barcelona concept store House of Rowdy to raise funds for his country.
Once an international order is placed, it's often handed off to Ukrposhta, the Ukranian postal service. At the beginning of the war, missile and rocket attacks meant that exporting goods via plane was pretty much out of the question. Instead, Ukrposhta now transports packages via ground transportation to Poland, where they're then shipped by air. Zakharov feels that his sales have declined compared to last year and believes it may be due to the long shipment times for his orders. Though Boguslavsky's buyers often express dread when they realize where their purchase is coming from Ukraine—"Almost every one of my customers on Grailed was worried when they found out that I was from Ukraine!" he tells Complex—it's a minor marvel that the clothes are getting out at all.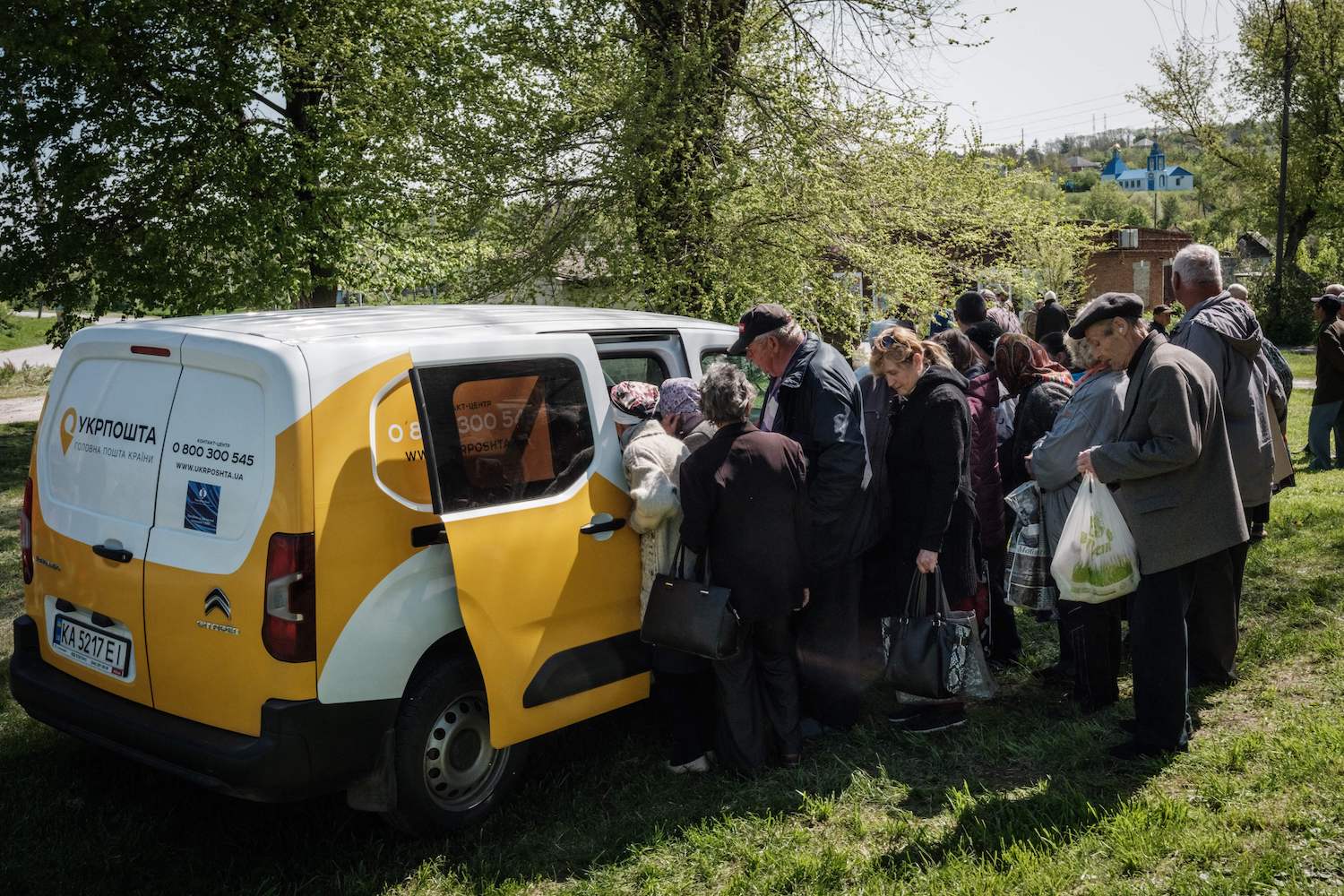 Grailed and eBay are the platforms of choice for the sellers Complex interviewed. Boguslavsky preferred Grailed because of the youth-oriented and fashion conscious community it attracts. Zakharov says he prefers eBay for the commitments it has made to sellers based in Ukraine. Since February 2022, eBay has waived all selling fees for Ukrainian sellers, urged users to donate to relief efforts, and protected sellers who ship to and from Ukraine from late shipment penalties, negative feedback, and other penalties. But Zakharov and Boguslavsky both expressed frustration with Grailed for not making similar commitments.
"I have some contacts with top management, but they just ignored me," Zakharov says. "I did not ask for any cancellation of fees, just for a public declaration of their position and a ban on access for Russians, "At the time, Paypal already closed access to all accounts from Russia and all international delivery services were shut down there." (Neither Grailed nor eBay were willing to comment on how they plan to support its Ukrainian sellers going forward.)
Regardless, for Zhakarov, business is still going and he hopes for a brighter future. "Like most Ukrainians, we no longer make plans for more than a week. It is very difficult to make long-term plans now, because everything can change in one moment," he says. "But I really dream of a flourishing Ukraine. Kyiv will become the new cultural capital of Europe, like Berlin or Paris today. There will be a Complex magazine office and on Google Maps you'll be able to find our own concept store one day."
Skyba Mykola, a 23-year-old from the Western Ukrainian town Ternopil who's behind the Grailed account "BeBrave," says the war has given his shopping habits a larger sense of purpose.
"Since this was my hobby, I accumulated quite a lot of clothes at home, which I did not sell before the war, but only bought, bought and bought," he says. "At that time, I did not understand how this could help me at the beginning of the war. After all, at first everything was closed, new goods did not arrive, people were not up to clothes." After fighting broke out, however, "I focused more on finding something cheap, selling it high, and making money because our country now really needs our help," shares Mykola, who sent Complex a video of himself taking product shots of a vintage Helly Hansen jacket as an air raid siren goes off. "As strange as it may sound, the war made it clear to me that it was necessary to live here and to work harder."