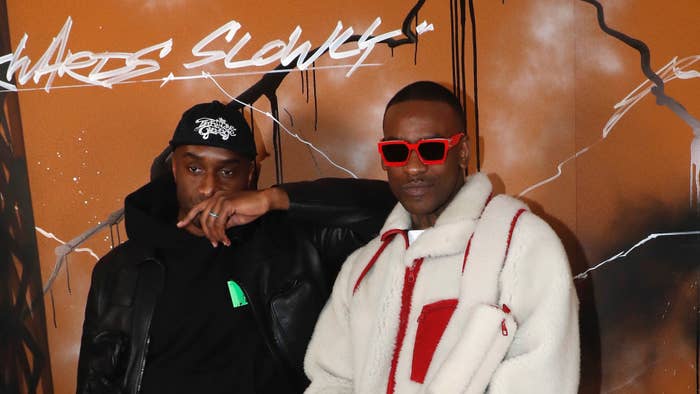 Skepta has weighed in on Louis Vuitton's next chapter.
The 40-year-old grime rapper took to Twitter this week to offer LV a few suggestions as it continues the search for its next leader. Questions and uncertainty began swirling around the French fashion house in late 2021, when its menswear creative director Virgil Abloh died after a private battle with cancer. Though LV has yet to name Abloh's official successor, it recently announced it had tapped SuperKid's Colm Dillane to guest design its Fall 2023 men's collection. 
Skepta responded to the news on social media, saying LV needed to stray from the streetwear aesthetic and use the transition as a rebranding opportunity.
"Who the fuck is calling the shots a Louis Vuitton now? Respectfully, the Louis Vuitton street wear story finishes with Lord Virgil. Whoever is next gotta bring something different," he tweeted, before referencing Dillane. "For the record, I mean no shade to KidSuper (we are Puma teammates). He's great and personally I would love to see him guest design at Marni. I just think LV need to leave the street wear approach at Virgil and do the right thing with the next move."
Skepta, who was a staple at LV men's shows, went on to post photos of designers Bianca Saunders, Grace Wales Bonner, and Martine Rose, all of whom have been floated as possible replacements for Abloh.
LV chairman and CEO Michael Burke told Women's Wear Daily there's no timeline to appoint Abloh's successor, and suggested that Dillane's involvement in the Fall/Winter 2023 collection was not an audition.
"I think it's a little early," he said this week. "We didn't want to do a guest appearance. We wanted something deeper. We wanted him completely immersed in the studio—and let the sparks fly."