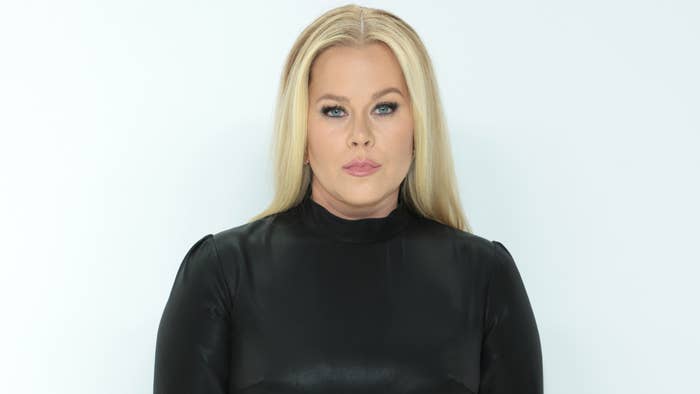 Shannon Abloh, in what the New York Times says is her first-ever interview, has opened up about protecting Virgil's legacy.
In a discussion with fashion director and chief fashion critic Vanessa Friedman, Shannon spoke with candor about not only the responsibility of ensuring her late husband's vision proceeds as he would have wanted, but also how the pandemic allowed their family (including their two children) to spend what ended up being the widely celebrated artist's last years together.
On legacy, Shannon explained, that's something that—despite the intentions of other artists and creative friends—only truly belongs to the family.
"It belongs to me, it belongs to his children," Shannon said in the new interview, published Tuesday. "After his passing, so many people came up to me and said, 'Virgil was my best friend.' His best friend in the fashion industry, his best friend in the music world. A lot of his collaborators, or even people who maybe weren't that close to him, feel 'I can do this to help his legacy, or I can do that to help his legacy.'"
"I have to stay on this train, because if I don't, I don't know where it's going to go. That's my place and my position," she said.
Addressing the pandemic, much of which she and Virgil spent in Wisconsin, Shannon noted that this period was an "incredibly hard" one for many. For their family, however, it game them a rare chance to spend time together.
"But for us it was an amazing time because Virgil didn't have to make excuses to get out of shows or DJ-ing," she said. "No one could go anywhere. So we were able to have those last two and a half years."
For the full interview, which also includes comments from business adviser Howard Feller and curator/writer Antwaun Sargent, see here.
Virgil Abloh died in November of last year at the age of 41. In a statement shared by his family, it was revealed that Virgil—whose influence can be seen across all aspects of creativity, from music to fashion and beyond—had privately struggled with cardiac angiosarcoma following a diagnosis in 2019.
In the months since his industry-shocking death, a number of posthumous projects have been announced, all while work continues toward keeping his vision intact through various labels and related entities. In May of this year, it was announced that Shannon Abloh would be taking on the dual role of CEO and managing director at Virgil Abloh Securities. Ibrahim Kamara, meanwhile, was announced one month earlier to be stepping into the position of Art and Image Director at Off-White.
More recently, Virgil Abloh Securities unveiled details for the Mirror Mirror Music Festival, which will be held in Miami next month amid Art Basel festivities.