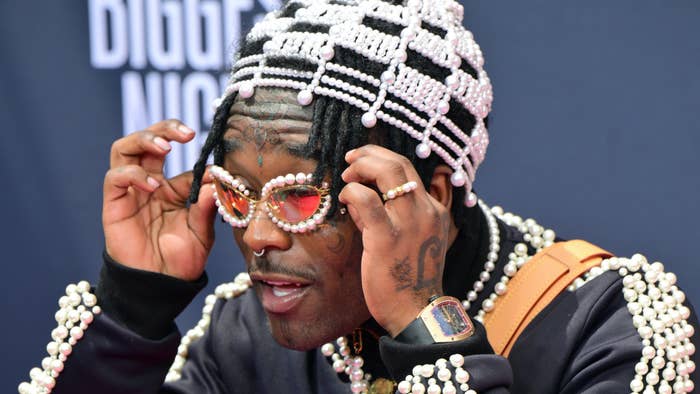 Lil Uzi Vert had a surprisingly humble take on their personal style.
Since the beginning of their career, the Philadelphia native has been widely revered as a fashion maverick with an affinity for gender-fluid 'fits that fuse hip-hop, punk, and luxury elements. Although polarizing, Uzi's sartorial choices has helped them land on countless best-dressed lists, where they're positively recognized for their bold and irreverent approach to dressing; but despite all the applause, Uzi admits they're not the best-dressed rapper in the game… and they're completely OK with that.
"I low-key just wear anything," they said in a recent interview with GQ. "Sometimes I troll and say shit like that, but I'm not the best-dressed rapper. I don't even care about that."
The comments undoubtedly left many fans shocked, as Uzi was known to put a lot of time and effort into their appearance. In a 2019 GQ interview, Uzi spoke about their love for fashion and all the effort that goes into creating a solid look.
"Honestly, in my heart, I think I do this better than music. 'Cause the music shit is effortless. I actually take my time with this," they said, adding that financial success has made fashion much more enjoyable for them. "When you come to the last level and you open the door, and it's, like, a whole new world—not even a new level but a whole new world. You're like, 'Wait a minute. You're telling me I can't buy all this stuff out the store, I have to get archival stuff?' Oh, shit! I'm losing. I'm not losing anymore, though."
Uzi clearly has had a change of heart. In their latest conversation with GQ, the Eternal Atake artist suggested their interest in clothing has drastically dwindled. But, again, Uzi doesn't seem to mind. "It'd be the worst-dressed people with all the girls, so it doesn't even matter," they explained.
Uzi was then asked about Kendrick Lamar's Baby Keem-assisted "The Hillbillies" video, in which K.Dot declared himself the "best-dressed moving forward." Uzi reportedly dismissed the comment as a "typical flex" that shouldn't be taken seriously.
Elsewhere in the interview, Uzi spoke about their loner persona in the hip-hop realm, despite having collaborated with stars like Kendrick, Young Thug, Pusha T, 21 Savage, Future, and many more.
"I'm not really the outcast, even though I take on the outcast aesthetic," they explained. "You got the cool kids and the jocks. Then you got the nerds, then you got the kids with behavior problems. But I'm more of the class clown. Some days people will really like me and then some days I get on they nerves."
Uzi is now gearing up to release their much-anticipated Barter 16 project, which will serve as the follow-up to their Pink Tape album. Although they've not confirmed a release date or potential guest artists, Uzi suggested that their girlfriend, City Girls member JT, will not make a cameo.
"We don't even talk about music, unless we're dropping a song or something," they said. "I support her, she supports me. We don't talk about music. Never."