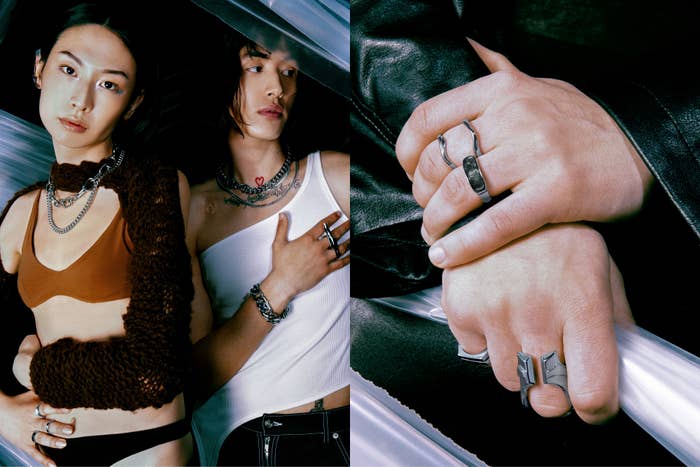 Vitaly is a Toronto-based jewelry brand that, in the words of its creative director Zack Vitiello, makes accessories for tomorrow. Worn by Grimes, Post Malone and Billie Eilish, and embarking on collabs with the likes of iann dior, it's a brand worth knowing about.  
Its latest collection, which drops today, is an important one for Vitaly. Not only does it mean new accessories, but a brand new visual identity. As well as taking inspiration from the otherworldly—think bird formations, crop circles, and aliens—the new branding revolves around a specially designed Glyph.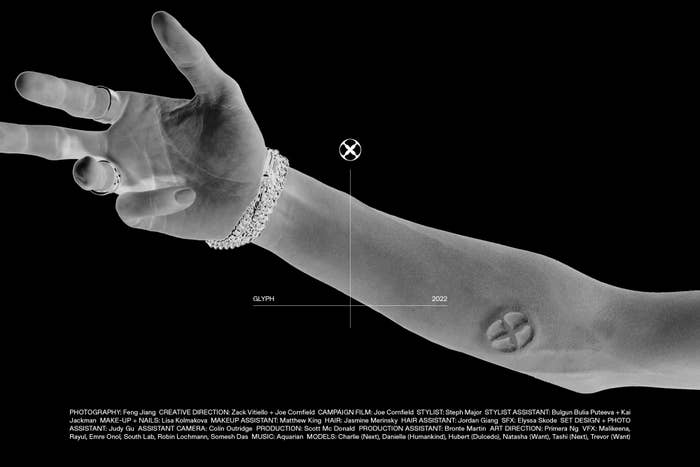 "Just over a year ago, we decided we wanted to redesign our logo to better reflect who we are as a brand today, and where we see ourselves heading into the future" Vitiello says. 
"Our objective was to create a new Vitaly wordmark and accompanying symbol that are both contemporary and future-looking, but also timeless and impactful. But the most important part was that our new visual identity had to properly reflect the values of Vitaly: that design should be inclusive, sustainable and experimental."  
To mark the occasion, we spoke with Vitiello about the collection, the Glyph symbol, and the brand's biggest highlight to date.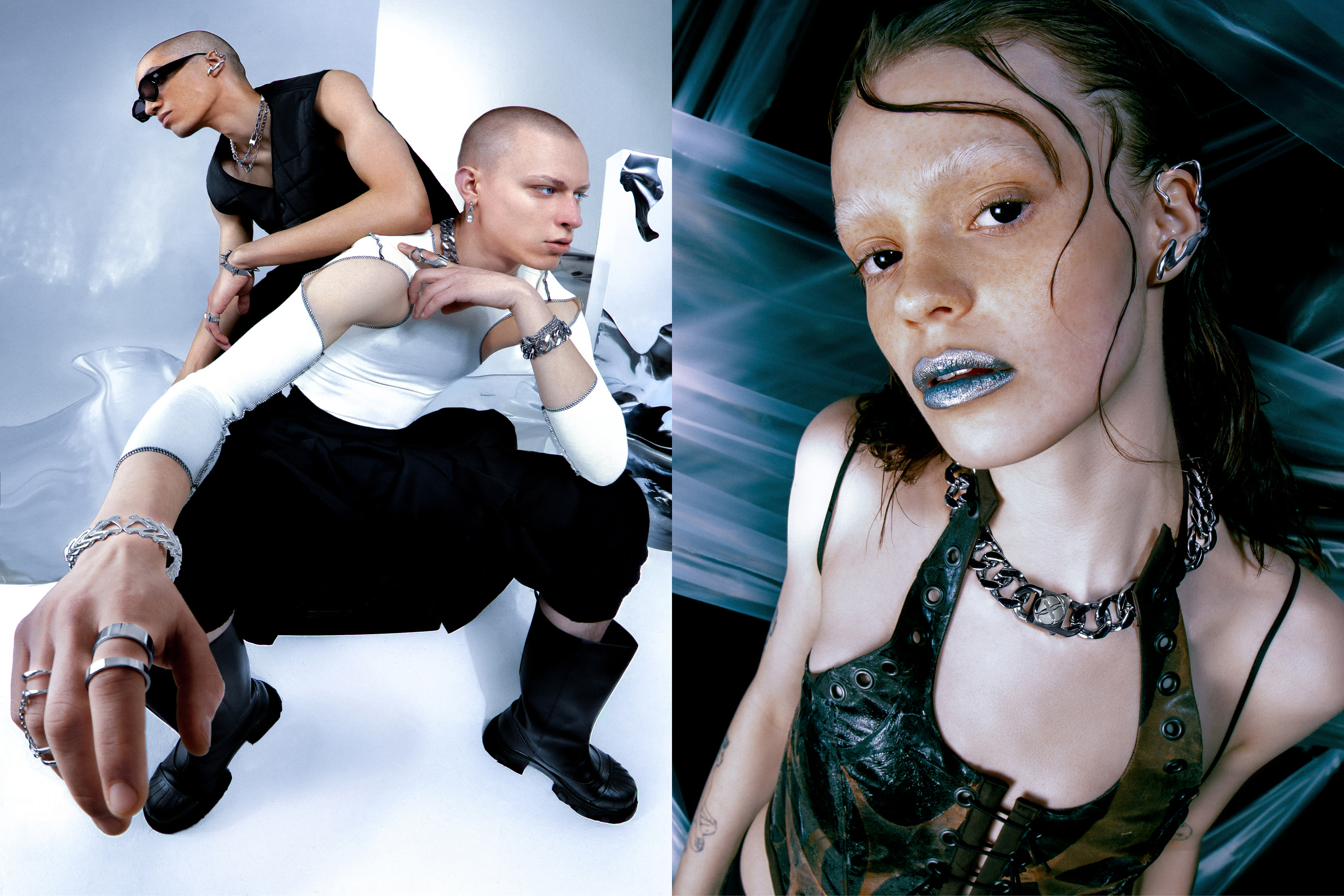 Since your beginnings in 2011 you've become part of Toronto's design scene, having your pieces worn by Post Malone and Grimes. What's been your biggest highlight so far? 
We've been very fortunate to work with some incredible people over the years, but the biggest highlight so far has to be developing a collection with the iconic UGLYWORLDWIDE. 
Collaborating with Jazzelle to help them live out their futuristic medieval warrior fantasy was a dream project for our team. We're all incredibly grateful that what we're doing is resonating with the people who are shaping culture at the moment, and we're excited to keep working with talented individuals and creating accessories that tell their unique story.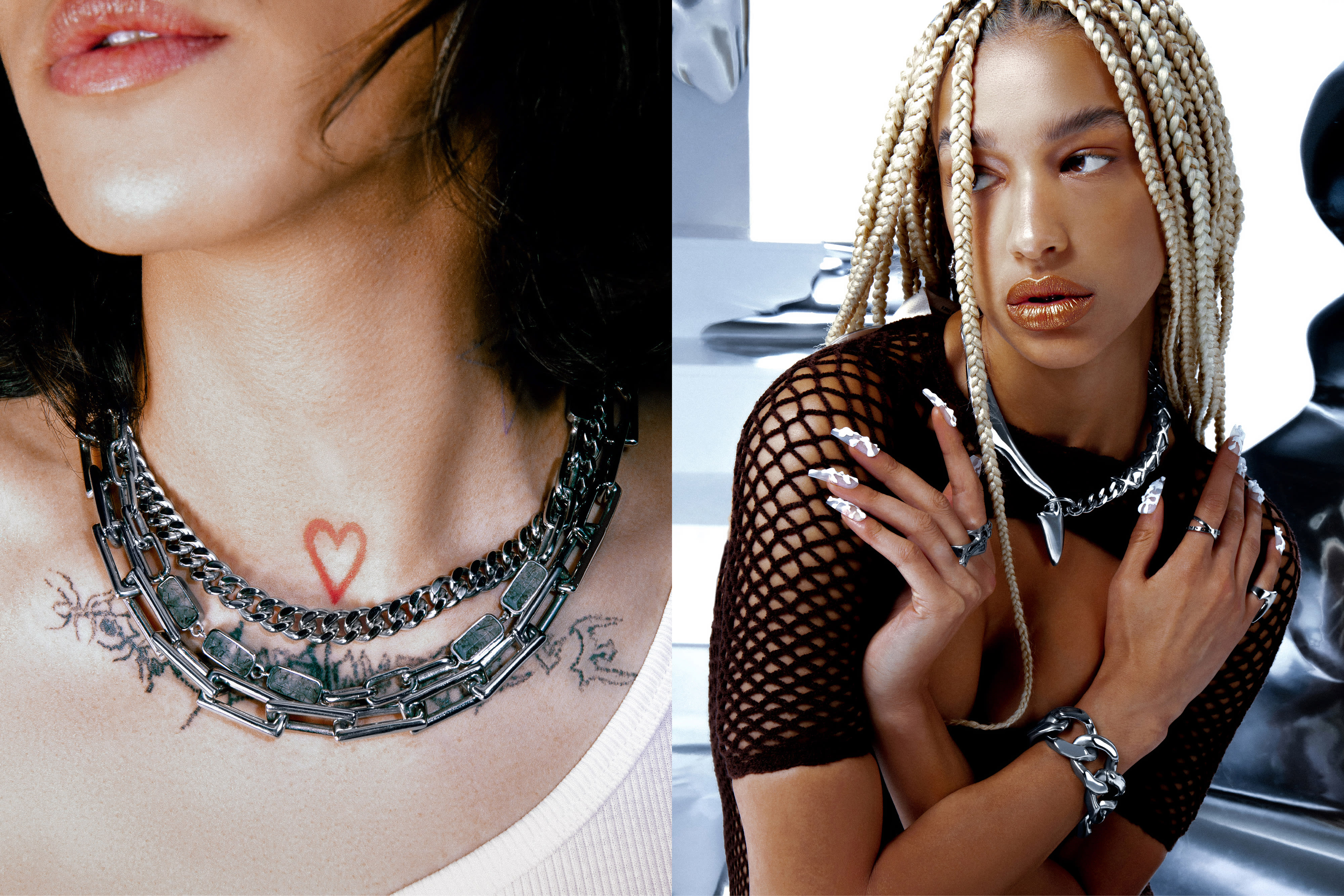 The Glyph is a big part of the new direction. Tell us about it, where it started and what it represents. 
We worked with some very talented designers to channel all of our brand DNA into one symbol, which we have been referring to as the Glyph. The word "Glyph" can be used to describe both ancient pictographs and modern computer characters. It's a symbol that conveys meaning without words. Our Glyph symbol carries forward elements of the brand that have been there since the beginning. The "X" shape is a reference to our roots in architecture and designing with structural forms but, by adding a curved, organic profile to the X, it becomes less rigid and more open. 
This fluid shape resembles cells dividing; a symbol of evolution and the constant progression of our experimental design process. For those wondering why we used an X instead of a V, if you look in the negative space, there are actually four connected Vs within the Glyph.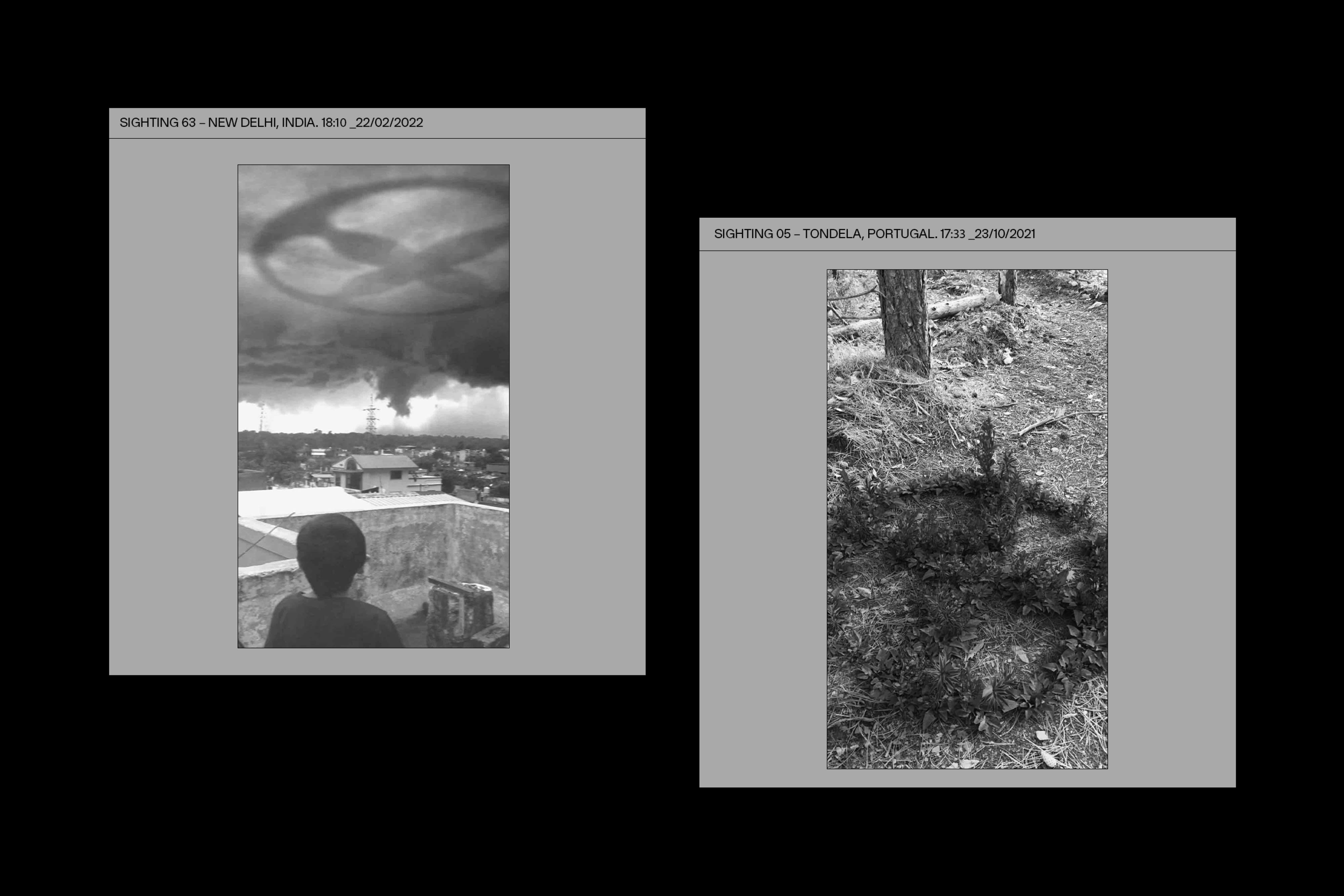 You're also dropping a new collection. What's the story behind it? 
We wanted to unveil the Glyph in a way that was more dramatic than simply saying, "Hey, look at our new logo." We imagined the Glyph "arriving" on earth as some sort of otherworldly entity that is shrouded in mystery. It appears in the form of crop circles, strange bird formations and inside people's eyes.  
We collected these cryptic "sightings" of the Glyph as they appeared around the globe, and then used the sightings to introduce the symbol to our audience.  
The campaign then leads into a beautiful film and photoset where the models have the Glyph implanted in their skin, as if those who encounter the Glyph are somehow changed by it on a molecular level. 
The accompanying collection of accessories puts the Glyph front and centre. We adapted a lot of our classic pieces to incorporate the Glyph symbol, adding custom clasps that give even our simplest chains and bracelets a defining mark. We also introduced some beautiful Glyph hoodies and tees, all made here in Canada from 100 percent organic cotton.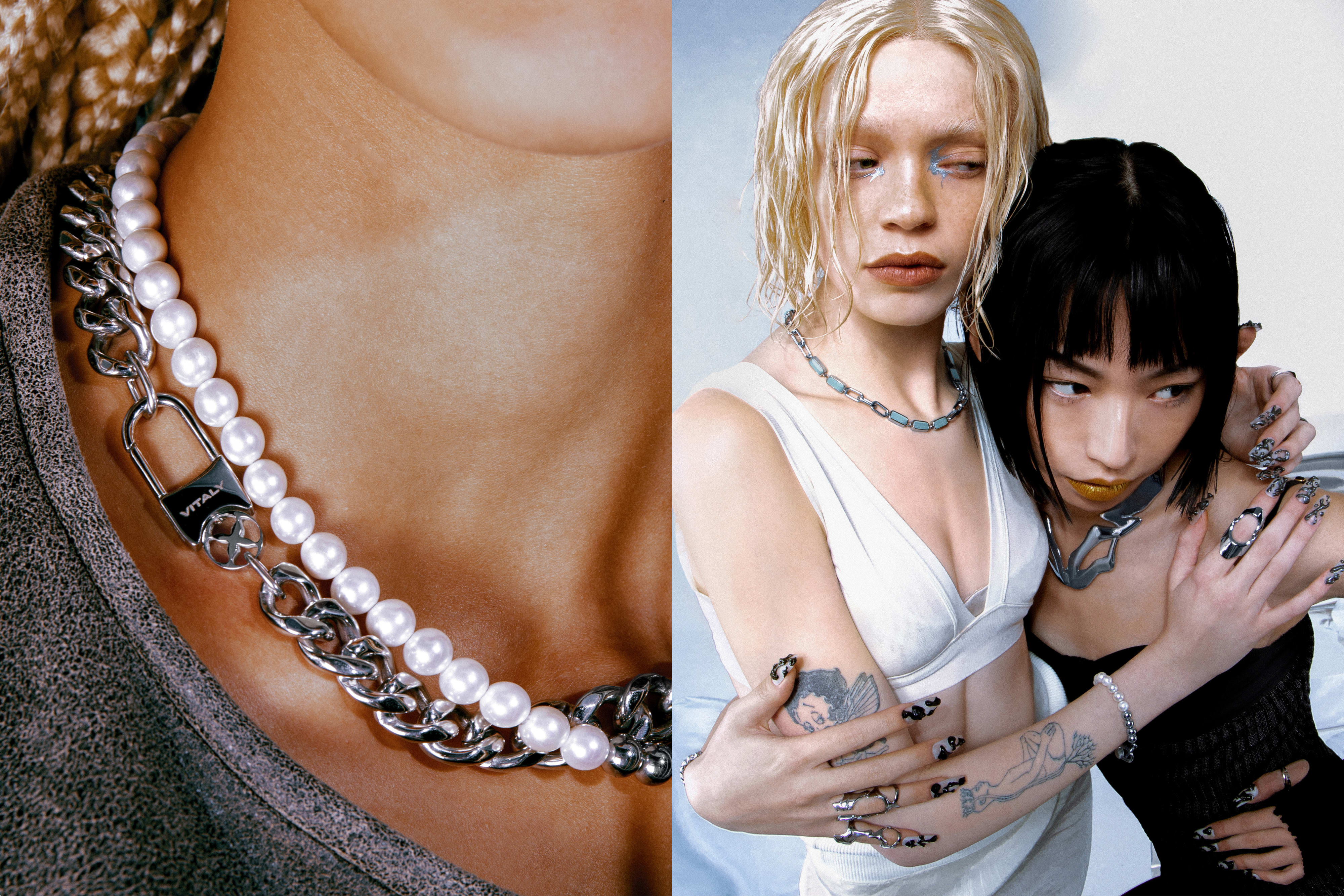 Can we expect to see more of these otherworldly influences moving forward? 
We will always take inspiration from the idea of 'a distant future' as it exists in the collective consciousness. But the future likely isn't as distant as we tend to think, and we bring that attitude into our design language.  
Our next collection is inspired by the idea of a New Royalty. Who will be the leaders of the future, and how do they demarcate their royal stature through accessorization? When using the future as a jumping off point, there's really no limit to the wild things we can incorporate into our designs.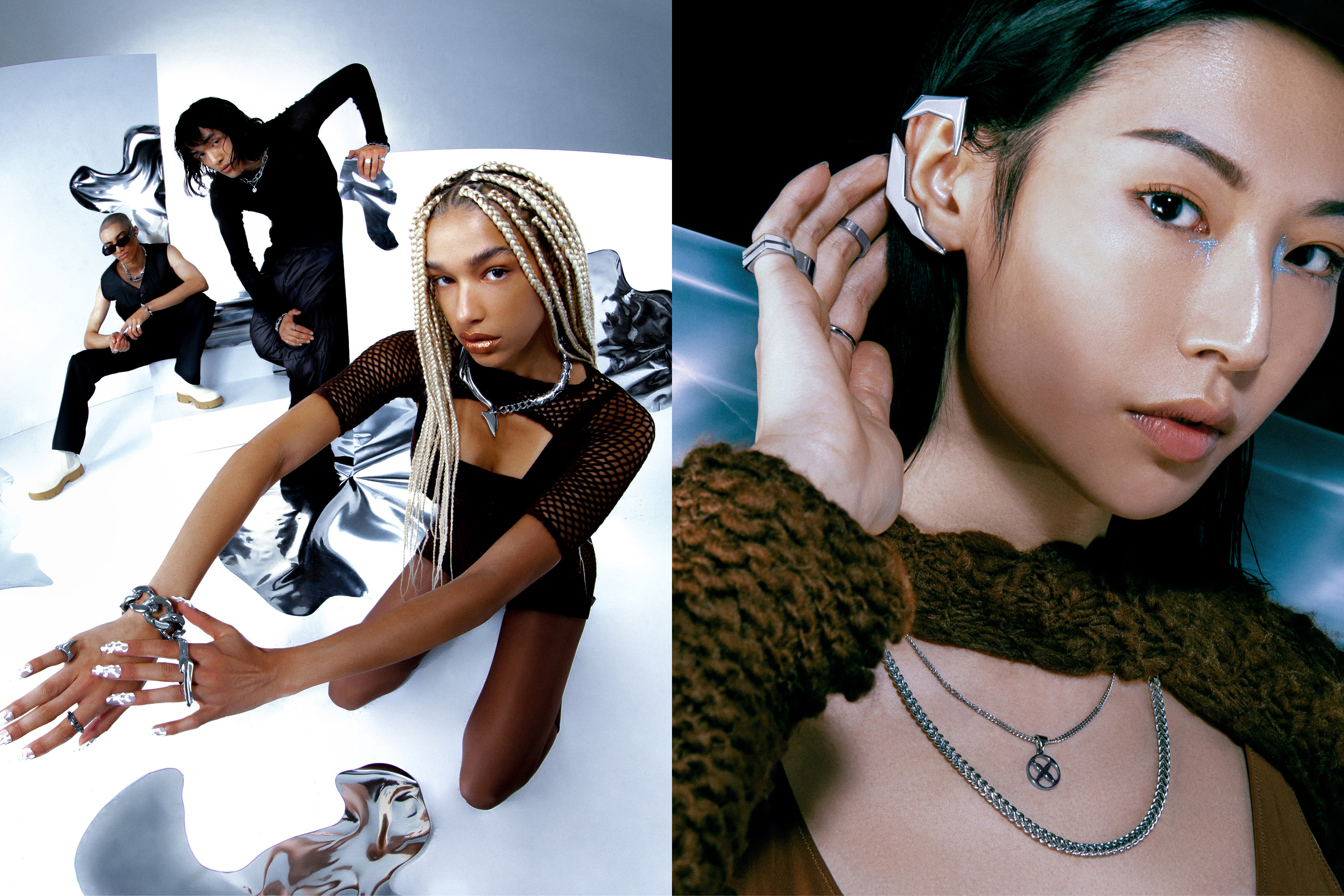 And finally, what are your thoughts on Toronto's streetwear scene at the moment? 
The fashion community in Toronto is small, but it means we all root for each other. We're big fans of the design languages of Spencer Badu and Mr. Saturday, and we're always excited to see what they have coming down the pipeline. We're also big fans of BULLY magazine. Their unique perspective on art and culture is very refreshing to see in this city.  
The collection is available at vitalydesign.com today.