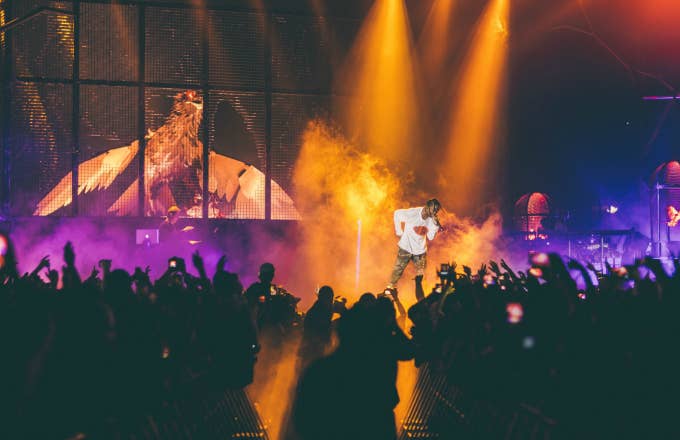 Travis Scott hit the ComplexCon stage night 1 and debuted his Birds in the Trap Sing McKnight-inspired set that had the crowd fully turned up.
The performance offered a taste at Scott's forthcoming tour, just as the rapper had promised, with Scott providing the creative direction for how the whole thing went down from the dynamic design set up to the animatronic bird that flew behind him. The bird, dubbed Jack, was inspired by Birds of Prey and was one of the many aspects that night inspired by the birds theme. On stage, the theme continued with the rapper navigating a jungle gym of his own made up entirely of bird cages. He was joined on stage by the legendary Mike Dean who also played live guitar, elevating the entire performance even more.
ComplexCon attendees also had the opportunity to visit Scott's on site pop-up shop featuring an exclusive capsule collection of Birds in the Trap Sing McKnight merchandise. The Long Beach branded shirts and hoodies included designs reading "Sweet Sweet" and "Way Back" along with inside out t-shirts from his new clothing collection exclusively designed by Scott himself.
From the look of things, Travis Scott's upcoming tour will be something you are not going to want to miss. Check out photos from his ComplexCon performance below. You can also read Scott's heatfelt thank you note to fans, that just became available in the physical copies of his Birds album, right here.