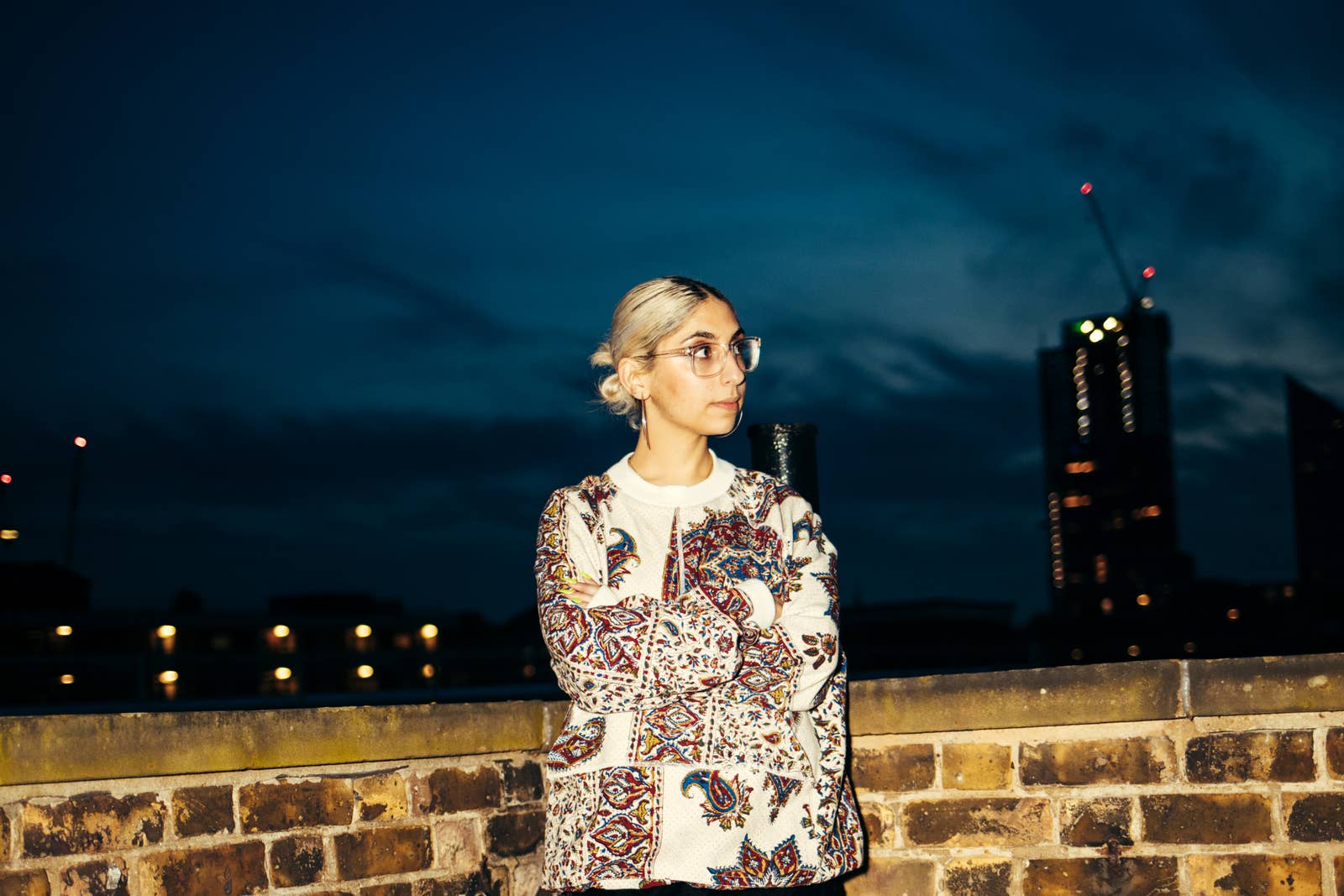 Paria Farzaneh has enjoyed an impressive start to 2018 after producing one of the standout collections from London Fashion Week Men's, where the London-based Iranian designer's clothing was resoundingly celebrated for its intricate and fiercely independent approach. Her collection challenged preconceptions of the Middle East and the motifs throughout her menswear have a direct focus on celebrating her Iranian heritage. Most recently, she's teased the drop of her own Converse One Star silhouette, decorated with patterns inspired by her cultural upbringing.
As it happens, the shoes were all handmade 'one of one' pieces that she released as part of the workshops she's been orchestrating in the basement of the One Star Hotel. Bringing people into her creative process by allowing anyone who has an interest in clothing and design to individually hand-craft pieces has seen people create tangible and unique stories via her clothing. This interpersonal approach is a key theme that knits together Farzaneh's work, which also explains why the workshops have been a runaway success.
We caught up with the burgeoning designer to talk through her approach, what she's aiming to achieve through the workshop and why she decided to use the Converse One Star Hotel as the hub for her latest project.
COMPLEX: It's been an exciting start to 2018 so far for you. How are you feeling after it all?
Paria: Overwhelmed. Completely overwhelmed!
Your influences for the LFWM collection clearly came from your heritage. How important was it to you that you relayed this as effectively as you did? And why?
I feel like heritage is really important. It's something that you'll always have – forever. So having that, having the culture, is so important and something that I'll never stop doing. It's really personal, it's not about doing a collection, it's about telling a story.
Do you think your clothing is counter-cultural as a result?
I'm sure if anybody wanted to wear a jumper like I'm wearing now they wouldn't have thought it would be a tablecloth that they would just throw over their back. But it is. And it's hand-printed so again, reflecting heritage, which is so important to me. This pattern is literally the same as my grandmother's table for like 20 years and I made it into a garment...that takes away everything that it used to be and gives it a new meaning.
And the authenticity of it deriving from your childhood, that gives it that extra meaning…
Completely, it's all about memories and piecing them together and telling them in a new way.
You've been hosting workshops at the One Star Hotel this week. How did this idea with Converse come about?
Converse have been supporting me for the autumn/winter show and they were really keen for me to do something like this. It's something they've never done before and I think we were happy at both ends delivering something which gets people really involved. Of course, it's not a full collection but It's putting small snippets together and letting people be involved in the process. Not many people see how much work goes into making the collection and what the aftermath of that actually is, so being able to do the workshop and bring together a load of people who wouldn't normally sit around a table and pin fabric together – that for me is the best part – and making sure people are staying creative.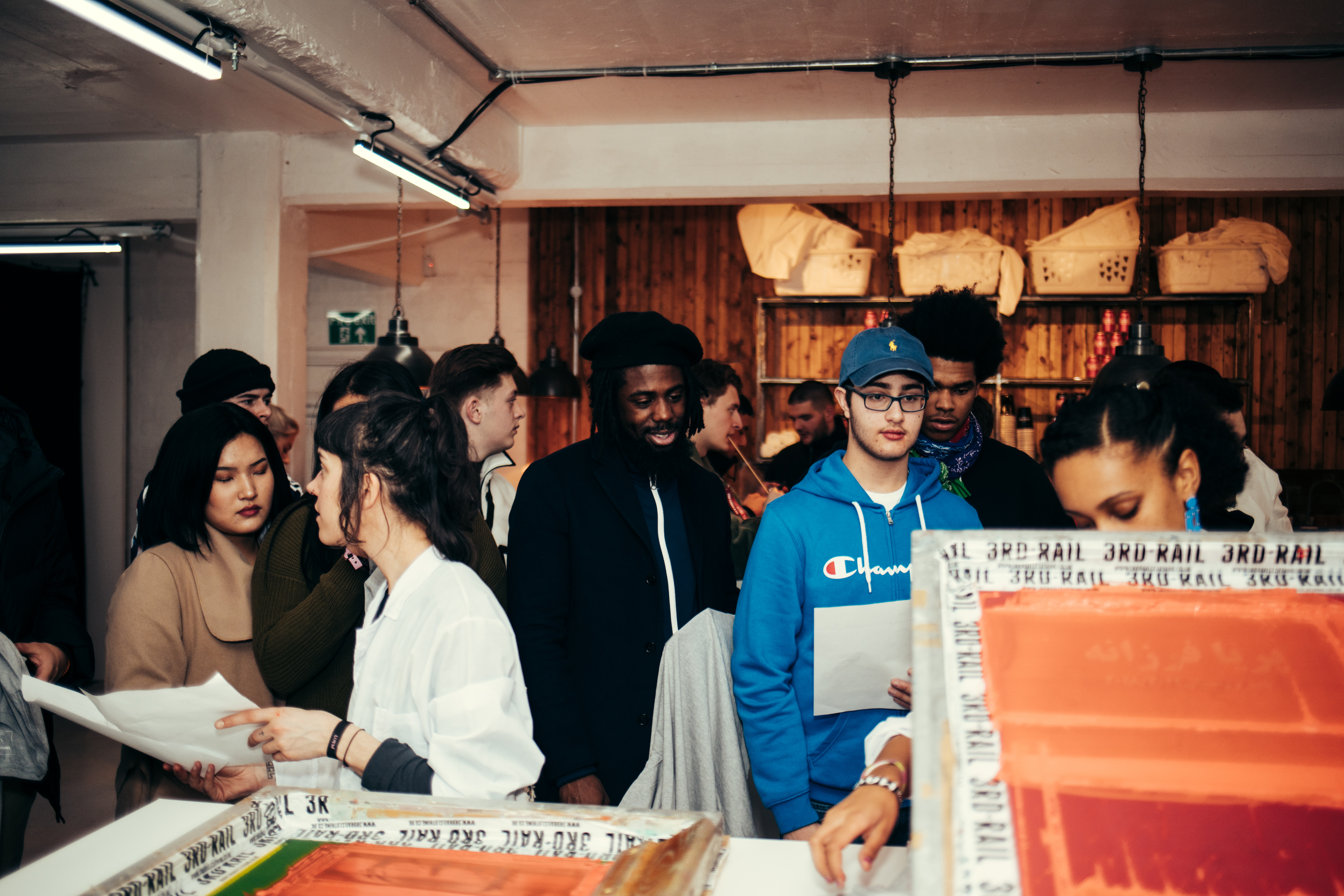 Do you think sharing your creative process with ideas like the workshop process is important?
I guess loads of people don't know about the process. They might not know how something is actually put together from scratch when it's on paper.  When you make a garment, you have to pattern cut it from paper, and if you can't pattern cut, you can't make clothes. It's not just one skill, it's being on it all the time, all the time.
And do you think that hands-on, personal approach is what really what your work is about?
Absolutely. Me and my team, we're working together all the time, but I am gonna sit there and do it with them, I'm not always telling them what to do. It's good for me to learn from them and them to learn from me so we can collectively build something together and share the process. I keep mentioning process but it's so important, it's not something that happens overnight.
Putting this whole thing together has been wild, but if it's something you truly believe in, and that you think you can make happen, then go for it. Whenever I have an idea, I always try and make sure people understand what was going on in my mind at that exact moment and how I can show that and share it with everyone else.
Is that something you've always wanted to do?
Always. From the beginning, I've always wanted to make something tangible and showcase the process involved and go beyond the surface level.
The workshop is getting everyone involved and collaborating with your brand, your patterns, and your design. How important do you feel collaboration is in fashion in 2018?
It's really important as people always have new impetus to add to something from their own backgrounds – the shoe/designer collab are the main combinations of late. But now people are experimenting more with stuff like cars, architecture… and it's great that two completely different minds from the same industry can come together and create something inherently a part of both these worlds.
Initially, when I'm making a soup or a stew, I don't follow any recipe. I just whack open the cupboard and pull out different herbs, ingredients and keep trying and putting stuff together and experimenting. And you never know what the end product is, but I feel it's essential to try, to always look to make something different.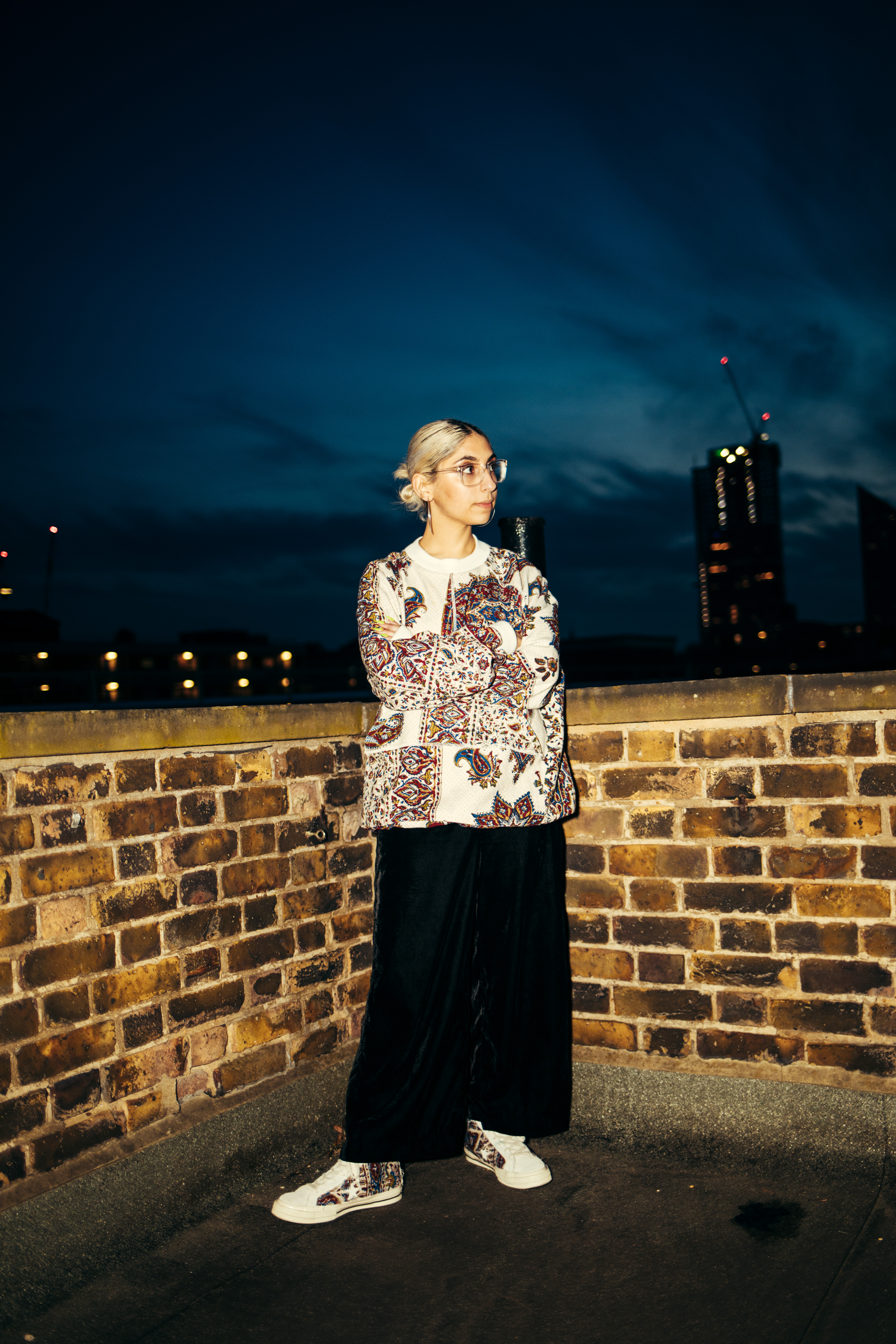 How has London shaped your approach to your design?
Completely, I'm always looking at what people are doing, not even what they're wearing. I'm more like "what are those bin men doing at 6 in the morning" or…
Or what are these people doing at Amersham Arms...
Haha exactly! Not many people would know about those little DJ sets back in the day I did there, but we've all been there, and looking at people experiencing stuff – even there – and being around like-minded people, with an end goal who share a vision, is key.
Was there anything in particular that inspired you to work on the One Star model?
I like the One Star because it's kind of been forgotten about. When Converse first launched it, they didn't really have a platform for it to be recognised for what it is, but I feel in the past couple of months it's really gone global. They're obviously also dead comfy, and when you wear them in, it's even better. Mine have jean stains on at the minute, these were made back in December and I'm still wearing them. I look at them now and I can remember what I did in these. Like I fell over in them and spilt some Earl Grey on them at some point (laughs).
Why did you choose to work on the One Star Mid above other silhouettes?
The mid allows you to wear a longer trouser over the top of it. Nobody is really doing mids, so that's why I went for them.
Have you enjoyed having your workshop at the One Star Hotel?
Loved it. I'm so grateful to Converse for making this happen. And I just met a guy who completely blew me away. We just ran a competition where we picked a t-shirt with our favourite design on it, and this guy won – and he was shaking. He was like, this has made my year...and that really made me realise why I do all of this and go through all the stresses. When people really appreciate your work, I am made so happy. I wish I could explain the look in his eyes, he was so ecstatic and grateful, and really glad to be a part of something. He was really quiet, but had so much concentration and passion.
That was really real to me. And it made me think, not a lot of people are real anymore. And when you find people like that, you just have to tell them that you're listening and that it's great to be working together.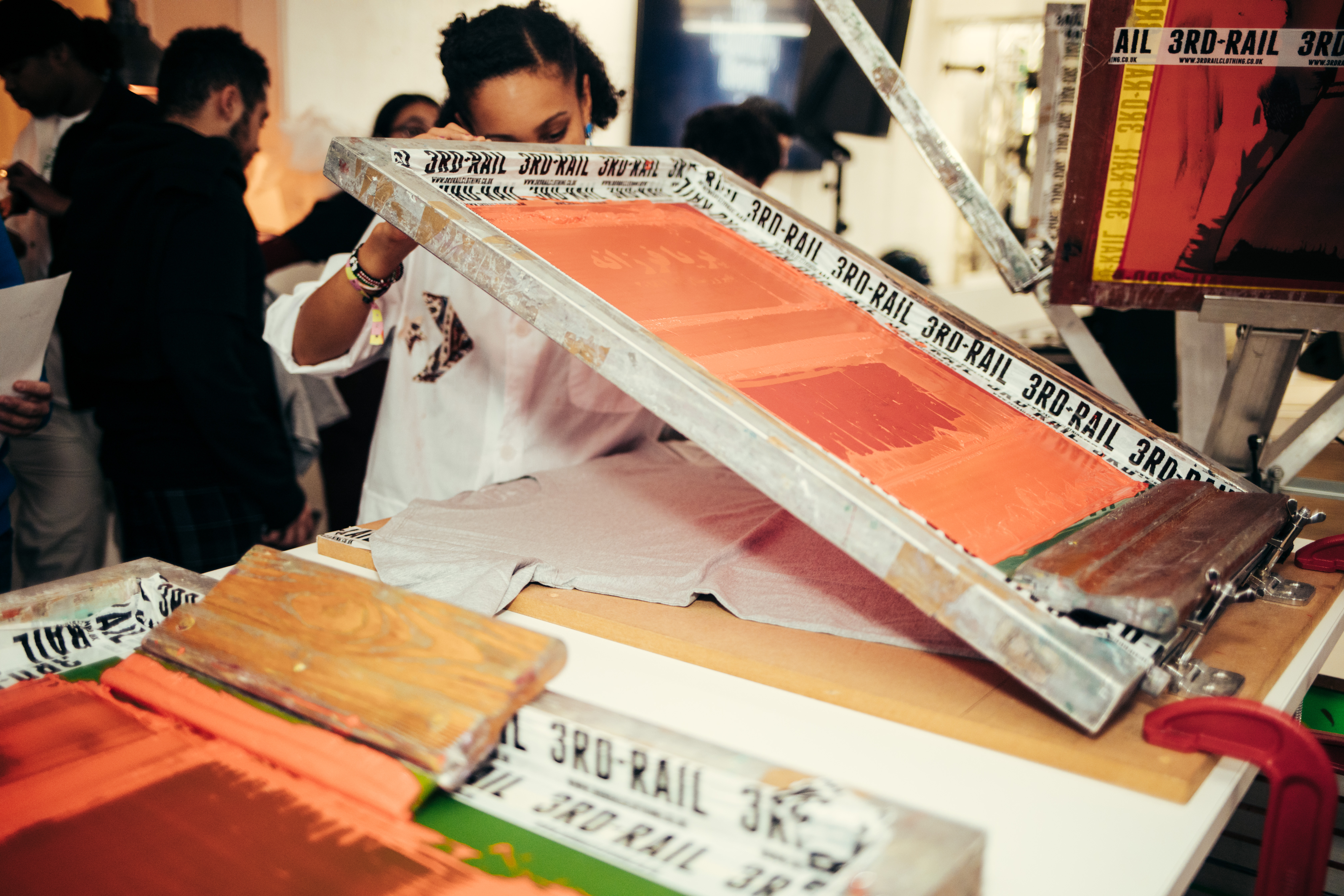 Is that what it's all about for you, bringing people together?
It's always about breaking the boundaries, and actually doing the things that people just talk about. Like people always say "oh yeah I saw you the other night but we didn't talk" – yeah, you looked straight into my eyes but didn't come up to me. I wanna cut that out, I wanna get people back together. Like when I was younger, I would go to the park, hang out, speak to people. That's what it's about, especially when people are speaking together less and less.
You've said that you would always felt like the moment you're experiencing right now would happen. Was this due to your confidence in your own vision?
People around me just believed what I was trying to say. And when people properly believe what you've got to say, that's when things happen. You need strong relationships, friendships and support. It's continually about telling a story.
Paria Farzaneh was talking at the Converse One Star Hotel, which is open today (February 17th) at: 155 New N Rd, London N1 6TA​.​