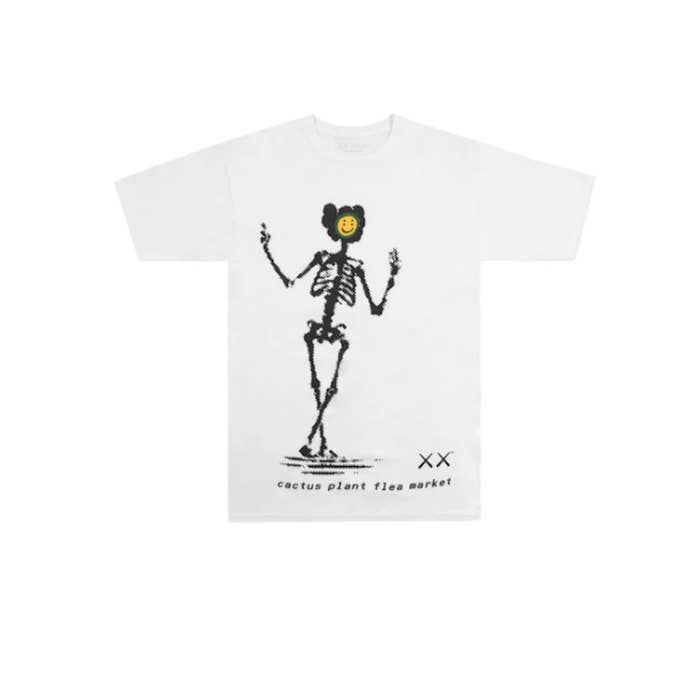 KAWS has shared a new Halloween-themed collection that includes collaborations with Cactus Plant Flea Market and Infinite Archives that's perfect for the spooky months of fall.
The collection, which is currently available for preorder here, includes different pieces that feature the iconic KAWS character in skeleton form. Some graphic tees depict just the KAWS skeleton, while others have the figure's face covered with the Cactus Plant Flea Market smiley face. T-shirts, an Infinite Archives collab pajama set, and figures in neon colors are all in this new collection.
Along with this new collab, KAWS also teamed up with Reese's Puffs and made some creative redesigns to the cereal's box.
"KAWS REESE'S PUFFS What a fun delivery day! I've been keeping this project a secret for the better part of a year and I'm happy it's finally going to start being placed on shelves over the next few weeks," the brand shared to Instagram.
Mindy Murray, senior manager of Brand Experience at General Mills, also told Complex in a statement last week how excited they were to be working with the notable streetwear brand.
"It can be hard keeping exciting news under wraps and we love seeing that there is already buzz around our REESE'S PUFFS collab with KAWS," Murray said. "We can't wait to share all the details with our fans soon. Stay tuned!"
Head here to cop pieces from KAWS's Halloween-themed collection and keep an eye out for KAWS x Reese's Puffs cereal hitting shelves in the coming weeks.