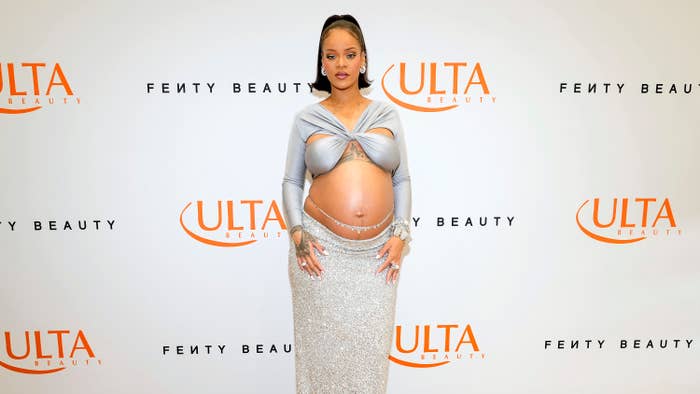 Rihanna has revolutionized maternity fashion, period. Since announcing her pregnancy back in January, every single look that she's stepped out in (no matter how extravagant or mundane) has been shocking. Her belly has proven to be her greatest accessory in turning these looks, always on sight and never deliberately hidden. It's no surprise that she would extend her stylish ouvere into her maternity era. There have been many stylish pregnant celebrities, but what makes Rihanna's current style so badass is that she's taking conventionally sized and styled looks from the runway and wearing them as is, or having them customized to flatter her ever-growing belly. She hasn't had to sacrifice her favorite brands for the sake of maternity, and while doing that has forced us to change the way we think about the possibilities of maternity fashion. For Rihanna, obviously, the possibilities are endless.
With the recent news of Rihanna giving birth to her first child with ASAP Rocky, we decided to take a look back at some of her pregnancy looks. Take a look at some of our favorites below. 
When: January 2022
You can't talk about Rihanna's pregnancy looks without mentioning the debut of her baby bump. The mogul stepped out with A$AP Rocky on a cold day in Harlem draping her bump in (almost head to toe) vintage Chanel. With the shocking pink vintage Chanel puffer coat being the standout, Rih supplemented it with an extra-long Christian Lacroix necklace and belted her distressed Vetements jeans with a vintage Chanel belt. Other accessories in this look include a Patcharavipa customized Rolex watch, a Briony Raymond estate diamond ring, and the "Ursina" pumps by her favorite heel brand Amina Muaddi. Rihanna set the bar high for stylish celebrity pregnancy unveilings–dripped and adorned in opulent jewels and rare vintage finds–and didn't disappoint with this iconic look. 
When: February 2022
With this look, Rihanna needed to remind us that when it comes to fashion, however far along in her pregnancy, that she is still the bad gal. The focus of this look was a revealing ribbed Jean-Paul Gaultier cardigan with an open criss-crossed lace detail down the center, which was able to adjust to her bump. She rounded it out with another one of her brand faves, The Attico's "Jaime" ribbed stirrup leggings styled over Jimmy Choo "Saeda" pumps. The cardigan was topped with a Carhartt x Wardrobe.NYC zip-up hoodie and accessorized with Balenciaga sunglasses.
When: February 2022
This year, Rihanna rang in her 34th birthday in London alongside family and close friends. Opting for a more playful moment to celebrate, she was dressed in baby blue head to toe starting with a Ludovic de Saint Sernin chiffon blouse and a pleated skirt by Ashley Williams. She is once again adorning her bump with lengthy chains, gold ​​Jacquie Aiche "Sophia" body chains to be exact. Other jewelry included Bvlgari vintage gemstone necklaces and a Briony Pisces zodiac pendant. Her shoes are custom Manolo Blanik heels. The star of the show, a luscious fur coat, is by Gucci.
When: February 2022
For Savage X Fenty's brick and mortar launch, Rihanna was in full-on boss mode in a custom floor length red wrap coat by Maison Alaïa. The hood detail on this look accentuated her face, which included a fierce red eyeliner (created by her makeup artist, Priscilla Ono) to match. She paired her coat with custom Amina Muaddi "Giorgia" heels and offset the vibrancy of the coat with sleek jewelry moments that included Chopard, Maria Tash, Jacquie, and Oscar Heyman.
When: March 2022
While she didn't grace the Oscars award ceremony with her presence, she stepped out afterward for Jay-Z and Beyoncé's "Gold" Oscar after party. The style star was "phresh out the runway" in a custom reworking of a gown from look 73 of the Valentino Fall 2022 collection. Pregnant or not, Rihanna hasn't compromised her personal taste for conventional maternity wear. The top half features a completely see-through portion of the gown with an added custom bandeau top also by Valentino. Her choice of heel for the evening was the "Ursina" patent leather black pumps by Amina Muaddi with Wilfredo Rosado "Tribu" hoops and Repossi diamond ear cuffs.
When: March 2022
Rihanna was snapped en route to her favorite spot to dine in LA, Giorgio Baldi, in a sparkly and iridescent mini-skirt by one of her favorite brands, The Attico. She kept warm up top in a sky blue graphic hoodie by Awake NY that spells out "Living The Dream" in rhinestone detailing. This flirty look was topped with a vintage shearling jacket by Walter Davoucci in a similar shade to match the hoodie. Of course, she went with her tried and true purple "Giorgia" sandals by Amina Muaddi. Her crystal earring are by Alessandra Rich, carrying a vintage Fendi velvet embroidered handbag.
When: March 2022
While attending Paris Fashion Week, Rihanna had a night out on the town with one of her closest creative collaborators, Mel Ottenberg. In one of her most daring and unique maternity looks to date, Rihanna wore a full look from the Stella McCartney Spring/Summer 2022 runway show. The look included an aquamarine jumpsuit with asymmetric cutouts and flared legs and a green drawstring cutout coat. She accessorized with pumps by The Attico and seafoam sunglasses.
Fenty Beauty Launch at Ulta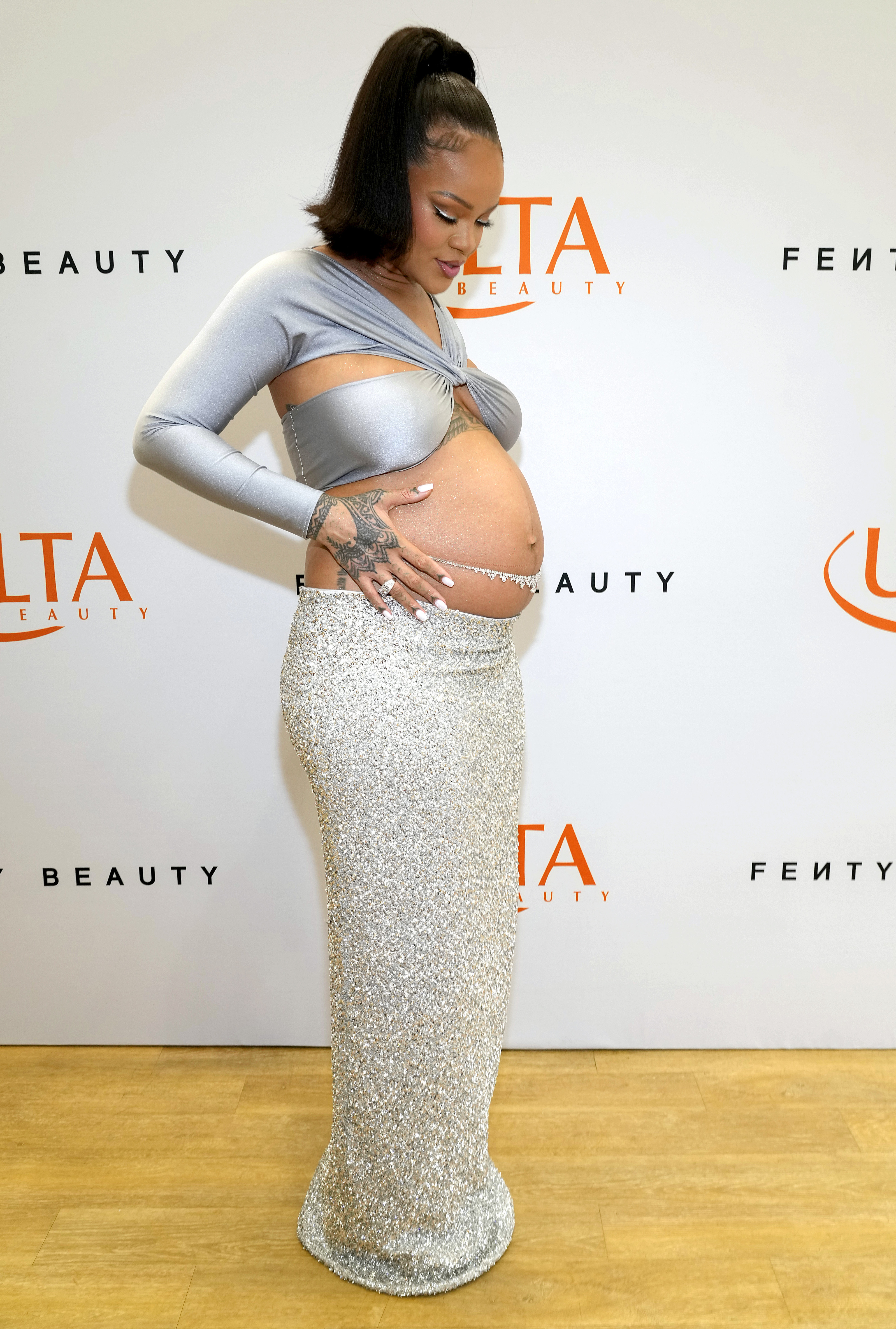 When: February 2022
Rih proved that she's the queen of layering while dining out with her family at, you guessed it, Giorgio Baldi. The incredible mixed-media coat she is wearing is vintage Roberto Cavalli. You have to look close to see the Plein Sud python bikini top she's wearing as a bra, but the Fendi fur trim crop top is on full-display. She cuffed her vintage Cavalli jeans with a pair of Tom Ford snakeskin sandals and added a casual accent to the look with a camouflage trucker hat by Awake NY. Her jewels for this look included a diamond bra and body chain by Jacquie Aiche, a Briony Estate diamond ring, and Patcharavipa diamond necklace. Can't forget the Dior Saddle bag!
Off-White Fashion Show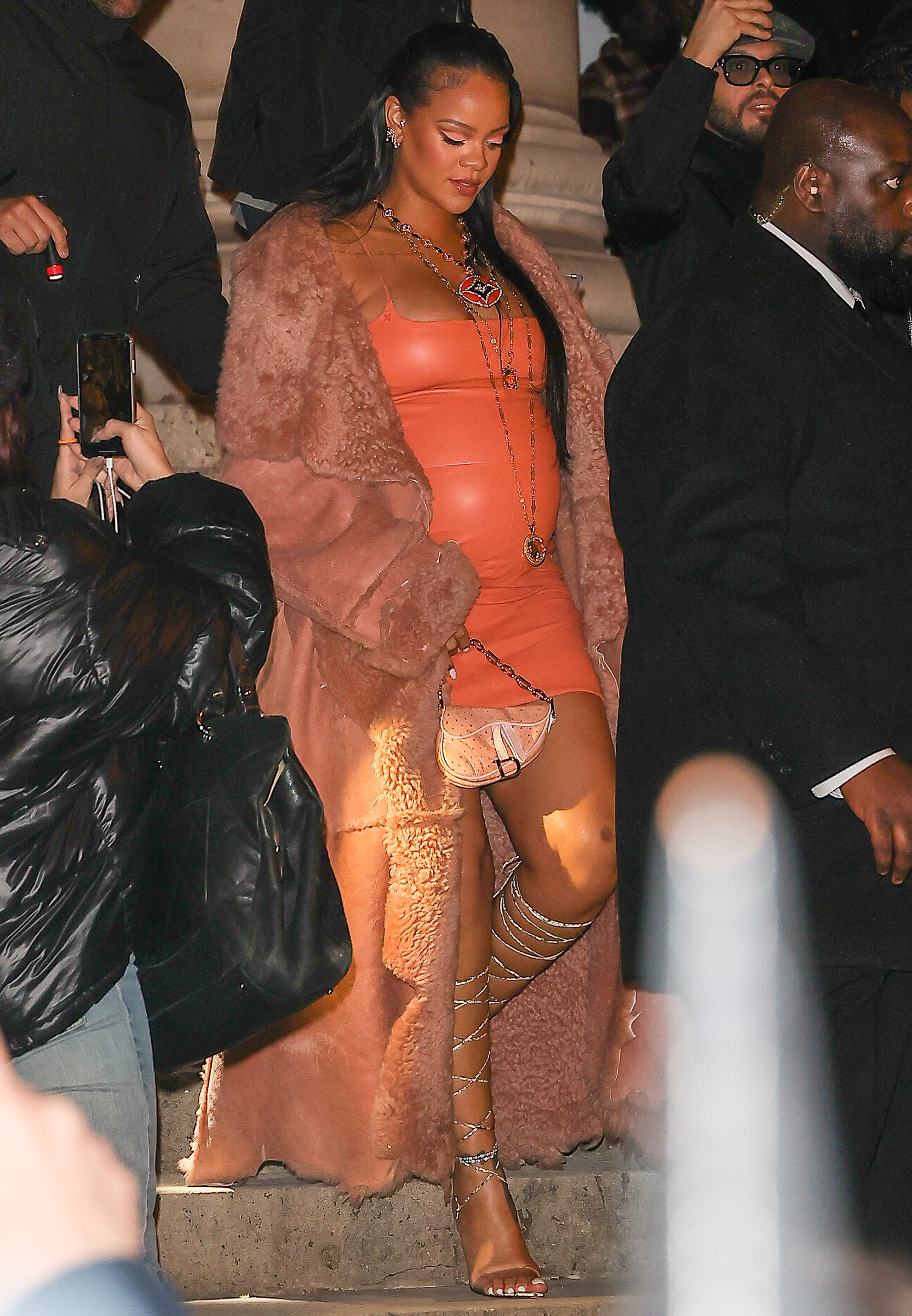 When: March 2022
This look is understated, but it is still a standout among her maternity styles. While out shopping for baby clothes in LA with her best friend Melissa, Rihanna opted for simplicity in a baby pink, crystal-striped button-up shirt by Alexander Wang. Her legs are the main attraction in this look incorporating various textures in her sequin Miu Miu tube socks and pink Saint Laurent mink fur mules. Who knew socks and mules could work together the way that they have here. She took a risk, but that's why we love Rihanna. She's iced out with accessories that include a crystal-embellished Balenciaga bag, Chopard diamond watch, and Briony diamond earrings.
Fenty Beauty X Fenty Skin "F Club Launch"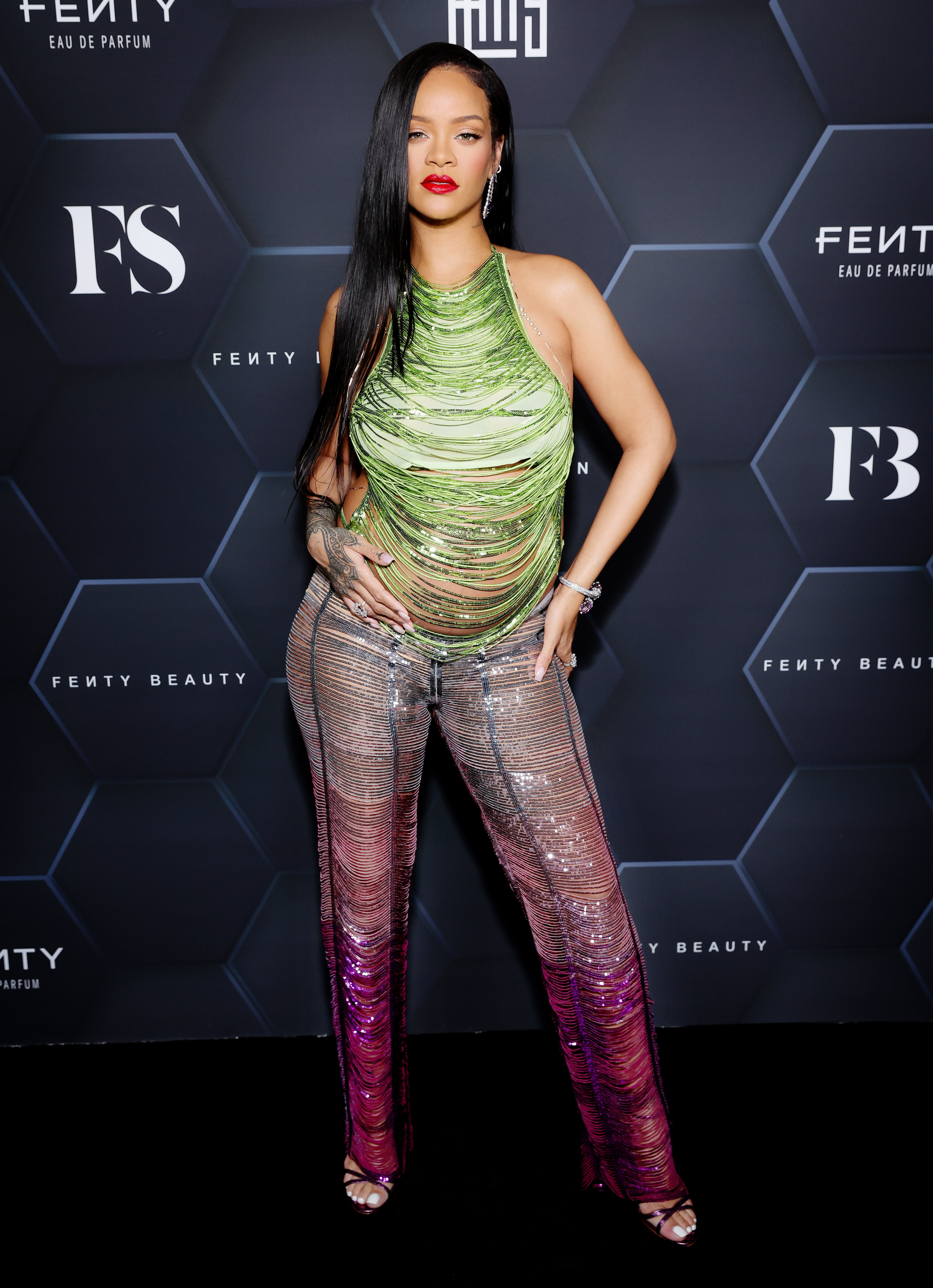 When: April 2022
It seems like every maternity outfit of Rihanna's goes above and beyond the last. For a dinner outing last month, she rocked a shocking pink Saint Laurent mini dress with mint feathering around the hem. Rih balanced out the dress' girlish quality with a sexy pair of mint pumps from The Attico, a brand she shows lots of loyalty to. The mini dress is body hugging and short, as she never shies away from accentuating her growing bump or sacrifices a moment to show off her long legs. She keeps the fun going with a furry purse to complement the texture of the trim of the dress. An iconic pretty in pink moment.