Nike Unveils Collaboration With Balmain Designer Olivier Rousteing
NikeLab and Olivier Rouseting reveal their new collection. Complex Original
Image via Complex Original On Sunday, Balmain designer Olivier Rousteing revealed he had something in the works with NikeLab. Just 24 hours after the French designer teased the upcoming collaboration, Nike has officially unveiled the NikeLab x Olivier Rousteing: Football Nouveau collection.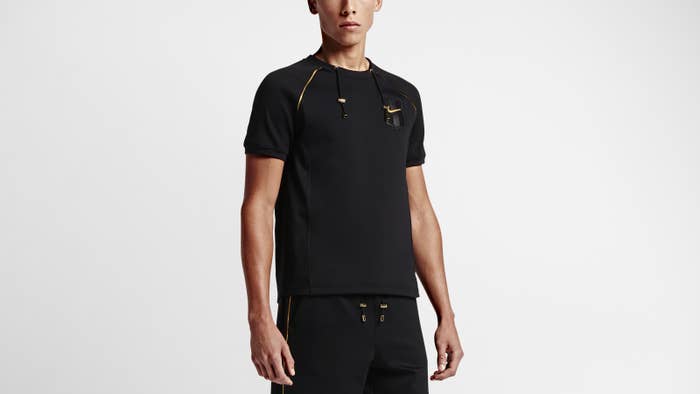 "Fashion is usually about the catwalk and the glamour, but with Nike it was about performance and the athletes," Rousteing said in a press release. "What I love about this collection is that we are integrating the iconic style of football into sport style."
The collection of sportswear was inspired by the Balmain creative director's childhood love for European football and the lives of the professional players who will be participating in Europe's biggest championship this summer. Rousteing​ reimagines iconic football designs to create a selection of modern silhouettes for men and women with luxury finishes like touches of gold, "the color of champions."
"Olivier was obsessed with the complete look, making sure each piece worked together—not just within the men's and women's collections, but also between the two," NikeLab Senior Apparel Design Director Jarrett Reynolds said, according to Nike News. "At every design review, he'd ask, 'Would a football player really wear that?' That question helped keep the collection rooted in sport."
The new collection includes staples like crop tops, sweats, tees, and shorts, along with pieces like the classic Nike N98 jacket, which has been transformed with gold framing and an embroidered woven crest placed over the heart, and a NikeLab top that takes cues from the traditional football kit. Even though it's a range of sportswear, Rouseting's Balmain influence can be seen through styles like the bodycon dress.
The range also includes footwear inspired by Nike Football's four silhouettes: Mercurial, Magista, Hypervenom, and Tiempo.
"Olivier is meticulous about the details, with a passion for finding clever ways to embellish existing structures," NikeLab Senior Footwear Innovation Design Director Nate Jobe said in a press release. "This obsession with finishing manifests itself especially well in the Magista and the Mercurial. In each model, we've embroidered patterns into the Flyknit for the first time, which creates a completely new expression of the technology."
Items from the NikeLab x Olivier Rousteing: Football Nouveau collection will be available online and at select NikeLab stores on  June 2.