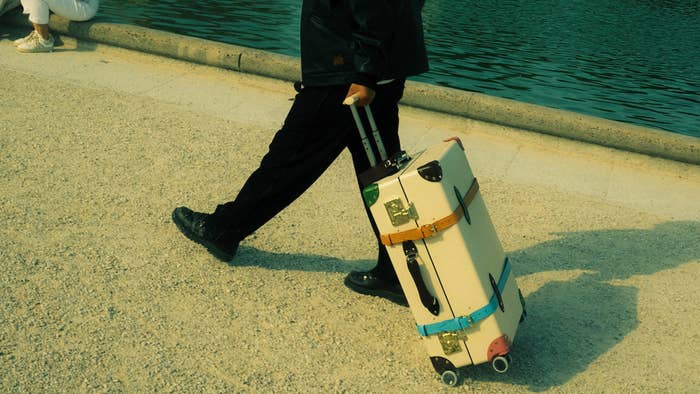 Tyler, the Creator's brand, Golf le Fleur* has reunited with Globe-Trotter to release another luggage capsule.
The new offering features two 4-wheel suitcase styles: the Carry-On Case and the Large Check-In Case. The pieces come in le Fleur's trademark cream and pastel theme, melding the brand's aesthetic with Globe-Trotter's.
"Both trunks are highly durable and stylish, with handmade leather finishes adding a touch of luxury to any journey," a press release says of the items. "The Carry-On Case is the perfect companion for short trips and is accepted by most airlines in the cabin, while the Large Check-In Case is ideal for longer adventures."
The two-piece capsule arrives following the success of le Fleur and Globe-Trotter's first collaboration in December 2021, which launched with a commercial directed by Tyler Okonma. The drop included a three-piece set, passport case, luggage tag, and sticker pack.
"What we love about the range and what's really fun for us is that all of the items in the range are all connected aesthetically," Globe-Trotter's director of partnerships, Darius Alavi-Ellis, told Complex back in 2021. "So like, the color of the nail polish, which came out over the last few days, is the same as the color of the corners of our suitcases. It's also the same color of the cars in his music videos that came out during Call Me If You Get Lost. To be able to link up all of those things is really special and made the project really fun."
Altogether, all the pieces from the first and second release range in price from $155 to $3,095. The collection is available for sale on lefleur.la and globe-trotter.com, and Globe-Trotter flagship stores in London, Los Angeles, and Tokyo.
Check out more images of the 4-wheel suitcases below.