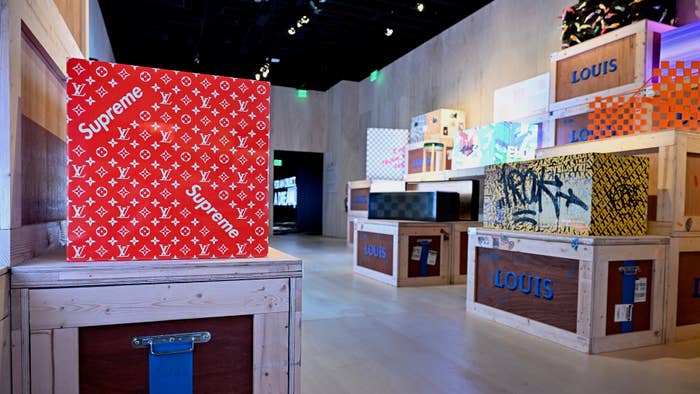 Louis Vuitton's "200 Trunks, 200 Visionaries" exhibition is landing in New York City.
The traveling exhibit launched more than a year ago in celebration of its eponymous founder's bicentennial birthday. It debuted on Aug. 4, 2021 at the Vuitton family home in Asnières-sur-Seine, France before heading to Marina Bay in Singapore and Los Angeles. The Manhattan event, which will mark the final stop, will kick off this week at the iconic Barneys New York building on Madison Avenue, where visitors can honor the fashion house's legacy.
Spanning four floors, the exhibit displays 200 trunks designed by 200 visionaries who were tasked with putting their own spin on the timeless LV staple. Brands and figures like Supreme, Gloria Steinem, BTS, Pat McGrath, Nigo, and Fornasetti customized pieces that have been featured in the exhibit. 
In addition to the reworked collection of trunks, the NYC iteration will also see the reopening of the restaurant Freds. The Manhattan eatery, renamed Freds x Louis, will offer fare by its original chef, Mark Strausman. 
The event will also include the basement Residency, where LV's in-house visual image studio team—the brains behind the "Louis 200" project—will provide "an unprecedented insight into their work and artistic process."
"This project has always been about creativity—a real tribute to Louis's ingenuity and entrepreneurial spirit," Faye McLeod, LV's visual image director, said in a statement. "We get to see how such a cross-section of talents answered the same brief while also taking a moment to appreciate the man himself. The 'Residency' concept, newly developed for this final stop, is also a real gift of creativity—bringing the artistic expression at the heart of this project to the city of New York."
The "200 Trunks, 200 Visionaries" exhibition will be open from 10 a.m. to 8 p.m. from Friday, Oct. 14 through Dec. 31 at 660 Madison Avenue. Located on the building's ninth floor, Freds x Louis will be open from 11 a.m. to 4 p.m. for lunch and 4 p.m. to 8 p.m. for small bites and Apéritif. 
You can make reservations for the exhibit and the restaurant here.