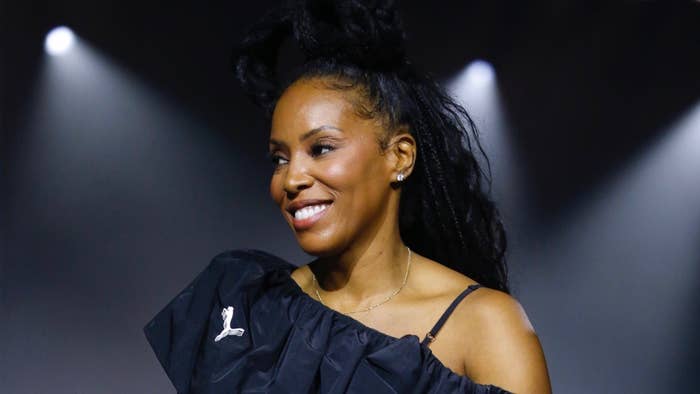 Puma's creative director, June Ambrose, is looking to give the brand "a little more street cred."
On Tuesday, the award-winning designer/stylist provided a sneak peek at "Keeping Score," her first-co-branded collection with the storied sportswear giant. The pieces were shown during Puma's star-studded "Futrograde" event—its first New York Fashion Week show since 2017. 
"This is Puma's moment to reestablish the brand's identity in this space," Ambrose told Complex. "And I'm really excited and humble to have partnered with them to do this and help create this cultural moment, brand moment, and celebratory moment." 
"Keeping Score" delivers elevated sportswear pieces inspired by Puma's past collections. The range was anchored by oversize silhouettes and unexpected shapes, but maintained a sense of familiarity through performance and technical details.
Ambrose told Complex she always intended to create her own Puma collection during her sophomore year, and initially set out to create eight fashion-forward pieces; however, that number eventually inflated to 45, including a number of footwear designs.
"We took a lot of risks and I had to put myself in front of it because I knew what my contributions were over the years in hip-hop culture and it was rooted in risk taking," she said about her Puma appointment. "We were there to guide the culture forward ...
"I hate to be predictable and do the expected. Puma has some great, new sneakers and I wanted to focus on the designs are those. So that was my foundation," she explained. "And then I went through the archives and found so may great silhouettes Puma did with Alexander McQueen, and Jil Sander. And some of Serena Williams outfits when she was signed to Puma. There's no reason we can't be back in the fashion game."
Futrograde was presented on the eve of Puma's 75th anniversary, and featured garments from the brand's spring 2023 core offering, as well as collaborative designs with Dapper Dan, AC Milan, MMQ, and more.
You can get a glimpse at Keeping Score in the runway images below. The collection is expected to drop in the first quarter of 2023, the same year hip-hop celebrates its 50th anniversary.